This blog offers an in-depth understanding of D365 procurement and sourcing workflows and their relevance to supply chain management. After reading this blog, users will be able to design, create and implement D365 procurement and sourcing workflows and will be able to use them to optimize their reporting, approval, purchasing, vendor selection, and invoicing processes. Moreover, this blog will also introduce you to different categories of D365FO procurement and sourcing workflows that suit your unique business needs.
UNDERSTANDING

ENTERPRISE

PROCUREMENT

AND

SOURCING

WORKFLOWS
Purchase Requisition | Purchase Order | Improve Warehouse Efficiency | Order Line  
Procurement and sourcing are central to any organization's supply chain management. But, we must not confuse one with the other. In business terms, procurement refers to acquiring goods or services to complete a specific business task or goal. It includes several aspects ranging from picking up on business requirements and identifying products that can fulfill them, finalizing payments, generating receipts, invoicing, and sometimes even deployment. On the other hand, sourcing refers to finding and managing legitimate vendors to buy these goods and services.
The infographic below lists some essential steps in enterprise purchase operations. Notice that the purchase cycle includes steps from both procurement and sourcing processes.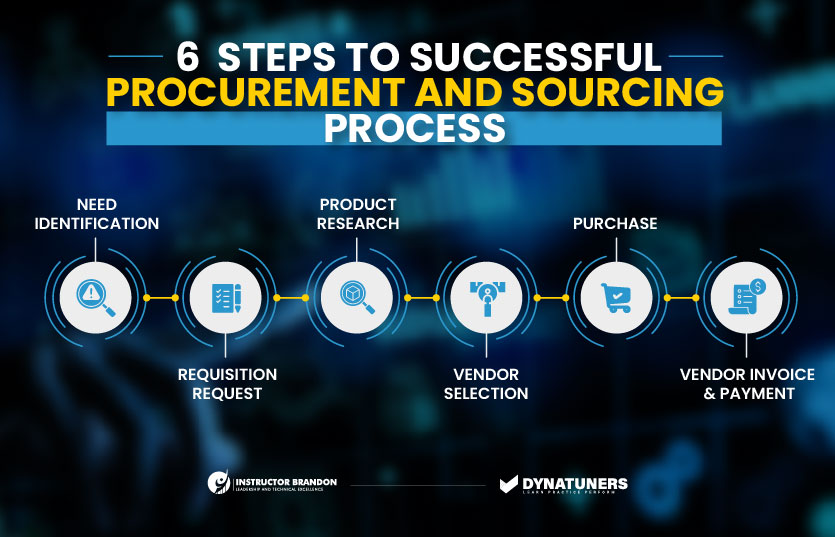 This diagram illustrates a few essential steps in the enterprise purchase operations cycle during procurement and sourcing.
WHAT DOES

PROCUREMENT

HAVE TO DO WITH

SUPPLY CHAIN MANAGEMENT

?
Effective sourcing and procurement are the backbones of any organization's supply chain management. Moreover, procurement is the very first step of the supply process. A supply chain starts after an employee makes a requisition request. At its core, supply chain management provides logistical support to source or procure products. So, managing procurements properly can make or break your supply chain management. If a team member drops the ball at the procurement stage, the effort and energy you put go to waste.
TOP 3 MISTAKES

YOU MAKE DURING

PROCUREMENT

AND

SOURCING
Procurement is a business process that tends to involve spending a large amount of money. Therefore, the organization can lose cash unless you carry out each procurement step with utmost care. Some of the things that can go wrong during these processes include:
UNABLE TO IDENTIFY

THE CORRECT PRODUCT
Correctly identifying business needs and products that can meet those needs is the first and most fundamental step of the procurement process. Going ahead with procurement without a defined purpose can disturb the entire process. If an organization does not know why it's procuring, it can never hope to correctly identify what it's procuring. In addition, even if an organization pinpoints the exact needs, there is an ocean of similar products in the market that can fulfill those needs, confusing potential buyers. Market research and identifying optimal products without a centralized list or guidelines can be cumbersome.
POOR

VENDOR SELECTION
Once you have identified a need and have set your eyes on the exact product which can fulfill that need, the next step is vendor selection. Supplier selection is very crucial to procurement. Choosing the wrong supplier can lead to delayed deliveries, faulty products, or overpricing. For this reason, it pays to have a centralized database of vendors to select from instead of finding new vendors each time a team member requests a procurement.
A

LACK

OF

 OVERSIGHT
Traditionally, procurement processes are opaque. As a result, people charged with purchasing enjoy much freedom to pick and choose products according to their subjective understanding of business needs. Although this makes the process faster, yet it may lead to poor oversight. Without proper supervision, the procurement process is prone to many issues. For example, the purchaser might not follow appropriate procurement protocols, or the company may be wasting money unknown to the purchaser.
Similarly, companies cannot correctly analyze delays or defects in the procurement process without oversight. It not only makes the process more effective but also helps save money.
SUMMARY

Traditional methods of managing enterprise procurement and sourcing have many process flaws. In addition, these processes tend to be opaque, making oversight very difficult. Without proper supervision, organizations may end up leaking money to inefficiencies. These inefficiencies can range from not being able to correctly identify the correct product to poor vendor selection and even a flawed need analysis. Automation can help rectify the situation by giving managers a bird's eye view of the whole process.
IDENTIFY

MISTAKES AND

MANAGE

FLAWS IN YOUR

PROCUREMENT AND SOURCING

PROCESSES WITH

D365FO
WHAT IS A

WORKFLOW

IN

D365

?
We cannot grasp how procurement and sourcing workflows work in Microsoft D365 without answering the question, 'What is a Workflow in D365? In Microsoft Dynamics, workflows are synonymous with business processes. These workflows track, administer, oversee, and break down a collection of steps aimed toward the completion of a specific enterprise operation.
A workflow management system helps to break up complex processes into smaller, manageable, and more defined parts. In Dynamics 365 workflows describe how a particular request moves within an organization. For instance, if an employee makes a requisition request its corresponding workflow will explain who created the demand, got the request, and would approve it. Typically, workflows comprise specific actions, the ordered flow, and the people appointed to those actions.
The flowchart below represents a simple vendor invoice processing workflow in D365. For more information on different types of workflows, visit the Instructor Brandon blog.
KEY ADVANTAGES

OF USING

D365 PROCUREMENT

AND

SOURCING WORKFLOWS
Some major advantages of setting up procurement and sourcing workflows are as follows:
UNIFORMITY
Procurement workflows define a consistent process template that employees can and must follow before processing any purchase request; this helps keep the buying process uniform across the enterprise. So, instead of reinventing the wheel every time enterprises can stick to the approach that works best.
In short, a workflow system allows you to set up necessary approval requirements and related conditions for requisition requests and expense reports.
STREAMLINE

VENDOR SELECTION

WITH

D365 VENDOR CATALOGS
MS D365 FO allows for creating vendor catalogs and essential lists of trustworthy vendors. In addition, you can utilize vendor add application workflows to update your vendor lists constantly. The vendor add application workflows allow users to suggest trusted vendors and add relevant information. The concerned authority then reviews the vendor details and approves appropriate vendors. Finally, D365 adds these approved vendors to the vendor master lists. These lists help users identify vendors and save them the hassle of looking for new vendors whenever the need arises.
Moreover, you can attach these lists to specific products making the purchase process more manageable. Vendors can also create their product lists. Finally, you can directly import these product lists into Dynamics. Purchase managers can also send direct requests for products to vendors using Microsoft D365, bypassing the complex quotation process altogether. Consequently, vendors can accept or reject the request, making vendor contract management easier.
PURCHASING

MADE EASY WITH

PRODUCT CATALOGS
Dynamics allows for the creation of centralized product catalogs. Product catalogs are comprehensive lists of pre-selected products that purchasers can choose from. In addition to merely listing down products, these lists contain associated information like product prices and possible discount rates. A product catalog helps streamline the procurement process. Users can choose from pre-vetted lists instead of conducting market research from scratch.
Another important feature of D365 procurement and sourcing workflows that helps with centralization is work lists. These are centralized lists of procurement-related tasks. Employees can pick up unassigned tasks themselves. On the other hand, managers can also directly allot work to employees based on a work list. These lists help employees grasp the overall process and help manage the work cycle; this helps increase productivity.
TRANSPARENCY

AND

OVERSIGHT
Workflows introduce transparency to the whole procurement and sourcing process. Managers with the required access can track the procurement cycle. This real-time tracking makes oversight almost effortless.
Features like spending limits allow managers to monitor the purchasing cycle. Purchases exceeding pre-defined spending limits must go through a pre-defined approval process.
Streamlining product approval is the most important aspect of procurement and sourcing workflows. Managers can set up multiple conditions and corresponding permissions to regulate procurement.
Managers can also view procurement and sourcing histories with a button. For this reason, they can better understand significant trends in the company's purchasing processes. They can also set up and preview performance metrics and procurement KPIs to improve the overall procedure.
Simply put, D365FO allows businesses to govern their procurement expenditures effectively.
SUMMARY

Automating your procurement and sourcing cycle using Dynamics 365 brings consistency to the whole supply chain process. D365 features like product catalogs, vendor catalogs, and work lists facilitate product identification, vendor selection, and assigning procurement tasks to enterprise employees. Moreover, automation enables the process of oversight. It gives managers greater control over the procurement process to identify and plug in gaps that cause loss of money.
TYPES

OF

PROCUREMENT

AND

SOURCING WORKFLOWS

IN

D365
Dynamics 365 FO allows you to set up several types of procurement and sourcing workflows. Each of these is suited to a distinct step in the procurement cycle. In addition to these default workflows, D365 allows you to create custom workflows according to your unique requirements.
This image represents the procurement and sourcing workflows in Microsoft Dynamics 365.
PURCHASE

REQUISITION REVIEW
Purchase requisition workflows are the most common and consequential procurement workflows you can set up in Microsoft Dynamics 365. These workflows deal with generating, tracking, checking, routing, and approval of product requisitions.
Some of the essential steps involved in a purchase requisition review are as follows:
If a team member identifies the need for a particular product, he will create a requisition request, initiating the procurement requisition workflow
Immediately after an employee creates a procurement requisition request, D365 will forward it for review
The request will be sent back for additions if any information is missing. And, if no data is missing, D365 will send them for approval
At the approval stage, the concerned authority will analyze the cost and other details of the products and will either approve or reject the requisition request
The figure below is a sample that illustrates a basic purchase requisition review in D365. Additionally, it'll help you understand the different types of conditions and actions that can be set up in a basic workflow.
Basic sample of purchase requisition review in D365.
PROCESS FLOW FOR PURCHASE REQUISITION REVIEW
Following is a brief explanation of the steps illustrated above:
An organization's employee identifies the need for a product and generates a purchase requisition request
Microsoft Dynamics 365 forwards the request to a purchasing agent for review. The purchasing agent checks the request for missing information. He sends the request back to the requester if relevant data is missing
D365FO performs an automatic check on the reviewed request. If the amount exceeds the requester's spending limit, Microsoft D365 FO sends it to their department's head for approval. The request goes through if the amount is less than the spending limit
After approval, the requisition request is processed and translated into a purchase
PURCHASE

REQUISITION LINE REVIEW

 
It is pertinent to mention that while creating a procurement workflow, you can either process the entire requisition request document as a single document or individually route lines of the document to separate authorities or reviewers. Remember, if you create a requisition line workflow, D365 will review each line individually before sending the document to the next step.
If you have a requisition document that includes requests relevant to multiple departments, setting up a line-by-line review is the optimal way to go so that the relevant department/authority reviews each line.
Given above is an example of a very basic linear procurement workflow. In comparison, real-life workflows are considerably complicated.
SETTING UP CONDITIONS AND DECISIONS
Generally, procurement workflows include several decisions and conditions that give birth to multiple pathways. You can handle some of these conditions and decisions manually, while others can be resolved automatically by Dynamics 365. Besides, these conditions and decisions may include checks on vendors, upper limits on expenditures and even routing the document to the appropriate reviewer.
You can place a check on the product's value and route the workflow accordingly. For instance, you can set up the workflow for products that cost over $5000 and require approval from the group manager. In contrast, products valued less than this amount can be approved directly by the immediate manager.
PURCHASE

ORDER WORKFLOWS

& PURCHASE

ORDER LINE WORKFLOWS
Requisition workflows manage the flow of requisition documents through the organization. On the other hand, a purchase order workflow helps define a purchase order template that the entire organization must follow. In simple words, the actual working of these two types of workflows is more or less the same; the only difference is the document type.
Much like requisition workflows, you can either process purchase order documents comprehensively as a single document or split them into lines and process each of these lines individually. As the name suggests, a purchase order which needs to be reviewed line by line is called a purchase order line workflow.
VENDOR ADD APPLICATION

WORKFLOW
Vendor add application workflows are the last and the most distinct type of workflows. Correspondingly, these workflows manage to add new vendors to the vendor master list.
The simple process flow is as follows:
Vendor application workflow starts as soon as an employee requests the addition of a new vendor
Vendor contact submits a complete vendor profile in the vendor logs for approval
Concerned authority then reviews the full profile
After approval, D365 adds the vendor to the master list
Vendor receives a notification informing them of their acceptance or rejection
These workflows are instrumental in maintaining and updating a list of trusted vendors for procurement.
SUMMARY

There are five main types of procurement and sourcing workflows that users can create in Microsoft D365. They differ in the types of operations they perform. Moreover, D365 allows users to process their requests as single documents or each document line individually. Organizations can use review and order line workflows for multiple departments or units.
SETTING UP

PROCUREMENT

AND

SOURCING WORKFLOWS

IN D365
Step 1:   

Click Procurement and Sourcing > Setup > Procurement and Sourcing Workflows.
Step 2:   

On the

Action Pane, click New.
Step 3:   

Select the Type of Workflow you want to create, and click Create Workflow.
Step 4:   

Now, Log In with your dynamics credentials to access the Workflow Editor.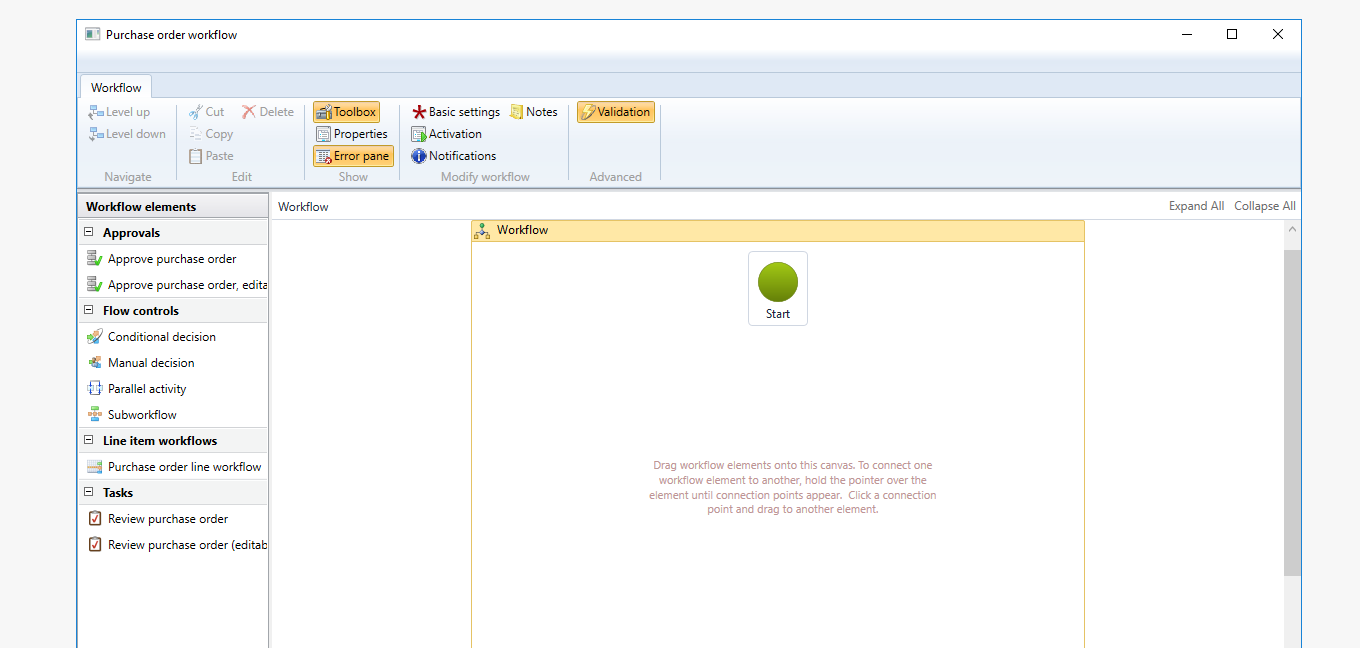 Step 5:   

Design the Workflow by dragging workflow elements onto the canvas in the workflow editor.
Step 6:   Configure each element of the workflow.
Step 7:   Repeat Steps 2 through 6 to create additional Procurement and Sourcing workflows.

Step 8:   

We can also Assign an Approval Step to the Participant, Hierarchy, Workflow user, Queue, and Single user.
NEED HELP WITH
SETTING UP APPROVALS

FOR

PROCUREMENT

AND

SOURCING

PROCESSES?
CONCLUSION
D365 procurement and sourcing workflows help bring consistency and visibility to the procurement process. Moreover, you can define certain approval conditions to help oversee purchase orders. These workflows are an all-in-one solution to issues in your procurement practices. In addition to defining approval conditions, Dynamics 365 also allows you to track the entire cycle and identify important trends which can help you further improve the process.
D365 Procurement & Sourcing: Key Terms

Sr.
Term
Explanation
1.
Purchase Requisition
A request for a good or service made by an employee of the organization.
2.
Quotation Request
A demand for product pricing bids from potential vendors.
3.
Product Catalog
A list of pre-vetted products and their pricing information.
4.
Vendor Catalog
Information on the product assortment that vendors can supply.
5.
Spending Limits
Products exceeding this price might require approval before being processed.
You can define different types of workflows for distinct business needs. For instance, you can set up workflows for requisition requests, purchase orders, and vendor lists. Dynamics 365 also allows you to create bespoke workflows to meet specific requirements.
At Instructor Brandon | Dynatuners, we always seek innovative methods to improve competitiveness and meet your Microsoft Dynamics 365 requirements. If you're interested in consulting with our technical solution experts on setting up procurement and sourcing workflows, don't hesitate to Contact Us.
WHAT IS THE PURPOSE OF PROCUREMENT AND SOURCING WORKFLOWS?
Procurement and Sourcing workflows are set up mainly for approval purposes. These workflows allow users to design multipronged approval steps for the procurement cycle. Moreover, you can also create conditions to direct the approval processes. These workflows help streamline the procurement process and help managers monitor the process properly.
WHAT ARE THE DIFFERENT TYPES OF PROCUREMENT AND SOURCING WORKFLOWS?
There are five main types of procurement and sourcing workflows you can set up in Dynamics for Finance and Operations. Procurement requisition reviews process requisition requests while purchase order workflows establish approvals for a purchase order. Purchase requisition line reviews and purchase order line workflows process documents line by line instead of processing them as single documents. Lastly, the vendor add application workflow adds new vendors to the master list.
WHAT IS THE DIFFERENCE BETWEEN PURCHASE ORDER AND ORDER LINE WORKFLOWS?
Workflows that are processed as single documents are called purchase order workflows. In comparison, dynamics allows you to set up workflows whereby each document line is processed individually; such workflows are called purchase order line workflows. You can create purchase order line workflows for processes that require approvals from multiple reviewers or heads of different departments.