Create

Sales Order Invoice

in Microsoft

Dynamics 365
"This blog post explains how to decrease the time spent on invoice processing by preparing sales invoices in Dynamics 365 to maximize traceability of money spent on financial operations."
If you purchase or sell things, you have likely seen a document known as a sales order. But have you ever considered what it is and how it helps your company? What distinguishes a sales order from the many other papers involved in the purchase procedure? Do you need to process and post customer sales invoices?
What is an

Order for Sales

?
A sales order is a document that a seller prepares and issues to a client. It certifies the sale of goods or services and includes the amount, price, and quality of the products or services given. In addition, it provides details on the expected delivery date, delivery address, payment terms, and other terms and logistics of the sale.
A sales order, abbreviated as SO, is an internal document created and maintained by the vendor. It enables firms to rapidly and precisely monitor inventories and orders. This is especially advantageous for manufacturers, retailers, B2B online wholesalers, and suppliers. It serves as a means of confirming a transaction prior to the delivery of goods or services.
Sales Orders

vs.

Purchase Orders
The origin of the document is the most important distinction between a sales order and a purchase order. Vendors create sales orders as an internal document for customers. Purchase orders are diametrically opposed. They are sales papers that clients make for suppliers as a legally enforceable contract of intent.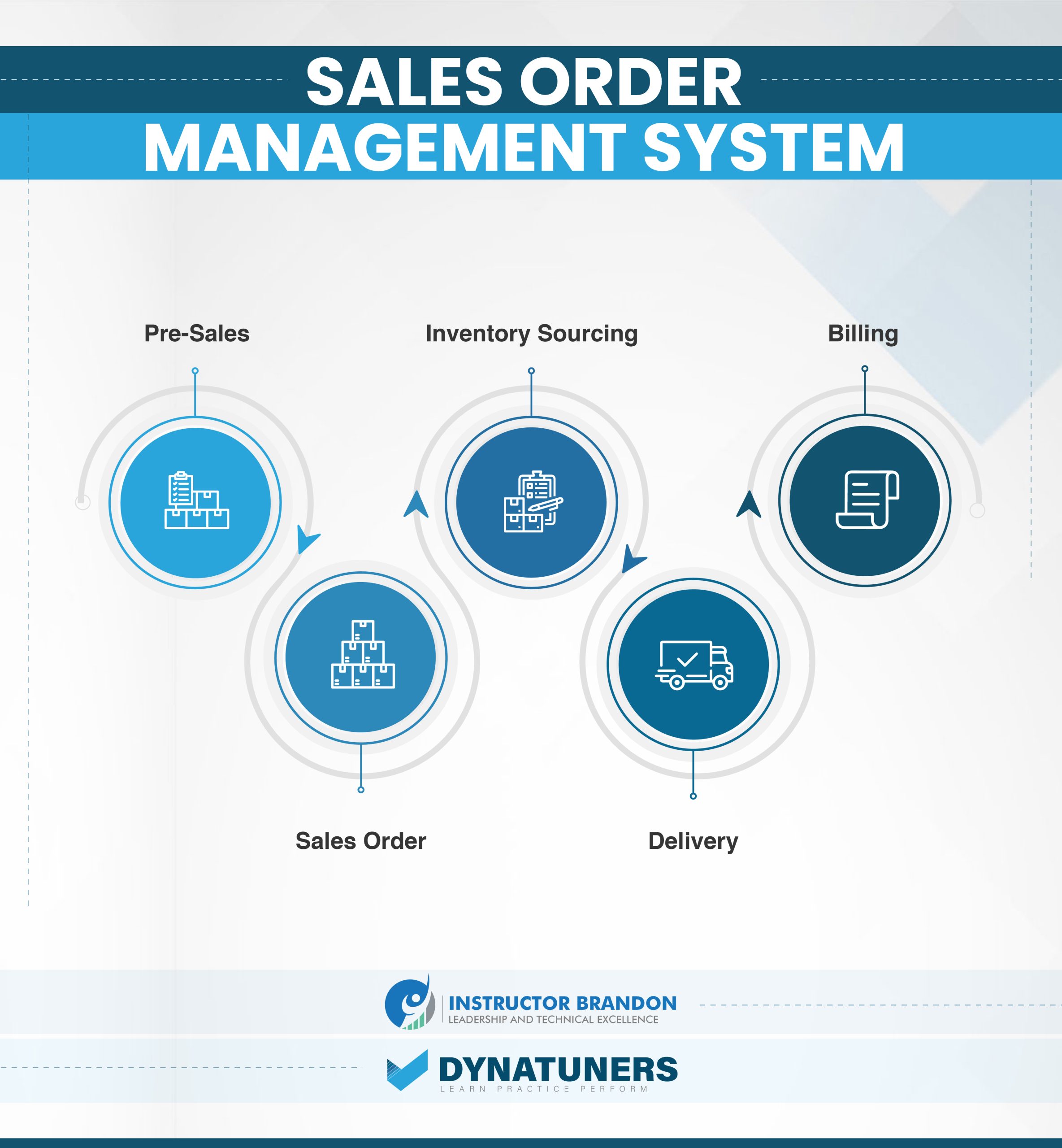 A sales order is issued after the issuance of a purchase order to certify that the vendor accepts the conditions outlined in the purchase order. If the conditions cannot be agreed upon, there may be more talks before a formal sales order is submitted and approved. The purchase order procedure may assist small firms in precisely tracking inventories and the cost of products sold. Looking for useful knowledge? Enhance your skill set with relevant and useful topics by learning from our group learning programs.
SALES ORDERS

 VS. 

INVOICES
After receiving and processing a sales order, a vendor will deliver an invoice to the customer. The time and function of a sales order and an invoice differentiate them from one another. The transaction is confirmed by a sales order, and the invoice follows this confirmation.
Every successful corporation creates a sales procedure that is optimal for achieving its revenue generating objective. D365 for Finance and operations is adaptable and highly capable of assisting basic to complicated sales processes, from lead generation to client conversion to sales invoices. This three-part blog series explains how to utilize D365 Finance and Operations to successfully manage the whole sales process lifecycle. Examine how D365 F&O may be used to successfully manage a company's sales process. Are you ready to take your career to the next level? Explore our D365 beginner level courses.
SUMMARY

A sales order, abbreviated as SO, is a vendor-created and -maintained internal document. Purchase orders are sales documents that customers submit to vendors as a legally binding contract of sale. Let's examine how D365 F&O may be utilized to manage a company's sales process effectively.
Invoice

Management
Management of invoices is a crucial aspect of company. It is crucial that you pay your bills on time to avoid incurring obligations that cause issues with your suppliers. However, if your business expands, timely processing of all invoices might take more time. In this case, the Accounts Payable (AP) automation features of Microsoft Dynamics 365 expedite invoice processing.
Organizations may leverage the invoice automation capabilities of Dynamics 365 to assist with manual processes such as:
Applying prepayments to sales invoices from vendors
Correctly connecting goods receipts to lines on outstanding vendor invoices
Conducting a simulation of an invoice before it is posted
Observing and assessing the outcomes of your Dynamics 365 AP automation vendor invoice processing
Your Dynamics 365 invoice automation processes illustrate the movement of vendor invoices as they pass through each procedure. This assists your accounting staff in effectively tracking and processing invoices. In addition, the Dynamics 365 AP automation reduces the mistakes that often arise when invoices are entered and processed manually. Invoices may be examined prior to being processed, allowing you to make any required modifications before to sending the invoice to the client and publishing it to the general ledger. In addition, a convenient price adjustment tool enables you to make a price modification on the original invoice and reprint it, so preventing consumer misunderstanding.
Customer records include crucial information such as terms, shipping accounts, taxes, etc., which are automatically populated on the invoice, therefore saving time and preventing data input mistakes. Invoicing and accounts receivable are completely connected, ensuring that client balances are constantly current. Learn in a hands-on, real-world setting in our Dynamics 365 Training Courses.
SUMMARY

AP automation eliminates the errors that often occur when invoices are manually input. The connection between billing and accounts receivable ensures that client balances are always accurate. On the invoice, the terms and conditions of the customer are automatically supplied, saving time.
Resolving Issues

with the

 Sales Order Process
For each firm that has successfully transformed its back-office processes to produce more timely business insights, improved customer service, and more organizational value, the road starts with recognizing a problem and refusing to accept the old way of doing things.
Automation may change sales order processing from a hindrance to an opportunity, elevating sales order automation from a back-office function to a forward-thinking contributor to strategic company objectives.
The first step towards achieving this goal is recognizing that there is a problem, and when it comes to manual procedures, the vast majority of businesses acknowledge that there is potential for improvement.
Identifying

and

Overcoming Pain Points

in the

Sales Order Process
The issues your company has with sales orders may seem obvious, but if you need to describe and quantify them to establish a business case for change, here are some pain points to examine and measure:
Days Sales Outstanding less than 45 Days
For organizations using manual O2C operations, the average number of days sales are outstanding is 58; companies utilizing automation may come close to halving this amount (33 days). Companies that depend on human operations are 83 percent more likely to finish orders and delivery on time than those that rely on automation.
Error and Exceptions Contribute to Rising Costs
Erroneous and exceptional invoices are the most expensive orders to complete. For organizations that manually process orders, approximately 80% of invoices need human interaction, compared to 16% for those that use automation. Inevitably, manual processing adds faults and exceptions to the workflow.
Absence of access to granular customer purchase data
Due to the time and effort required to capture information from consumer purchases and populate business systems with these particulars, many businesses lack timely, comprehensive data on purchasing patterns and market trends. Frequently, only order header/footer information is captured in business systems, leaving crucial data and line item details behind. All of this information may be obtained automatically using automation. If you want to learn more about Dynamics 365, you can also check out our blogs for additional information.
SUMMARY

Identification and Resolution of Sales Order Process Pain Points Automation has the potential to transform sales order processing from an impediment to an opportunity. Here are some pain issues to explore and quantify if you need to define and quantify them to develop a business case for change.
  Step 1
Open the Navigation pane > Modules > Accounts receivable > Orders > Shipped but not invoiced sales orders.
  Step 2
Select a sales order in the list.
  Step 3
On the Action Pane, click Invoice > Generate > Invoice. Note that this sales order has multiple packing slips associated with it. It will only show the word multiple instead of the packing slip number.
  Step 4
Expand the 'Parameters' section.
  Step 5
Posting must be set to 'Yes' to post the invoice. You can also turn off posting and just print the invoice. However, you can accomplish the same result by creating a proforma invoice instead of an invoice. This option is used for batch jobs. The query is run when the batch job is run.
  Step 6
In the Print field, select 'After'.
  Step 7
Select 'Yes' for Print invoice. Print management can print multiple copies of the invoice and also send the invoice via email as a PDF file.
  Step 8
In the Print charges field, select 'Summarize'.
  Step 9
In the Check credit limit field, select 'Balance'.
  Step 10
Click Cancel.
Combine Orders

into a

Single Invoice
  Step 1
Open the Navigation pane > Modules > Accounts receivable > Orders > All sales orders.
  Step 2
Locate a customer that has multiple invoices open.
  Step 3
Select multiple open sales orders from the same customer.
  Step 4
On the Action Pane, click Invoice > Generate > Invoice.
  Step 5
Expand the 'Parameters' section.
  Step 6
In the 'Quantity' field, select All. Note that there are two invoices listed in the overview section. Now let's merge them into a single invoice.
  Step 7
In the 'Summary update for' field, select 'Invoice account'.
  Step 8
Click 'Arrange' to merge the sales orders into a single invoice. The two sales orders are now merged into a single invoice.
  Step 9
Click 'Cancel'.
  Step 10
Click 'Yes'.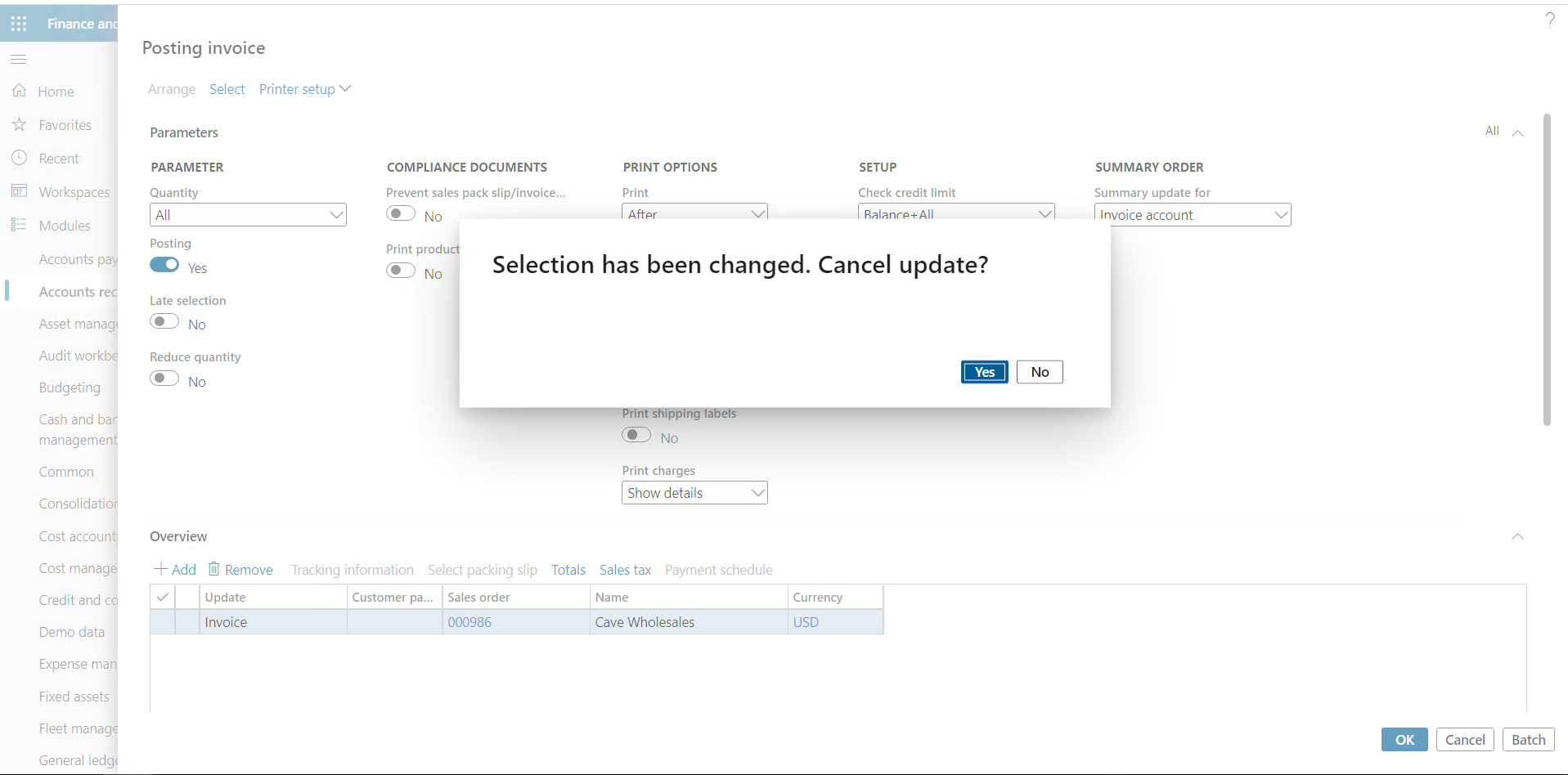 Post invoices

in a

batch
  Step 1
Open the Navigation pane > Modules > Accounts receivable > Invoices > Batch invoicing > Invoice.
  Step 2
Click 'Select'.
  Step 3
Click 'OK'.
  Step 4
Click 'Batch'.
  Step 5
Select 'Yes' in 'Batch processing'.
  Step 6
Click 'Recurrence'.
  Step 7
Select 'Days'.
  Step 8
Click 'OK'.
  Step 9
Click 'Cancel'.
  Step 10
Click 'Yes'.
SUMMARY

If you follow the processes that have been outlined, you will be able to generate an invoice for a sales order.
Optimizing

your

Sales Order Process
Sr.

Sales Order KPIs

Performance KPI
Importance
1.
Sales Order Lead Time
✓ 
2.
Incomplete Sales Orders
✓
3.
Open Sales Orders
✓ 
4.
Open Sales Order Lines
✓ 
5.
Late Delivery Expected (Sales)
✓ 
The sales order instructs the distributor to assemble, package, or otherwise prepare the order. Invoices inform purchasers of their responsibilities after or close to the time of shipment. The invoice and sales order will have almost identical information, but the buyer will get the sales order before the products are manufactured. In addition, the invoice will contain the payment method and precise payment conditions established previously in the sales process.
If you currently use papers such as estimates and invoices, you may ask how adding additional paperwork may be advantageous. However, the sales order procedure might ultimately save you time and money. Here are a few of the commercial benefits that might result from streamlining your sales order process:
Lower the Probability

of

Human Error
Since sales orders are created before the assembly, shipment, or performance of the products or services, this gives an excellent chance to verify the sales' correctness. You and the customer may review the sales order papers and compare them to the purchase order and the estimate.
Consider utilizing file-sharing software to share these sales papers with your customers and staff in a safe and secure manner; see four creative ways to utilize file sharing in your Ring Central app. With file sharing, you can expedite the purchasing process and improve customer service. It will also make it simpler than ever to identify mistakes before to shipment.
Maintains

Accounts in Order
Your accountants are appreciative of each of these sales paperwork. Using order numbers, quotes, purchase orders, sales orders, and sales invoices may be matched. This is a straightforward process with QuickBooks or any other accounting software of your choosing.
During invoicing, your accounts receivable department may verify that the proper information is being entered. After ensuring this precision, you may precisely modify your other accounts, such as costs of goods sold (COGS), inventory assets, and sales. This will safeguard you in the event of an audit and provide you with the most accurate data for making vital business choices.
Enhance

Inventory Accounting
Effective inventory management needs precise monitoring of inventories. Knowing which orders must be completed prior to shipment may aid in preventing backorders and optimizing the procurement process.
With sales orders, you may allot inventory to individual client orders. There is additional software with a single interface for recording packing and shipment information. Having items in stock at all times can boost your ecommerce business and build consumer interactions. When working in B2B commerce, in particular, your customers must have faith in your capacity to provide items and services on time. Should you require any additional information or help, feel free to get in touch with our support center?  
SUMMARY

Here are some of the potential business advantages of optimizing your sales order procedure. You and the client may compare the sales order documents to the purchase order and estimate. Sharing files expedites the purchase procedure and enhances customer service. Using order numbers, it is possible to match quotations, purchase orders, sales orders, and invoices. Your accounts receivable department may ensure that the correct information is submitted throughout the billing process.
Sales Order Automation

with Microsoft

Dynamics 365
The whole procedure may be completed manually, or your organization can produce sales orders using automation. Sales order automation (SOA) reduces the time-consuming job of manually populating sales papers with information. Automation ensures that the papers are comprehensive and correspond to the purchase order. SOA has the following effects on your organization:
Minimizes

Work Time
Filling out the documentation and confirming its completeness frees up time for other urgent activities, such as customer service. The automation of this data input saves time and eliminates documentation mistakes.
Improves

Customer Service
Since it frees up your team's time, they can now devote it to delivering exceptional customer service. They will also get their sales orders more quickly and precisely. The faster this procedure can be completed, the sooner they will get their stuff.
Permits

Scalability
If your sales are affected by the seasons or other external variables, you may encounter busy and slow periods. When your business experiences a rise in sales, an automated sales order procedure may notify you to the need to refill items or boost staff presence. It will notify you sooner to the need to replenish inventory or engage temporary workers in certain divisions, such as sales and delivery.
It will also provide an early warning of declining sales. The sooner you become aware of a slowdown in sales, the sooner you can devise a strategy to lure them back. Consider reviewing a sample communication plan to assist in the development of marketing materials and a communication strategy. It may be directed towards warehouse-bound inventory or certain consumer categories, such as inactive customers.
Enables

You to

Process Data

from Anywhere
People are working remotely in greater numbers than ever before. Automation enables you to process sales invoices data from any location, liberating you from the warehouse. You can give customer service and monitor inventories from any location on the planet. It also delivers real-time data to assist you in making the best educated business choices possible.
SUMMARY

The automation of sales orders (SOA) simplifies the time-consuming task of manually generating sales documents. When your company's sales increase, an automated sales order procedure may alert you to the need to replenish inventory or increase staff presence. You are liberated from the warehouse by the ability to process sales order data from any place thanks to automation
Conclusion: D365 Sales Invoices
Tracking your items and client orders may be a difficult undertaking for any organization. A collaborative effort is required to keep track of all paperwork from the beginning of the buying process to its conclusion. However, this process is enhanced by the use of efficient sales invoices and documentation.
Sales orders are necessary. They enable you to enhance inventory management, decrease order mistakes, and maintain an orderly accounting system. Using software to automate the process may increase the advantages of creating sales orders. You enhance customer service and the whole purchasing experience by doing so.
At Instructor Brandon | Dynatuners, we always seek innovative methods to improve your competitiveness and suit your Microsoft Dynamics 365 requirements. Our offerings are founded on defined procedures, industry experience, and product understanding. Moreover, if you're interested to consult with our technical solutions experts on how we may help you to consolidate sales order invoices using Dynamics 365, we are here to tune your workspace in the right way so it may fit your requirements, to get more information on it Contact Us.
What is sales invoice?
A sales invoice is an accounting document that records a business transaction. Sales invoices provide the business with a record of the services they've provided to a client, when the services were rendered and how much money the client owes the business.
How to Create invoice for sales order?
This blog posts explains how to invoice a sales order, including merging invoices and batch processing. This procedure uses the USMF demo company.
What is the difference between a sales order and a proforma invoice?
Although a purchase order and a proforma invoice are both sent before the goods have been delivered, the key difference is that a pro forma invoice is a quotation that is sent from the seller to the buyer, whereas the PO process is a confirmation of the order sent from the buyer to the seller.