Create
Advanced Contracts

for

Billing

in Dynamics 365

Billing Contracts |  Advance Payments | Work Progress Contracts

When working with one of your repeated and long-term suppliers, it is uncommon for them to approach you when they are under cash flow pressure and or require advance billing. Likewise, there could be a chance that you may have to lean on them for a project exceeding their financial limit. So, how do you deal with such sort of problems? And what if the request occurs after the contract award. You feel a bit under pressure to meet the deadline in such conditions.

You must have a complete understanding of the terms when you are releasing an advance payment. For example, you need to see if your suppliers ask for improved payment terms for just a couple of weeks. Or if they ask for an advance payment for the completed work, which we all know is a higher risk for the developer.

However, if suppliers ask for payment of goods and services that aren't incorporated in work, a tangible asset is yet to be realized. That means the contract has bought a portion of the plant for the project or any valuable material, and then with contracts, you can pass the title of goods or services to yourself until they are used in work. In this way, you can protect yourself if, in any case, the contract becomes insolvent.

In addition to the scenarios mentioned above, numerous other contract types can make your head go round. However, Dynamics 365 advance billing contracts allow users to structure a project-based organization to manage increasingly complex and erudite contracts. Businesses can track, store, report, and generate invoices in ample ways to house a wide variety of contractual terms. This functionality allows organizations to manage either commercial contracts or any US-based governmental contracts.
How to Tackle
Advance Payment?
Several mainstream contracts come with the provisions of making advance contracts with the help of payment bonds, vesting agreements, or anything related to them. However, the best practice here is to cover all aspects, and you must apply diligence and all of the judgments before making any payments. A paid money recouping mechanism is one thing, but enacting them promptly without legal, due processes is another.
Let's say an advanced payment is tied to a vesting agreement; the certificate of vesting will be subject to specific restrictions, such as being correctly identified, held separately from identical goods created at the yard, and safely maintained and insured. If you cannot clearly identify yours as required by the vesting agreement, you may have difficulty proving your claim.
It is crucial to know that making an advance payment is a two-way road if the provision is already in the contract. This will lead the employer to make an advance payment on the contractor's request. However, if the employer does not pay, the contractor has the right to stop doing the work, get his cost claimed, or even terminate the contract and pursue the employer for the infringement of the agreement. Therefore, you need to consider your options if you receive a tender offer from a contractor with a qualification regarding advanced payment levels.
Microsoft Dynamics 365 Finance & Operations
But it is not the case with the Dynamics 365 users; several features and functionality highlights help them on how to create an invoice with accurate payment? Here are some of the spotlight features of Microsoft Dynamics 365 Finance and Operations regarding project operations for stocked/production-based scenarios:
Hierarchical contract structures
Mark up costs for profit
Robust fee calculations
Smart billing for retroactive fee rate changes
Functionality to specify terms and conditions of a contract
Bill according to the terms of the contract
Configurable invoices for detailed billing charges
Bill labor based on external job titles
Track funding of contracts by funding source
Create project accounting entries for the billed amounts
Option for revenue recognition.
To better understand how the structure of the advance payment contract works, here's a hierarchical table:
SUMMARY

Advance payments are a terrific way to increase revenue while also guaranteeing that the costs of supplying a product or service do not eat into your profit margins. The more advance payments you receive, the more significant gap between your top and bottom lines you can maintain.
Processing

Advance Payments

The processing of advance payments goes through several "processes."  To help you understand the process of making advance payments, you can see an advance payment process chart below:
You and your supplier may have agreed to make an advance payment before making interim and final payments. For example, you may pay the producer in advance to deliver 30% of the expected harvest production. You might even give the farmer a specified monetary amount on a specific day.
The total value for advance payment varies by the following factors:
The due date rule assigns the installment payment term changing the payment schedule record.
The distribution percentage also affects the payment schedule record.
And the current estimated amount on the scheduled record increases proportionally with the value of the advance payment
These requirements must be met to be eligible for advance payment:
The advance payment check box on the due date rule assigned to the payment term on the payee payment schedule must be chosen, and the practice must be based on the current estimate (CE or blank).
The due date rule must include a delivery percent if the payment term is based on a percentage of the product received.
The payment must be based on a current estimate amount in the harvest record.
The record can't be for a continuous harvest.
If you're using multi-currency processing, you'll need to assign a currency code to each payee record.
The system will create a voucher record in the ledger table with a code, period, and ad suffix when you issue any advance payment. This information is necessary for the system to deduct the advance payment from the final price whenever you process the contractor's settlement. The system won't link advance payment with receipts for voucher matches until the last statement.
Progress Billing Invoice
Item  No.
Description
General Ledger Account
Scheduled Value
Previous Application
Completion Percentage
Balance
Previous Retaining
Retaining Total
77
Cereal Packaging
1,600,000
16,477.22
9,800
100
5,000
927
657
65
Wooden Boxes
1,700,00
12,524.12
75,23.02
54
10,000
726
1,200
36
Eco-friendly Packaging
1,002,00
2,000.00
2,000
60
200
200
1600
Transaction

for Advance Payments
Users can review contracts in need of advance payments through the online Microsoft Dynamics 365 portal or in a report format. The advance payment search form and report show transactions eligible for advance compensation and for which a voucher is yet to be paid or even generated. Dynamics will show transactions for active contracts and the current harvest year and includes details such as the contract price, date, quantity estimate, quantity received, and many more.
Users can set processing options for both programs and report to show contract nearly delivery percentage permitted for advance payments. Or else, the system will show all of the advance payments, regardless of how much delivery percentage they have completed. Users can also print the advance payment report showing payment schedules.
SUMMARY

Payment in advance is required by companies engaged in the production process since it demonstrates the buyer's willingness to acquire and purchase in the future. It safeguards the company from unplanned losses. Because many of these advance payments are nonrefundable, it also demonstrates the buyer's faith in the vendor. The above heading appreciably explains the process and transactions for advance payments.
Payment Models for
Building Contracts
Work progress payments are calculated depending on the proportion of work completed. Instead of waiting until the project's conclusion to the bill, work progress billing allows you to bill as the task progresses. Payments are usually paid monthly. However, they can also be given at specific completion percentages (e.g., when the job is 30 percent complete, 60 percent complete, and 100 percent complete).
There are various distinct payment models for building contracts. The following are a few of the most common:
Payment Based on Time and Material
Lump-Sum Contract Payment
Cost-Plus Payment
Unit Price Payment
Time and Material

Payment
T&M contracts are based on actual hours performed and materials acquired for the task during the recurrent billing period. Typically, an hourly billing rate is agreed upon, as well as a material mark-up. The amount to create invoices is calculated using a basic arithmetic formula (labor hours x labor rate + materials prices x mark-up %). It's critical to preserve detailed cost records since owners and general contractors may want to check them to ensure they're getting what they're paying for.
Lump-Sum

Contract Payment
The contract price is fixed in lump-sum contracts. Such contracts are helpful when you have an explicit calculation for the project's overall expenses. For example, a subcontractor on a minor project contract may charge with a simple invoice after the job. They're simple to put together and they typically don't necessitate a lot of backup paperwork. However, on a more significant project, lump-sum contracts may need work billing process to offer the owner more control over the work as it develops and to provide ongoing payments to the subcontractor performing the job.
Cost-Plus

Payment
Cost-plus contracts are similar to T&M in that they base the overall invoice amount on actual building costs. The subcontractor contributes a percentage or set fee to the project's contract cost for overhead or other expenditures in these contracts. The owner or general contractor will almost certainly require backup paperwork to validate costs.
Unit Price

Payment
In a unit price contract, contractors set the price for the unit of project work ahead of time. For example, a liner foot cost $50 per unit. And the contractor multiplies it with the number of completed units. This is a very straightforward way to do it unless you have a minor disagreement about the number of completed units. Here, the subcontractor may need to show some documentation as proof for its completed work.
SUMMARY

You can combine some of the above contracts with work progress payments such as cost-plus or lump-sum retainer agreement. The thing about understanding work progress payments is all about knowing the portion of completed work till date, and what should be the bill for it.
Create
 Advanced Contracts for Billing

based on

Work Progress

in Dynamics 365
PREREQUISITES:
  Step 1
From the navigation pane head over to Project management and accounting> Setup > Project management and accounting parameters.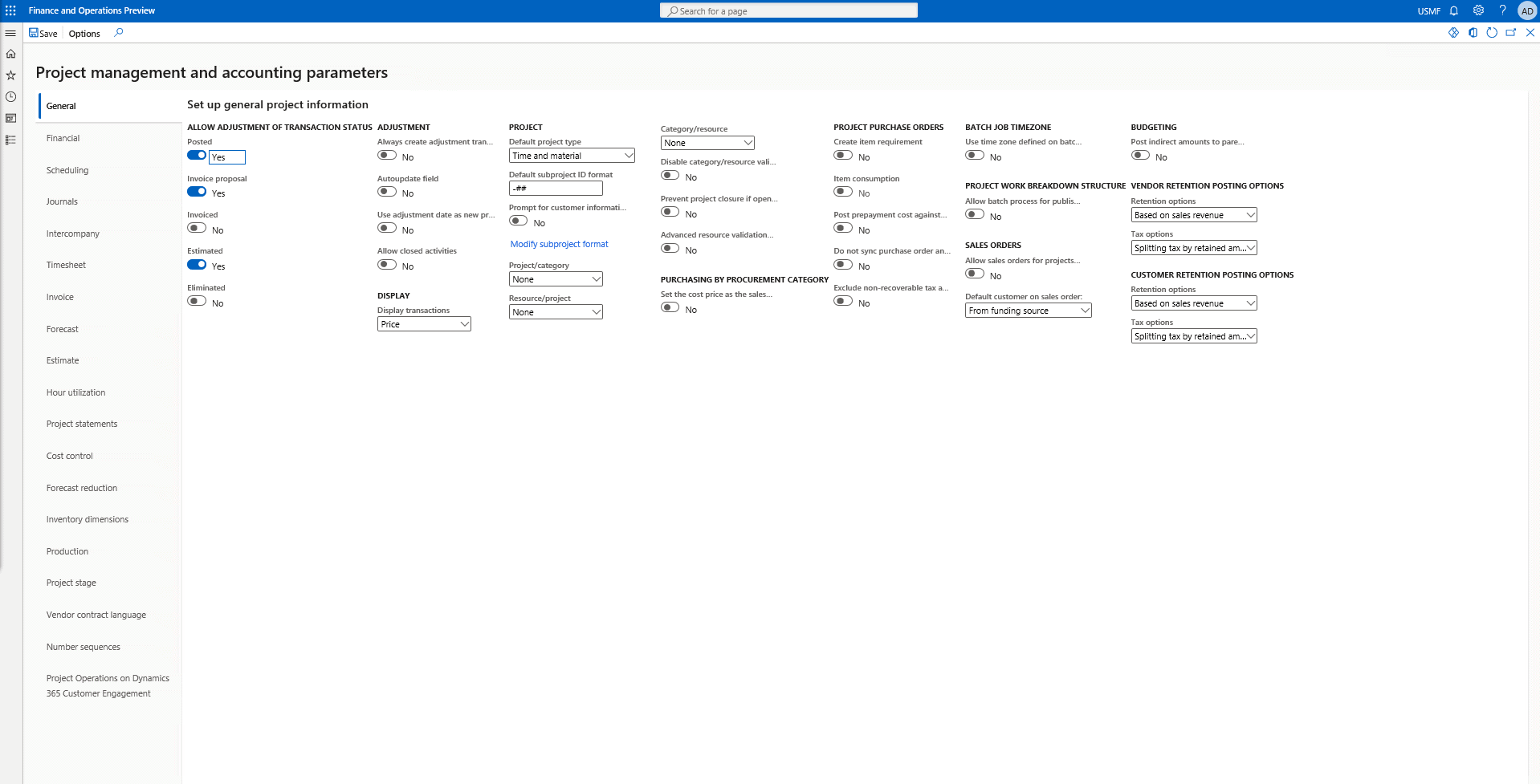 Step 2
On the Project management and accounting parameters page, on the Number sequences tab, set up the number sequence that you want to use when billing rules are created.
  Step 3
Now go to the module Project management and accounting > Journals > Fee.
  Step 4
Here setup a new journal as follows.
  Step 5
We click on new on the top action pane and the fields are automatically populated for the journal
  Step 1
On this point we head over to the Project management and accounting > Projects > Project contracts.
  Step 2
On the Project contracts page, select New and enter the following data in the fields.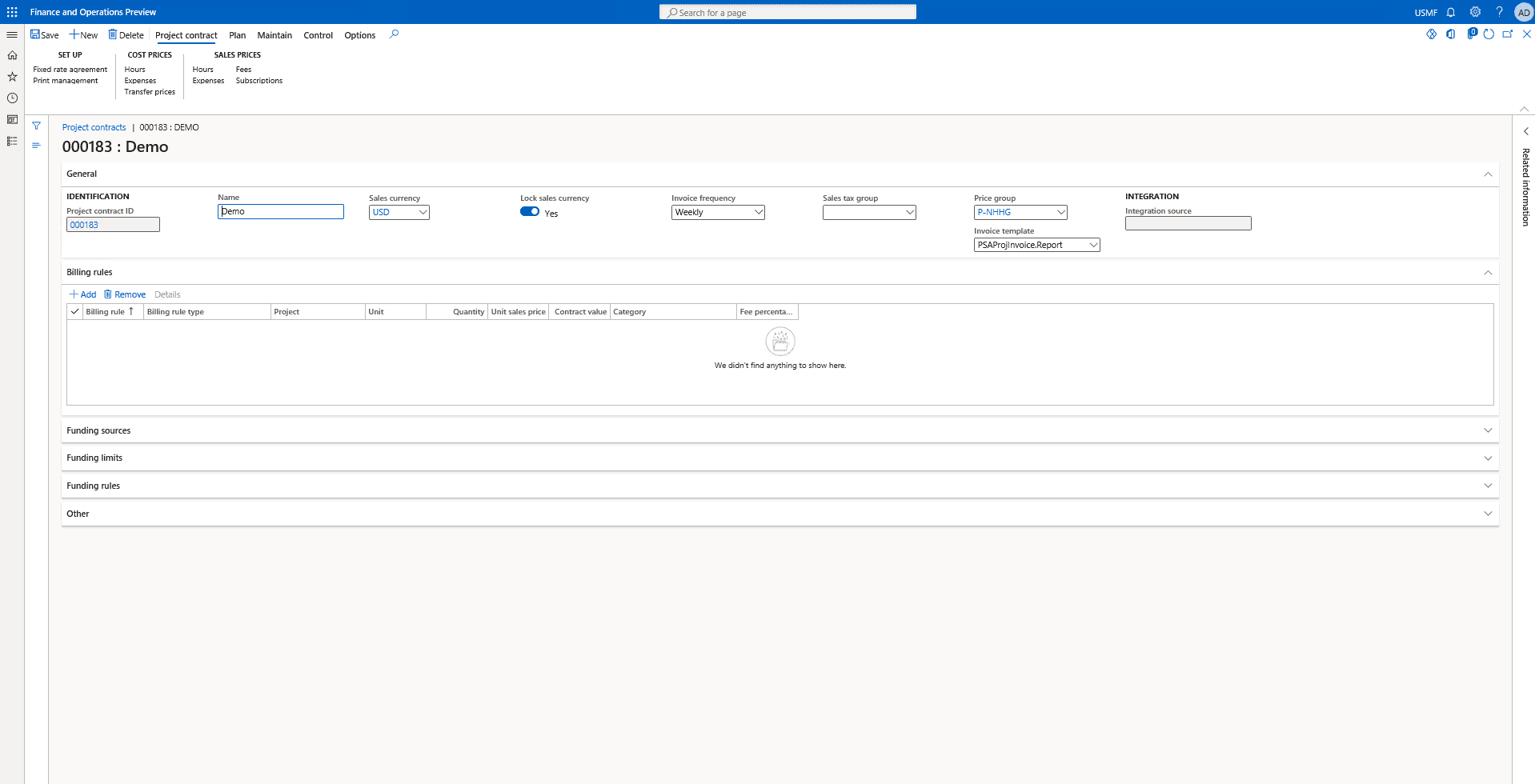 Step 3
Now we click on Add under Billing rules to add a rule to the list.
  Step 4
Now go to Project management and accounting > Projects > All Projects.
  Step 5
Click on New to add new project.
  Step 6
Add the required data inside the fields and click on Create project.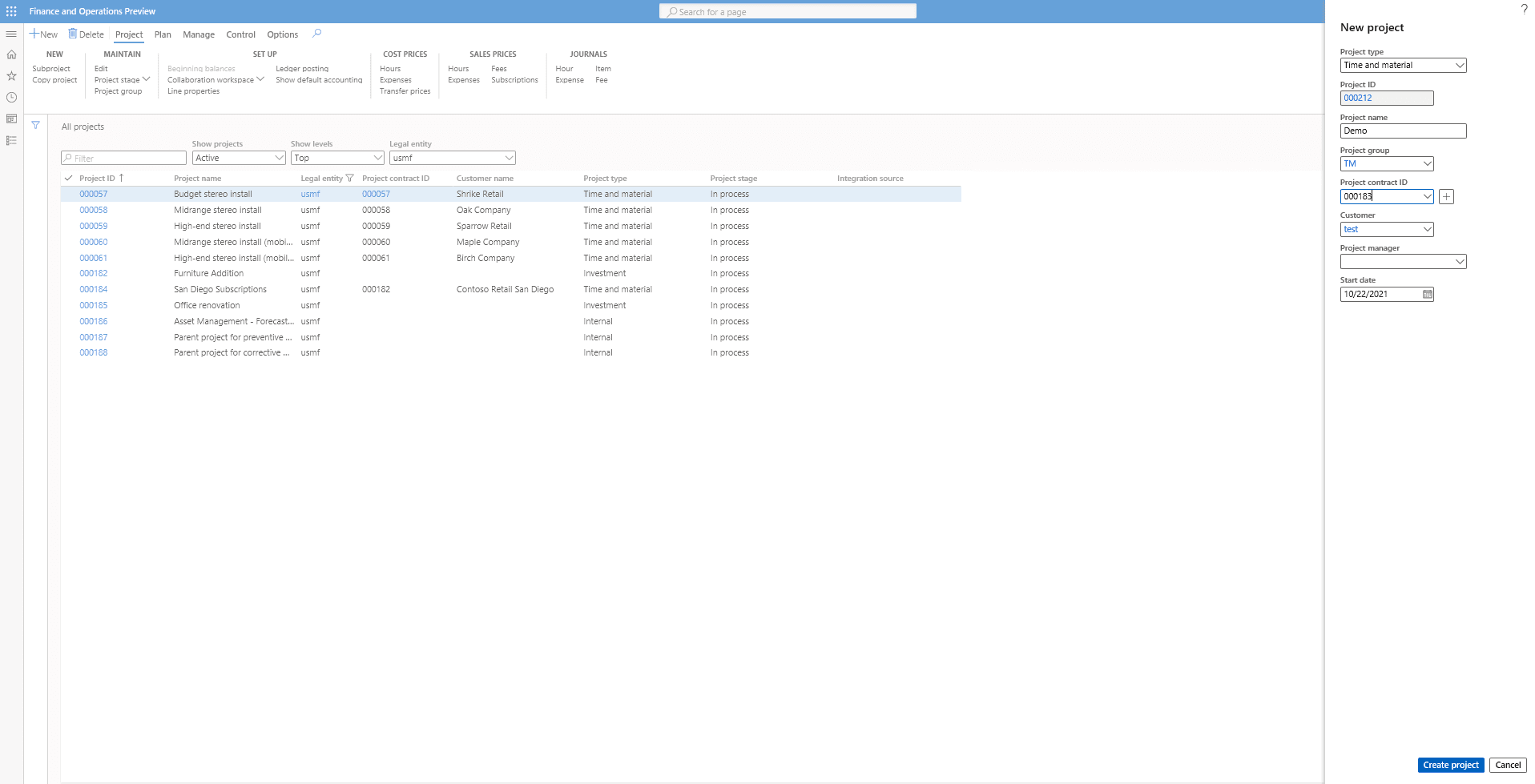 Step 7
Now on the top action pane click on Project Stage and click on In Process from the drop down.
  Step 8
Click on OK to proceed.
  Step 9
Then Click on Plan tab and then go to Project Budget under Budget tab.
  Step 10
Click on new add a new line for cost and then enter in the Original budget.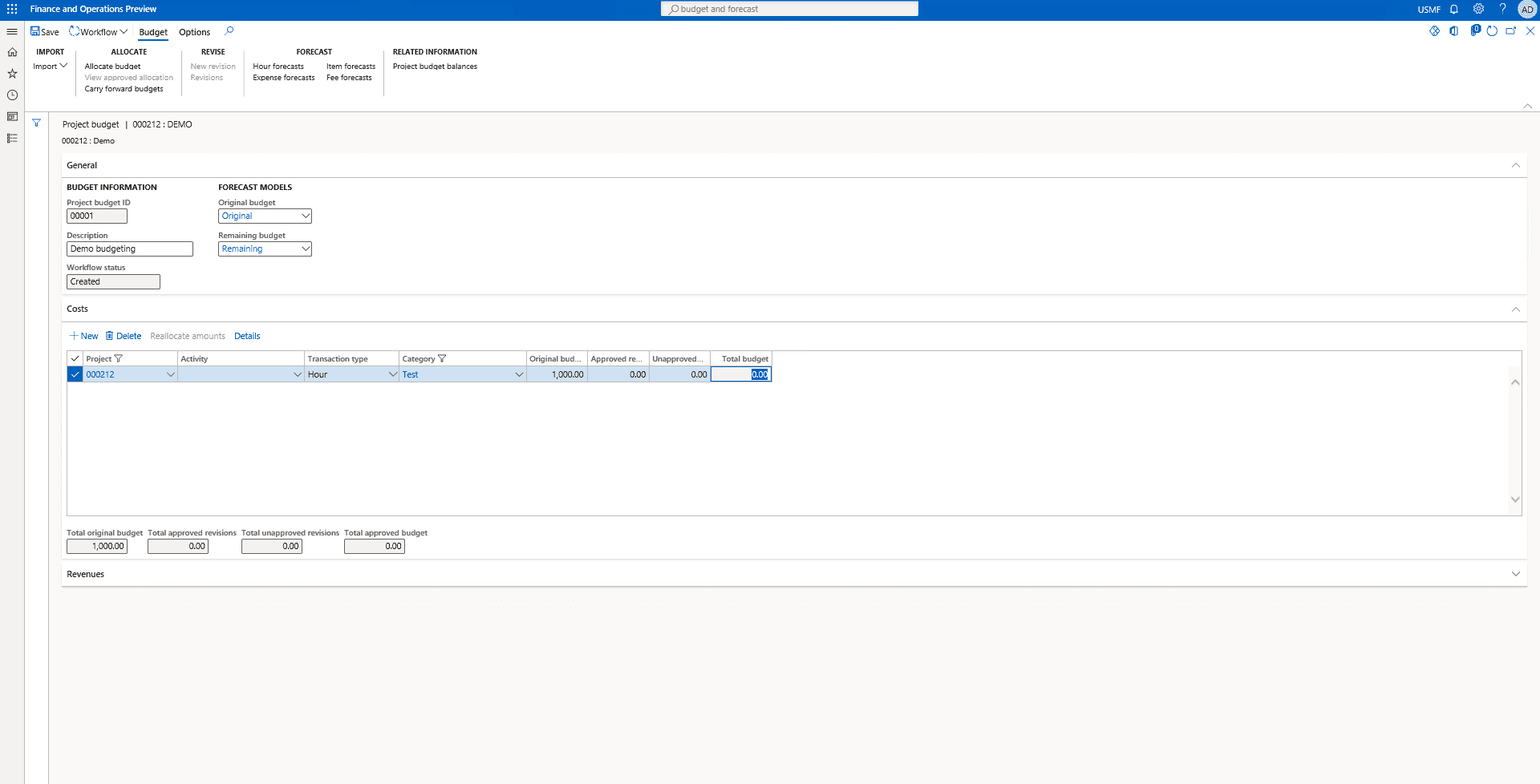 Step 11
On this point we head over to the Project management and accounting > Projects > Project contracts.
  Step 12
Select the project contract we created earlier and click on it to open details.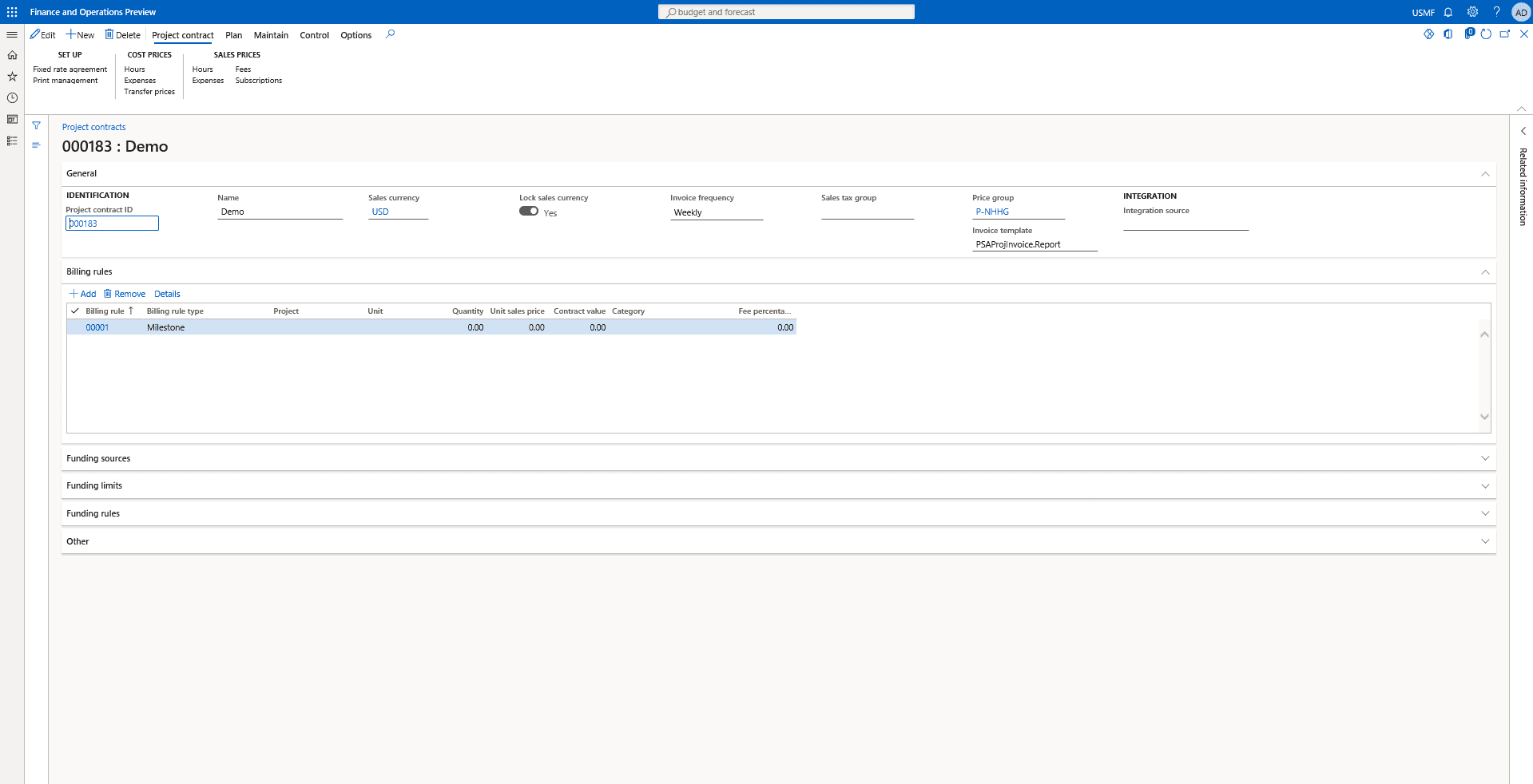 Step 13
Check if the billing rule needs to be configured.
SUMMARY

Dynamics 365 allows its users to comply with work based advance payment contracts. In this regard, you can create advance billing contracts through project management and accounting parameters. The complete step by step guide is mentioned above in detail.
Why do Companies Go for
Work Progress Billing?
Up and down the payment chain, progress payments benefit everyone. They enable owners and/or prime contractors to inspect and address conflicts with subcontractors before the project is completed.
Get Paid

Instantly
One of the main benefits to employ progress payments for subcontractors is that you don't have to wait until the conclusion of the work to get paid. It's especially beneficial for small enterprises that don't have a lot of cash on hand and can't afford to wait for lump-sum contract payments.
Evade

Debts
Subcontractors can pay for job expenditures as they go. You can pay your staff and invoices on schedule if you have cash pouring in throughout the project. You won't have to pay everyone until the end (assuming they'll let you wait that long), and you'll be less likely to fall into debt to make ends meet.
Distinguish

Payment Issues
It will also be easy to notice a payment problem if you bill as you go. If, for example, the first few payments are really prompt, but then take longer and longer as time goes on, it might be a sign that the project management is facing financial difficulties. You won't know whether the owner has the money set aside if you wait until the completion of the project. It may be too late by then, and your only options are to file a mechanics lien or file a lawsuit.
Halt Work

When Not Get Paid
If you're billing as you go and there's a payment problem, you can pause work until the problem is rectified. Many contracts provide that you have the authority to do this in the event of a disagreement. This strategy is quite efficient in obtaining money. Owners do not want their projects to be delayed for any reason, even non-payment. Stopping work will draw the owner's notice immediately if it's a GC who isn't paying you.
SUMMARY

Progress payments are beneficial to everyone involved in the building project. Progress billing allows owners and prime contractors to observe subcontractors' progress in real time. The Progress payment applications might reveal quality or work difficulties before they become a major problem.
At Instructor Brandon | Dynatuners, we always seek innovative methods to improve your competitiveness and suit your Microsoft Dynamics 365 requirements. Our offerings are founded on defined procedures, industry experience, and product understanding. If you're interested to consult with our technical solutions experts on how we may help you better understand advanced billing contracts or get accurate payment numbers by establishing contract terms in Dynamics 365, don't hesitate to Contact Us.
What is AR balance?
Accounts receivable (AR) is the balance of money due to a firm for goods or services delivered or used but not yet paid for by customers. AR is any amount of money owed by customers for purchases made on credit.
How to calculate progress billing?
Progress billing is calculated on a to-date basis by multiplying the project's percentage completed by the total project price. As it meets milestones, the contractor submits an invoice for completed work. As long as the customer is satisfied with the quality of the product, it makes the payment.
What is progress billing?
Typically used for large-scale construction projects, progress billing is a type of invoice that bills for work completed along the way. Instead of invoicing at the end of a project, progress billing occurs incrementally as the project advances.