Create a

Consignment Replenishment

Order in Dynamics 365
Delivery Schedule | Delivery Planning | Consignment Inventory | Dynamics 365
Gone are the days when you were required to generate a virtual inventory report and track it with only digital information at your hand. A few versions before, Dynamics AX had a vacuum for specific workarounds to completely get hold of consigned inventory. Anyhow, Dynamics 365 Finance and Operations, with its new features, introduce a better, easier, and faster tracking of consigned orders. While doing so, Dynamics 365 allows users to check the inventory transaction status and on-hand inventory.
Setting up consignment inventory in Dynamics 365 Finance and Operations is relatively easy. The whole process starts with creating a consignment replenishment order. As this process foreplays inventory as the vendor's ownership, it doesn't impact your business financially. It will only affect you when you transfer, consume or sell the stock after transferring the legal entity with ownership transfer journal in Dynamics 365. After the legal transfer of ownership, D365 will create a purchase order according to the unified quantity. Users can manage vendor-owned inventory onsite and transfer the possession as soon as it is required for consumption in the production line.
When it comes to choosing the right business arrangement for inventories, there is a lot of debate between VMI (vendor-managed inventory) and consigned inventory. However, before getting to the steps to create a consignment replenishment order, let's get down to the roots of this debate and see which business arrangement fits our business model.
Consignment Inventory

in Dynamics 365

In most sectors, a significant amount of money is spent on inventory management and inventory tracking. Choosing consignment inventory management as a strategy to cut costs is one option. In this approach, a consignor (usually a supplier) sends products to a consignee (usually a vendor) who agrees to sell them. The consignor retains ownership of the goods until they are sold, at which point they become financial inventory in the consignor's accounting records.

While vendors incur a slight financial risk by not paying for a product until it is sold, it allows suppliers to offer a broader range of products to the market and focus more on sales. However, consignment inventory models might be dangerous for suppliers because they are not paid until their inventory count is sold. They also gain because they can get their product in front of a more significant number of potential buyers.
Industries where
Consigned Inventory

holds a

dominant position

Inventory accounting is widely used in a variety of sectors. While it is most recognized for its use in retail, it can also be used in manufacturing, distribution, dealer management, and subcontracting production components.
When launching wholly new products to the market, introducing current products into new sales channels, presenting pricey products with questionable sales, and the consignment inventory strategy are incredibly advantageous in circumstances where demand is unknown.
It's prevalent in the packaging business, as suppliers want to take advantage of colossal batch sizes to cut setup and run costs.
For industries dealing with essential services, parts can gain several benefits from the consignment inventory record. Consignment inventory allows the supplier to provide a high level of service by having parts available all-time and saving expedited freight costs. It further ensures that the vendor does not procure a competitors' replacement as he doesn't stock certain regions due to budget constraints or demand uncertainty.
SUMMARY

Consignment inventory is a business planning where the distributor agrees to offer their goods to a retailer without the consignee paying for the items in advance. However, the supplier or wholesaler still owns the goods, and the consignee pays for the goods only when they actually sell. Dynamics 365 takes it to the next level by automating the whole procedure while providing some extra helping features.
VMI

(Vendor-Managed Inventory)

Both VMI and CI are typically thrown around as they are interchangeable; however, they are a lot different when making the right decision for your production line requirements.

Your business arrangement is considered VMI when your supplier is managing the supply for your inventory. In contrast, consigned inventory is when you have ownership of your stock. Both of them are independent of each other. You can have a VMI or consigned inventory, or you can also have an inventory system that is both VMI and consignment.

Let's discuss VMI and CI in detail with their pros and recommended usage scenarios so that you can make a better decision based on your business plan.

In an international supply chain specific study titled, "The Effectiveness of Vendor Managed Inventory towards Improving Supply Chain: A Contract Manufacturers Perspective", vendor-managed inventory has been defined as;

"Vendor-managed inventory can be defined as means of optimizing supply chain performance in which the supplier has access to the customer's inventory data and is responsible for maintaining inventory level required by the customer. In a VMI partnership, the supplier makes the inventory replenishment decision for the firms. This means that the supplier will monitor the firm's inventory level and make periodic re-supply decisions on behalf of the firm, such as order quantities, shipping mode, and timing. Order transaction that is normally generated by the firm (through its buyer) is now initiated by the supplier itself. The company also will relinquish control of its re-supply decision and also transfer financial responsibility for the inventory to the supplier."

Let's suppose you must have a 1000 pieces stock of your most popular product. We understand how difficult it gets to process, chase, and source high-demand products whenever you are low on inventory, or somehow it gets depleted.

Here at Instructor Brandon, we aid our clients in making such processes as simple as possible. We make a predetermined forecast for the material requirement and set minimum stock levels for the specific products in inventory. Once the account hit the minimum stock level, an auto-replenishment notification would be visible.
When to use
VMI?
VMI approach gets useful when you have no inventory control. When you spend a considerable amount of time and money processing, sourcing, and chasing the orders or constantly getting out of stock for excessive material usage while unnecessarily putting your capital into poorly planned inventory, you should go for VMI.
Keep your core activities in mind. If you don't find managing inventory among them, VMI is the process for your business.
However, it doesn't have as many downsides as it aids business processes. Though the obvious or the only downside of VMI is the uncontrollability over your inventory. When opting for VMI, all you need to do is trust your VMI partner.
Benefits

of having

VMI

Several works of literature testify the upper hand of VMI implementation, either from the perspective of business or operations while sustaining the competitive advantage in the ongoing business environment.

With VMI, you can increase the performance of delivery processes. Several studies show the improvement VMI offers in adapting the in-demand variability while comprehending all delivery requirements.

Firms implementing VMI experience lower delivery and administration costs, allowing them to offer low prices to the end consumer. With the more subtle prediction for demand, firms can develop collaborative transport and warehouse management, eventually increasing supply chain efficiency. Likewise, with the ability to reduce operation costs, businesses grow their competitive advantage while allowing them to a position at the edge with their competitors.
SUMMARY

Vendor managed inventory (VMI) is a supply chain arrangement in which the producer takes control of the seller's or retailer's inventory management choices. Managed inventory, continue working program, or supplier-assisted stock control are all terms used to describe this sort of cooperation.
Consigned

Inventory

In some cases, the supplier places some of the inventory in possession of sellers (in stores or warehouses), allowing them to sell or use directly from their stock. Where the seller or consumer only pays when the stock is used, sold, or consumed. This is considered as consigned inventory, which is the core topic for our today's blog.

There are different approaches to this inventory system. A simplified one is; suppose if your business gets hold of 1000 in-demand HDMI cables, you will be paying for each of them as you start selling them.
The
upper hand

of Consigned Inventory

The advantages are clear. You won't have to put any money into inventory. However, this does not rule out the possibility of carrying expenses. You'll still have to pay for inventory storage and management.

When it comes to service components for necessary equipment, the consignment inventory model works best when you don't want to stock particular parts owing to budget limits or demand unpredictability. Your supplier will be able to deliver a greater level of service (by having the details instantly available) while also saving money on expedited processing and freight costs with the consignment inventory.
A word of
Caution
A consignment inventory should not be employed solely to save money in a particular area. This is when you might opt to put pressure on your supplier to provide consignment inventory order fulfillment to get rid of your inventory investment.
In these cases, you would already be stocking aircraft parts and using this leverage to negotiate lower prices with your supplier. While this may lower your costs, it merely shifts them from you to the supplier. These charges will be added to the supply chain through consignment inventories. Additional expenditures are constantly incurred when managing the consignment process. You'll eventually pay for it because the supply chain will have to absorb higher costs without providing any substantial gain.
Now that you have enough understanding of consigned inventory, let's begin with the steps on how you can create consignment replenishment orders in Dynamics 365 and view on-hand inventory.
Customer Usage over Vendor Ownership
Month
Consignment Inventory
(Customer's Location)
Customer's Usage
Vendor's Ownership of Consignment
1
1000
0
1000
2
900
100
900
3
800
100
800
4
550
250
550
5
250
300
250
6
0
250
0
Explanation of the above table
Month 1
The vendor provides the consignment inventory of 1000 widgets to the customer. The customer doesn't use any of the widgets, so no amount is invoiced, and the vendor still owns the entire consignment inventory of 1000 widgets.
Month 2
The customer uses and is invoiced 100 widgets. The vendor's ownership of the consignment inventory is now 900 widgets (1000 – 100).
Month 3
The customer uses 100, and the vendor now owns 800.
Month 4
The customer uses 250, and the vendor now owns 550.
Month 5
The customer uses 300, and the vendor now owns 250
Month 6
The customer uses the last 250 widgets, and the vendor no longer owns any of the consignment inventory.
SUMMARY

Consignment inventory is a supply chain model in which a merchant sells a product, but the supplier retains ownership until the goods are sold. Unsold items can be returned since the merchant does not purchase the inventory until it has been sold. In the above explanation you may find clear advantages of consigned inventory and things you should look out for while implementing it.
How to Create
Consignment Replenishment Order

in Dynamics 365?

  Step 1

From the navigation pane head over to Modules > Procurement and sourcing > Consignment > Consignment replenishment orders.
  Step 2
From the top menu select New.
 Step 3
On the Vendor account select the desired one from the dropdown list, click on the General Fast tab and select the site and warehouse for the vendor and click OK to proceed.
  Step 4
Now click on Add line and select an Item number as M9211CI from the dropdown list, enter a quantity for 5 items and set the Confirmed Delivery date. And then we refresh the page to see the Owner in the line details.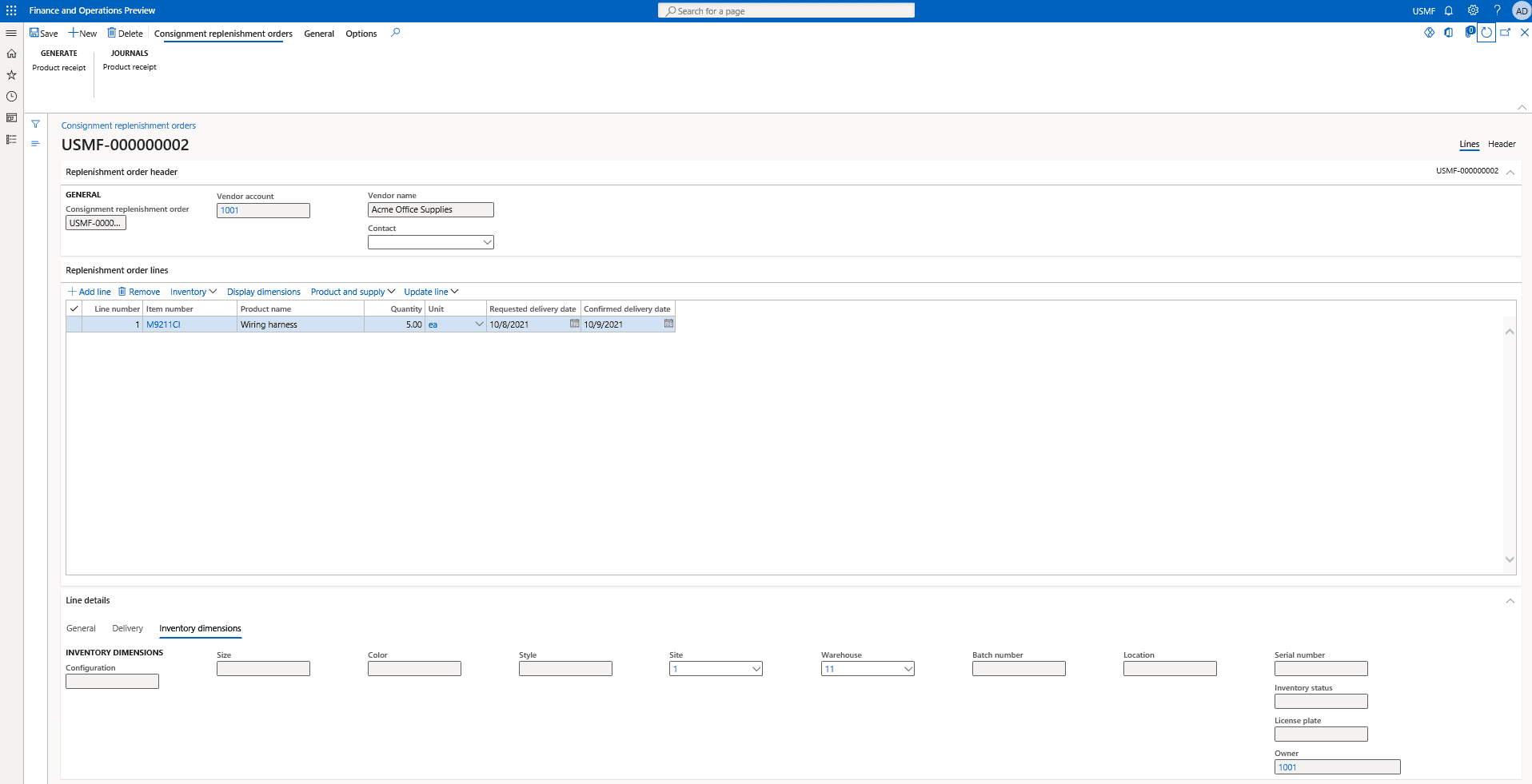 Step 5
Now we click on inventory and then go into Transaction.
Here we can see that the receipt to Ordered.
  Step 6
Now on the top action pane we select the Product Receipt under Generate tab.
  Step 7
Enter a value inside the External Product Receipt -> 1122 and click on OK.
  Step 8
Now coming back to the main form we click on inventory and then select On-hand.
  Step 9
Now in the Overview tab we can see the on-hand inventory.
SUMMARY

Dynamics 365 allows its users to comply with shifting sands of inventory. In this regard, you can create consignment replenishment orders through procurement and sources. The complete step by step guide is mentioned above in detail.
The
perks

of

Consignment Inventory

in Dynamics 365

Although we have pretty much an idea about the advantages of consignment inventory, here are a few perks that come within Microsoft Dynamics 356.
Maintain accurate consignment inventory tracking and lower total physical inventory costs.
On the on-hand consignment inventory page, you can see the current stock level of products that the customer has not yet taken possession of.
Receive vendor-owned inventory without having to make any general ledger transactions.
Raw material ownership change and process the consumption as part of the production order's processing.
Use the vendor collaboration interface to track inventory consumption, including when a customer acquires ownership of consignment inventory.
In the vendor consignment inventory procedure, support standard costs.
Through the consignment inventory page, you may see a list of purchase orders that were generated when a transfer of ownership occurred.
The capability of such inventory management software is beneficial for firms that use a consignment inventory model — for both suppliers and vendors. If you're a supplier, you can buy the consignment items and store them at the vendor's location or warehouse to save money on inventory storage and boost sales. If you're a vendor, you can take possession of an item when it's ready to be consumed on a production order and get the earnings you need without risking losing money due to low demand.
You can streamline the consignment inventory process, reduce warehouse inventory management expenses, reduce the risk of obsolescence, and achieve the desired product exposure and sales with Dynamics 365 for Finance and Operations.
SUMMARY

Suppliers and retailers can use consignment inventory to see its effectiveness on a new product or a new sales channel without risking a significant financial loss. Before investing extensively in a new sales channel, retailers might debut an untested item or test an established product. In the end, it's preferable for both retailers and suppliers to figure out which product sells the best in which market before investing additional money.
At Instructor Brandon | Dynatuners, we always seek innovative methods to improve your competitiveness and suit your Microsoft Dynamics 365 requirements. Our offerings are founded on defined procedures, industry experience, and product understanding. If you're interested to consult with our technical solutions experts on how we may help you in creating consignment replenishment orders and make your investments secure, don't hesitate to Contact Us.
What is the consignment value?
It is the value of the goods declared in an invoice, a bill of challan, or a delivery challan issued in respect of the said consignment, as the case may be, and includes any applicable Central tax, State or Union territory tax, Integrated Tax, and Cess.
What is included in the inventory?
Raw materials, semi-finished goods, and final goods are all included in inventory. As a result, consumer products sold to households during the accounting year are excluded from inventories.
Is consignment an expense?
Consignment expenses are costs incurred by the consignor or consignee in connection with a shipment. Consignment charges can include things like freight and insurance.