Multiple

Delivery Schedules

for a

Single Order Line

in D365
Replacement Cost | Fixed Asset Groups | Asset Planning | Multiple Delivery Schedules
Supply chain scheduling has acquired a spotlight over the past few years. One of the significant issues in this area is integrating production scheduling and managing various modes of delivery operations. For instance, in scheduling delivery lines for bulk orders, the company agrees with the buyer to send multiple deliveries for a single order line.
Today, sending partial deliveries is a usual background in our delivering activities as it can improve the efficiency of particular demands. In this context, a buyer may have to cooperate with different manufacturers varying slight differences with production capacities.
Nonetheless, as buyers, sometimes, we may have to face manufacturers from decentralized locations. Accordingly, the transportation planning between the warehouse and customer requires both time and cost.
Luckily, Dynamics 365, with its endless integration options, allows companies to release partial deliveries in the form of order lines. Further, it also helps production managers to keep track of logistics management essentials.
Today's post will investigate how we can schedule multiple deliveries for a single order to optimize customer and logistics service levels and simultaneously maintain stocks.
What is a

Delivery Schedule

?
A delivery schedule is a contract between the customer and the seller that specifies when and how frequently the company will deliver products. It's a strategy that lays out the specifics of future delivery dates. The contract can be a mutually agreed-upon schedule or one that the buyer sets.
The dates and details for delivery schedules are usually written with some swish room, but there are generally strict delivery deadlines and volume limits to protect the buyer and the firm.
Production and transportation management usually review the delivery schedule periodically to ensure the demanding continuity of the market. In several cases, the buyer dictates required changes.
Different Scenario

for Delivery Schedules
The most common reason for a schedule change is when the buyer needs more or fewer products. Sometimes, the difference gets so dramatic that the firm can't get hold of delivery demands. The difference could result in the buyer looking for another supplier or splitting delivery dates into partial deliveries.
Sometimes, the delivery schedule may account for a few changes in the buyer's demands. For example, the requests may include an allowance for higher or lower product deliveries and schedule changes based on production limitations.
In many cases, the seller is guaranteed specific product delivery. However, some companies may have a clause granting the seller, a cancellation fee if the buyer does not get required or scheduled delivery based on the contract.
A delivery schedule can also be subject to systematic analysis through a benchmark known as delivery schedule adherence. It involves determining whether deliveries are timely according to schedule frequency or not. It makes use of a formula to determine the number of deliveries made following the schedule. Many companies perform this analysis for each supplier and then rank them in order.
The conformity of a delivery schedule enables firms to maintain business habitually. If, in any case, the supplier does not comply with the plan, it can manifest adverse effects on productivity, customer relations, and stock levels.
Necessitous adherence to a delivery schedule can also deplete supplies or cause an overstock, increasing the firm's maintenance, higher storage and transportation costs. Depending on the item, it could also result in waste due to expiration dates or force the buyer to drop prices to move stock.
SUMMARY

Before diving into the details of delivery schedule templates, the above heading explains what delivery schedules are and in which different scenarios you can use them.
Why Your

Firm Should opt

for Delivery Schedules?
As a firm dealing with several purchase orders and delivery demands, having a delivery schedule can benefit your company in many ways, including cost-saving, understocking, fewer errors, and data-driven decisions.
To elaborate:
Scheduled deliveries help avoid

overstocking

or

understocking
Higher inventory turnovers are great until your firm gets over or is low on stocks. Then, when you have a pile of supply and lower cash flow, you can't afford to keep hundreds of products laying there, late on their deliveries.
Similarly, when getting under-stock, your best buyer receives an alert of late delivery, dropping your hard-earned reputation in the market.
Microsoft Dynamics 365, with its delivery lines, allows buyers to clearly see deliveries with their respective quantities and scheduled dates for deliveries. This benefits parties to get prepared for expected productions.
When you confirm a sales quotation in Dynamics 365, it displays the complete information for the delivery schedule. Further, it also shows the order lines with multiple deliveries. In addition, you get to spot the delivery schedule on all essential pages, including the sales order page, sales quotation page, and purchase order page.
Such visibility ensures that your business doesn't run out of inventory while maintaining a smooth supply chain and business reputation.
Scheduled deliveries help you avoid

errors
It is pretty easy to surpass usual mistakes when your firm deals with fewer products. You create a sales order, fill in the delivery details, and complete your work here.
However, when your business grows, and you become one of the most reputed suppliers, the industry accepts orders 24/7 from all over the globe through multiple channels. Meantime, your inventory is getting low and cannot fulfill all the demands.
It is human to panic and become prone to errors when going through many orders and shifting client demands. Incorrect quantities, invalid addresses, and wrong delivery dates can damage the growing reputation of your company.
This is why your firm should have a streamlined way of managing and scheduling deliveries. Automation and synchronicity can make your operations and supply chain management immune to human errors.
Scheduled Deliveries can help you make

data-driven decisions
Sometimes, it becomes challenging to make sense of any data when scattered across several platforms. Managing deliveries through scheduling allows you to see data in order at one place while making it easier to analyze the information and make a crucial decision.
For example, your inventory shows that there aren't enough items in the stock to cover all of your client's requirements. In this case, instead of delivering all of the things to a few clients, you schedule your deliveries and let the system generate sales orders based on the minimum demand of your clients with partial deliveries. Besides, systematically storing your inventory can make the pick and pack procedure faster and more efficient.
Delivery Scheduling
Delivery Scheduling also makes it easier to identify real-time issues. You can see the whole process from a bird's eye view instead of shuffling through different pages and trying to make sense of deliveries.
The capability to make a data-driven decision can help you save time and cost in the longer run. When you are dealing with high volumes of data and need to fix the most negligible inefficiency affecting supply chain optimization can have a significant impact on the bottom line.
SUMMARY

Scheduling deliveries can help your business achieve several goals. Each of them explains how delivery schedules can help you make your supply chain formidable in many ways.
How Does

Dynamics 365 Cater

 to Delivery Schedules?
To help understand how D365 deals with delivery schedules and keep your supply chain on schedule, let's make a scenario and explain it through real numbers.
The following example shows how Dynamics 365 reflects the delivery progress of sales order items with multiple delivery schedule lines.
On June 20
One of your buyers makes a sales order of a single item with a quantity of 100 pieces. Your production managers acknowledged the following delivery lines.
| | |
| --- | --- |
| Acknowledged Data | Acknowledged Quantity |
| June 27 | 40 pieces |
| June 30 | 60 pieces |
The below table will give you an overview of how Dynamics 365 updates the total open quantity and the available quantity expected for a specific day. You will also see the sales order item's delivery schedule and delivery progress with it.
| | | | | |
| --- | --- | --- | --- | --- |
|   | June 20 | June 27 | June 30 | July 1 |
|   | Sales order created | Supplier delivery of 40 pieces according to schedule | No delivery scheduled | Supplier delivery of 60 pieces but not yet dispatched |
| Open sales order quantity | 100 pieces | 100 pieces | 60 pieces | 60 pieces |
| Open sales order quantity for today | 0 pieces | 40 pieces | 0 pieces | 60 pieces |
| Acknowledged Quantity | 0 pieces | 40 pieces | 0 pieces | 60 pieces |
| Quantity Dispatched from warehouse | 0 pieces | 40 pieces | 0 pieces | 0 pieces |
The opening status of the sales order item on June 20 is as follows:
Open Sales Order Quantity: 

100 pieces
On June 20, this is the total order open sales quantity to be delivered by your warehouse.
Open SO Quantity for Today: 

0 pieces
This quantity of 0 pieces is set as no deliveries are expected by June 20. However, the available amount for the following schedule line on June 27 is in the future and, therefore, will not be considered.
Sales Order Delivery Date: 

June 27
June 27 is the earliest date with an available quantity that is still to be delivered by your warehouse.
On June 27
Your warehouse has delivered 40 out of 100 pieces of goods according to the plan. However, the posting of goods receipts for these 40 pieces has not yet been acknowledged.
As long as the receipt of the item has not yet been posted, Dynamics 365 displays the following information:
Open Sales Order Quantity:

100 pieces
Since the item receipt has not yet been posted for this particular item, the total open quantity of the sales order item remains 100 pieces.
Sales Order Delivery Date (of item): 

June 27
The earliest date with an available quantity remains June 27, as no items have been dispatched for this item.
Open SO Quantity for Today: 

40 pieces
According to the delivery schedule, this quantity now changes to 40 pieces as this is the quantity expected by June 27.
Posting of Items Receipt on June 27
Your warehouse management now posts the item receipt for these 40 pieces.
On June 30
Dynamics 365 updates the information as follows:
Open Sales Order Quantity: 

60 pieces
This total open quantity of the item was reduced to 60 pieces due to posting item receipt of 40 objects on June 27.
Open SO quantity for Today:

 0 pieces
The sales order quantity for this day changes to 0 pieces as no deliveries are expected by June 30. The available stock for the subsequent schedule line July 1 is in the future and therefore not considered.
Sales Order Delivery Date (of item): 

July 1
After the delivery of the first schedule, line dispatched on June 27, this date changes to July 1 as this is now the earliest date with an available quantity.
On July 1
The second delivery of 60 pieces is scheduled for July 1. However, it has not yet been dispatched. As long as this delivery has not yet been delivered, the system displays the information as follows:
Open Sales Order Quantity: 

60 pieces
The total open quantity of the item remains 60 pieces as the delivery scheduled for July 1 has not yet been dispatched.
Open SO quantity for today: 

60 pieces
This quantity changed to 60 pieces as this is the quantity still expected by July 1.
Sales Order Delivery Date (of item): 

July 1
This date remains July 1 as the delivery scheduled for July 1 has not yet been dispatched.
SUMMARY

Above is a brief understanding of how Microsoft Dynamics 365 deals with delivery schedules, helping warehouse staff keep your supply chain smooth. So, next is the core part of the blog; a step-by-step guide on posting sales orders and generating packing slips for multiple deliveries in a single order line.
Posting Sales Order

and

Generating Packing Slips

for Multiple Deliveries in Dynamics 365
  Step 1
Go to Account Receivables > Orders > All sales orders.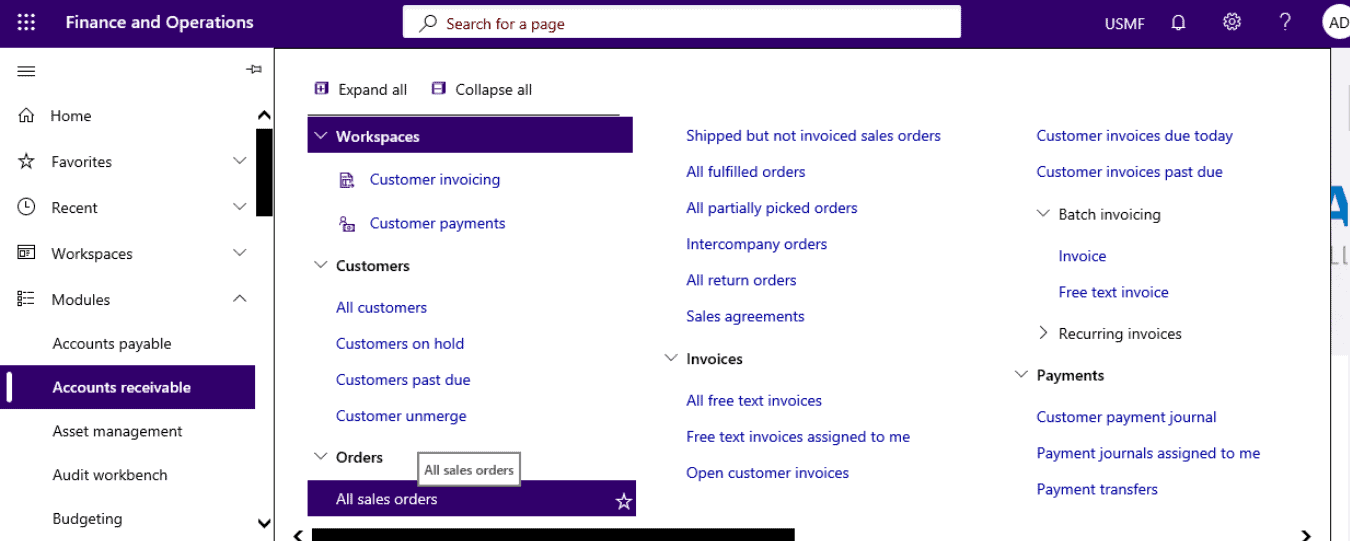 Step 2
Click New.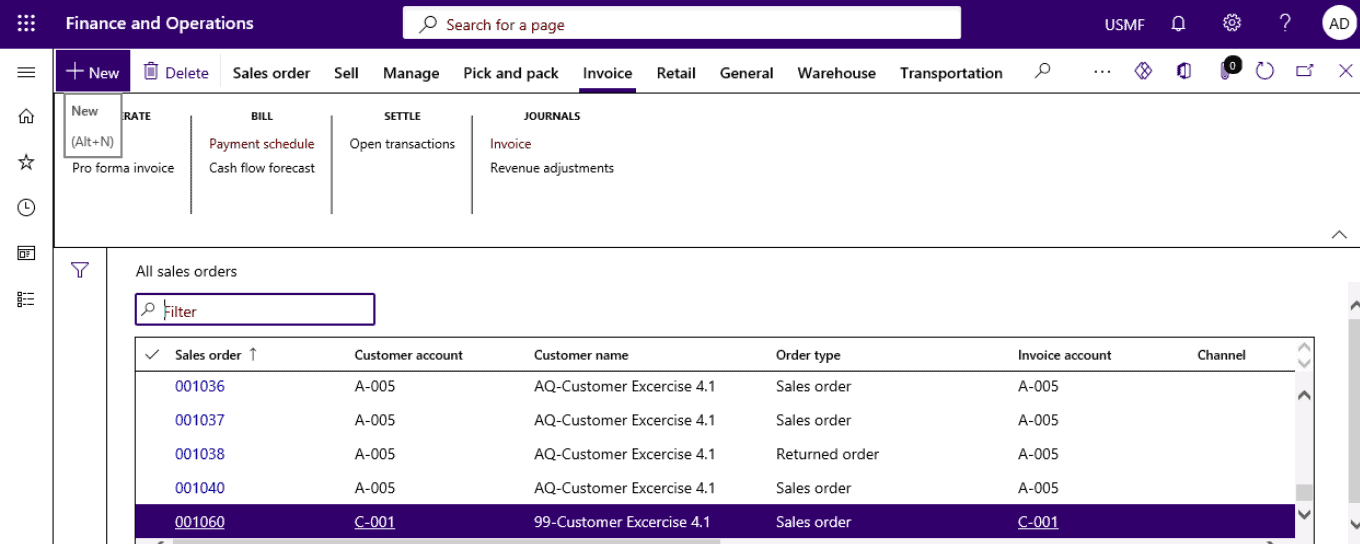 Step 3
Select a customer account, click OK.
  Step 4
In sales order lines tab, select quantity and item number.
  Step 5
Click Sales order line, click Delivery schedule.
  Step 6
In the Delivery schedule menu, enter a number that is part of the total quantity in the quantity field.
  Step 7
Click New and enter the remaining quantity in the following line.
  Step 8
In the Requested ship date field, enter a date one week ahead of the date of the first delivery line.
  Step 9
Click OK.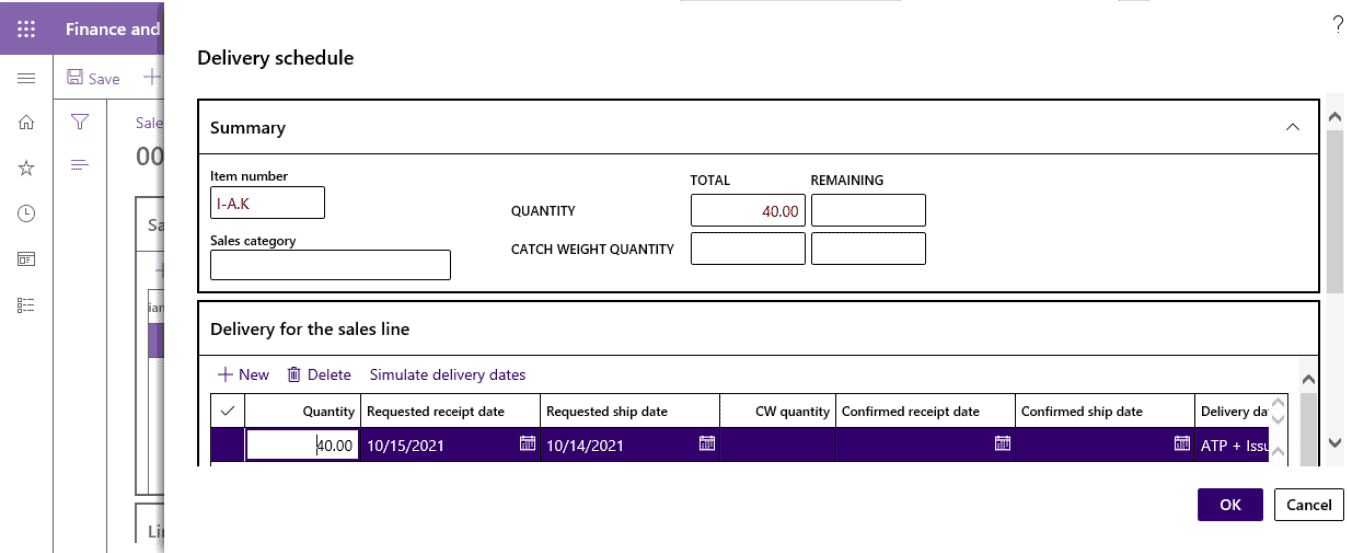 Step 10
On the Action Pane, click Pick and pack > post Packing slip.
  Step 11
In the Quantity field, select 'All.' The packing slip will be created for the two delivery schedule lines and not the original order line.
  Step 12
Select Yes in the Print packing slip field.
  Step 13
Close the page.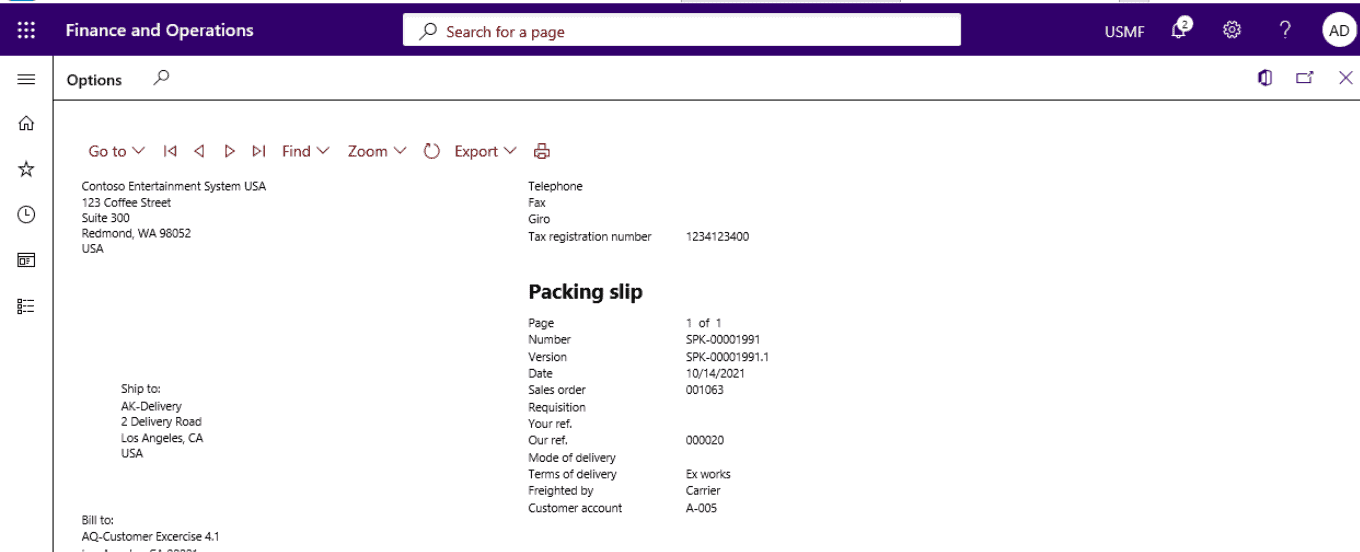 SUMMARY

The above step-by-step guide will help you post sales orders and generate packing slips for multiple deliveries in Dynamics 365. Through this, you can plan deliveries for your client's demands.
How to
Improve

Delivery Schedules?

Your firm should work on several factors to achieve excellence in scheduled deliveries.

Usually, there are six areas you should work on:
Distribution Planning
In addition to your firm's overall strategy, a distribution plan foreseeing detailed scheduling of all the areas in the complete process.
The details could range freight in use, packaging time, and methods of lowering distribution times.
Such planning aims to meet your business goals and expedite the delivery schedule.
Analyze Distribution Process
Opt for an optimal supply chain in both cost and operational processes. If you anticipate the demands, you can optimize the distribution of products.
Speaking of factors, both of them are essential for meeting your client's requirements and expectations towards delivery dates.
Due to this, it is essential to know the purchasing terms and the details you need to foresee in the product distribution.
Anticipate Demands
Anticipate demands to prepare for high volumes and avoid overstocking during low demand season.
If you see such issues beforehand and analyze historical data to back them up, your firm can optimize deliveries.
According to the scheduling, plan routes depending on the type of freight required and displacement time.
In addition to your delivery strategies, analyzing issues and managing deliveries can help you achieve a reputable position with a mark of meeting delivery demands on time.
Monitor Deliveries in Real-time
Use Dynamics 365 to monitor deliveries in real-time and assess productivity to look for opportunities for improvement.
Implementing delivery schedules with a robust transportation management system to enable a strong communication channel between you and your warehouse staff can make your supply chain less prone to errors.
To manage high volumes of deliveries, we recommend intelligent communication systems offering functionalities like GPS for tracking deliveries units in real-time, helping you detect unique requirements, including route modification, delays, and other issues impacting supply chain productivity.
Key Performance Indicators (KPIs)
Analyze key performance indicators to measure results and make informed decisions to help your firm improve delivery schedules.
For example, data on-demand levels and supply is a good feedback on the efficiency of managing a complete supply chain.
SUMMARY

Achieving business goals is all about meeting your client demands, and scheduling their delivery dates can help you earn the reputation you are looking for. Above are some of the best practices to improve delivery schedules.
At Instructor Brandon | Dynatuners, we always seek innovative methods to improve your competitiveness and suit your Microsoft Dynamics 365 requirements. Our offerings are founded on defined procedures, industry experience, and product understanding. If you're interested in consulting with our technical solutions experts on how we may help you implement an efficient item tracking system to minimize delays due to misinformation and inconsistent messages, don't hesitate to Contact Us.
What is Delivery Schedule Adherence?
Delivery Schedule Adherence (DSA) is a business metric used to calculate the timeliness of deliveries from suppliers. Delivery schedule adherence is calculated by dividing the number of on time deliveries in a period by the total number of deliveries made.
What is SAP Delivery Schedule?
The document sent by Electronic Data Interchange (EDI) or faxed to the component supplier to release a quantity of the material or materials outlined in the scheduling agreement is called SAP delivery schedule. The delivery schedule contains information on delivery quantities and dates.
Why is there a need to schedule deliveries?
A scheduled delivery costs less than an urgent, on-demand one. You'll reap the savings when you can plan. But due deliveries also save you money by mitigating the need to purchase and maintain your fleet