Enhance

Warehouse

Productivity

with

D365 Warehouse Management
An efficient warehouse makes the most available space, simplifies processes, and increases worker productivity. When a warehouse operates effectively, consumers get their products on schedule, and its bottom line is protected. Even if a warehouse routinely exceeds customer expectations with on-time and express shipments, operational adjustments may be required to increase warehouse productivity. Microsoft Dynamics 365 work split can assist you in eliminating error-prone activities, reducing human labor, and improving your warehouse efficiency.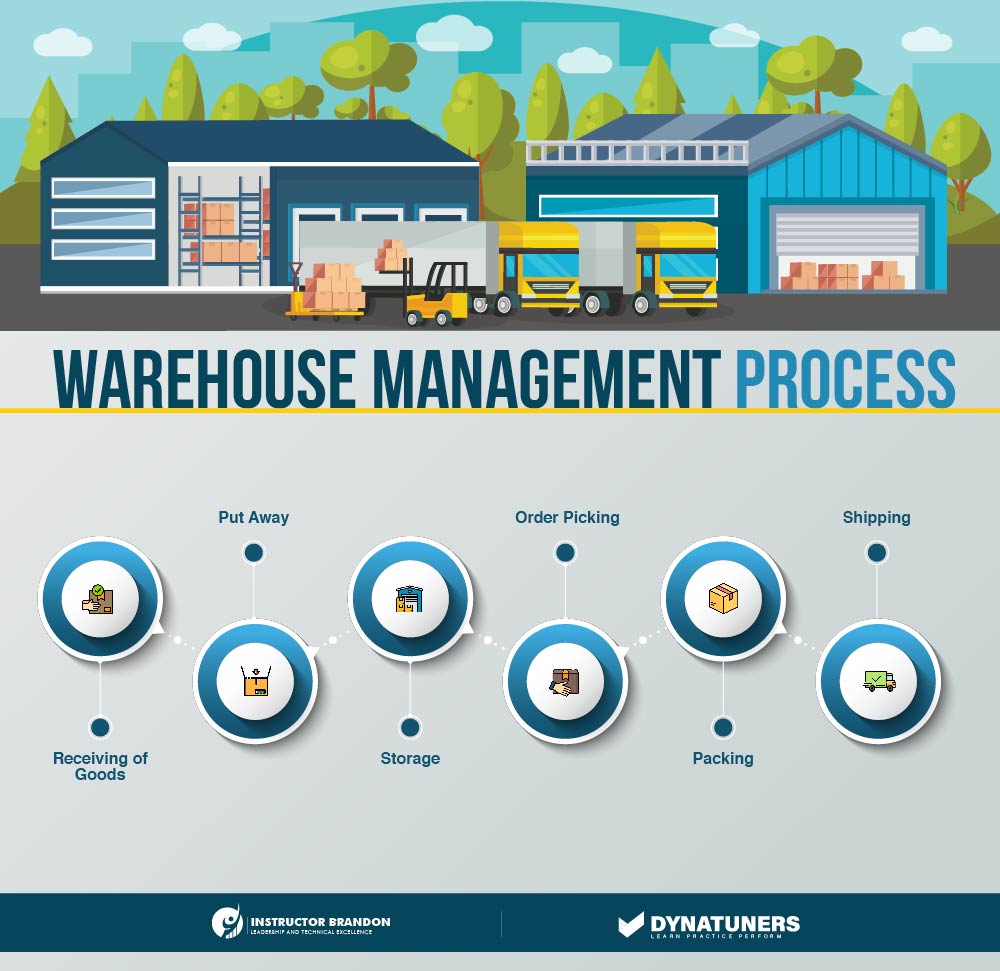 The logistic sector is defined by accuracy, precision, and improved productivity across the supply chain. Any business's goal is always to improve its delivery efficiency to maximize client satisfaction. Thanks to the warehouse management system, or WMS, which aims to provide a slew of advantages to logistical businesses and give accurate data that enables better cooperation.
Advantages of Warehouse Management System
The following advantages of using WMS are worth noting:
Accuracy of Inventory Increased
Essentially, better inventory control and monitoring are two of the most significant benefits of a warehouse management system. The delivery of items to clients on time is, in essence, the purpose of the exercise. As a result, consumer happiness grows significantly. Additionally, it contributes to increased efficiency, cost savings, and profitability by removing unnecessary operational expenses caused by technical inaccuracies.
Process Improvements in the Warehouse
The correct warehouse management software enables you to optimize warehouse procedures fluid and error-free. The automated warehouse method considerably simplifies the warehouse team's job and streamlines the product delivery process. Additionally, it enables them to manage the inherent in-house routines that need immediate resolution.
Developing Customer Relationships
A strong client connection and a thriving company are linked. A successful warehouse management system aims to establish a solid rapport with your clients. One of the characteristics of WMS is that it looks after your suppliers by minimizing mistakes throughout the order fulfillment process, which is a critical component of sales. Additionally, the system guarantees that clients get things in high shape and on time. Finally, a system-driven efficiency that promises a decrease in customer or supplier complaints and continuous improvement in your warehouse operations.
Reduced Operating Expenses & Overheads
Without a doubt, an intelligent warehouse management system can help you save money by adequately controlling warehouse space and workforce utilization. It intelligently evaluates the optimal position for each item, balancing the required amount of space against the pick-and-put-away effort. Additionally, it optimizes your space, travel route, and flow of items inside the premises methodically while significantly reducing your space expenditures. In the long term, this results in the maximum possible production planning within the constraints of the budget.
After reviewing the advantages mentioned above of WMS, if you consider installing one in your warehouse, ensure that the system you choose meets your specific requirements. We are confident that the appropriate pick would go a long way toward achieving your company's objective. Get in touch with us as Dynatuners offers a cutting-edge help desk solution for resolving all of your Microsoft Stack technical issues.
SUMMARY

A streamlined warehouse maximizes available space, streamlines procedures, and boosts worker productivity. Eliminating needless operating expenditures helps to enhance efficiency, cost savings, and profitability. An effective warehouse management system strives to build a strong relationship with its customers. Additionally, it organizes your area, travel routes, and the movement of objects inside the premises.
Warehouse Management

Challenges
While managing end-to-end manufacturing activities is a complex undertaking in and of itself, warehouse management is complicated because it entails the transfer, storage, and administration of physical resources. Improving warehouse efficiency itself is a biggest challenge to deal with. With manufacturing paving the way for industry 4.0, which promotes businesses to use cutting-edge technologies such as artificial intelligence, the internet of things, mixed reality, robotics, and advanced analytics, warehouse management has also seen technological advancements. Using intelligent and sophisticated solutions like Microsoft Dynamics 365 Warehouse Management can improve your supply chain and other inventory activities.
However, not all businesses can afford to adhere to the industry 4.0 criteria financially and technically. Additionally, as firms expand globally—establishing warehouses and operating from several locations—the severity of inventory management difficulties has risen. In such circumstances, identifying crucial areas for improvement in your warehouse tasks and simplifying them with technology may have a significant influence on your warehouse management department's productivity and efficiency.
The following are some warehouse management challenges. Is your company confronted with any of these issues?
The first step in modernizing your inventory operations is identifying the most challenging regions.
Sr.
Warehouse Management KPIs for Improving Warehouse Efficiency
KPI
Importance

 

1.

On-Time Shipments (Customers)

 

  

2.

Average Warehouse Capacity Used (Capacity)

 

  

3.

Order Picking Accuracy (Quality)

 

  

4.

Dock-To-Dock Cycle Time in Hours (Operations)

 

  

5.

Internal Order Cycle Time in Hours (Customer)

 

  
The following are the critical warehousing issues that the majority of manufacturing businesses face:
Maintaining Inventory

Accuracy
Physical inventory management presents various challenges and might result in mistakes. Given the extensive network of processes involved in warehouse management, even a single inaccuracy in one procedure might trigger a domino effect of faults affecting many inventories and other services. Inconsistencies in inventory management may result in inventory shortages and unfilled orders, resulting in dissatisfied consumers and a long-term decline in profitability.
Implementing a Visible Inventory Location

Overview
Without a consolidated picture of inventory operations across warehouses, your organization will struggle to plan, allocate, and use its resources properly. In addition, inadequate visibility into warehouse locations may cause delays in order picking and fulfillment, resulting in higher time and expenses.
Optimizing Architecture of the Warehouse to

Minimize Picking Time
Warehouse space utilization is not dependent on the warehouse's size but the arrangement of your goods. For instance, to streamline and expedite the picking process, you may keep high-volume, fast-moving inventory on the warehouse's front shelves. This simplifies picking up the items for delivery by the lift trucks. Without these best practices, your labor time and effort would skyrocket, resulting in reduced production.
Eliminating Inefficient Procedures to

Increase Productivity
Without the appropriate technology and devices, inventory management may be arduous, error-prone, and redundant. Continuous and recurring tasks such as printing pick tickets, item counting, and managing picking lists may be optimized and automated using barcode technology in conjunction with a comprehensive solution such as Dynamics 365 Warehouse Management. With this, you can reduce time spent on administrative tasks and save money and time.
Improving the Efficiency of Choosing Process to

Reduce Effort
If your warehouses continue to perform picking activities manually, you realize the frustration associated with time-consuming picking operations caused by having a typical path for selecting things for shipping. Automating the routing system can improve the picking process by lowering equipment wear and tear and relieving labor strain.
Establishing Routes

of Communication that are Open & Consistent
Because warehouse management involves several intrinsic processes, it might be challenging to ensure good communication within the processes. However, inadequate or non-existent communication may wreak havoc on the process flow. A reliable route for transparent communication may assist you in streamlining your packing and shipping processes correctly and without delay. Additionally, it helps you make consistent strategic choices across all supply chain processes.
Managing Intricate Supply Chain

Procedures in an Increasingly Globalized Society
Globalization has increased global competitiveness. It has linked nations around the world, making high-quality items more affordable. As a result, international competition is becoming more challenging for businesses to supply items at inexpensive costs. The appropriate technology may assist you in lowering your manufacturing expenses, which in turn reduces the pricing of your final goods.
SUMMARY

Identifying critical areas for improvement in your warehouse operations and simplifying them via the use of technology may significantly impact the productivity and efficiency of your warehouse management department. For example, you may optimize your supply chain using clever and advanced solutions such as Microsoft Dynamics 365 Warehouse Management. In addition, you may save time on administrative activities too. Are you ready for the next step in your career? Check out our latest beginner and certificate-level courses.
Work split

Functionality

in Dynamics

365
Work split capability helps you separate significant work IDs (that is, work orders with numerous lines) into smaller work IDs that you can subsequently give to various warehouse employees. In this method, the same task production number may be chosen concurrently by numerous warehouse employees.
Functional Walkthrough

of

Work split Feature

in Dynamics 365
Turn on

the work split

functionality
  Step 1
Go to Feature management workspace.
Step 2
Look for the feature which is listed in Feature management in the following way:
Module: Warehouse management
Feature name: Organization-wide work blocking
Step 3
Select Enable.
  Step 4
Next, turn on the Work split feature, which is listed in the following way:
Module: Warehouse management
Feature name: Work split
Step 5
Select Enable.
Enhancements

to the

Work Details

&

All Work Pages
The work split feature adds split work and cancel split work session buttons to the Work tab on the Action Pane of the Work details and All work pages.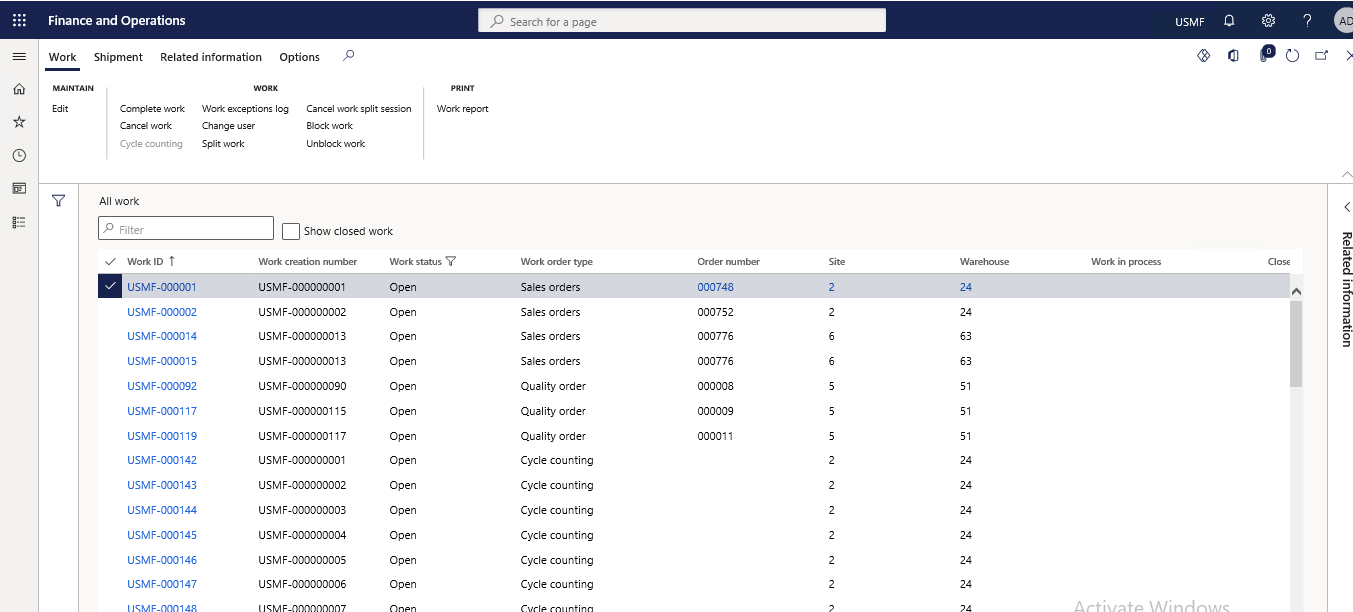 For The Split work button to be available following conditions should be met:
First, the work status is something other than Open or in progress.
Second, a container ID is associated with the work ID (a container can't be systematically split because it requires physical actions).
Third, the work is related to a cluster.
The work order type is something other than Sales orders, Raw material picking, or Transfer issue.
Another user is currently splitting the work.
Initiate

a Work Split
Step 1
To split work, open one of the following work pages:
Go to Warehouse management > Work > Work details.
Next, go to Warehouse management > Work > All work.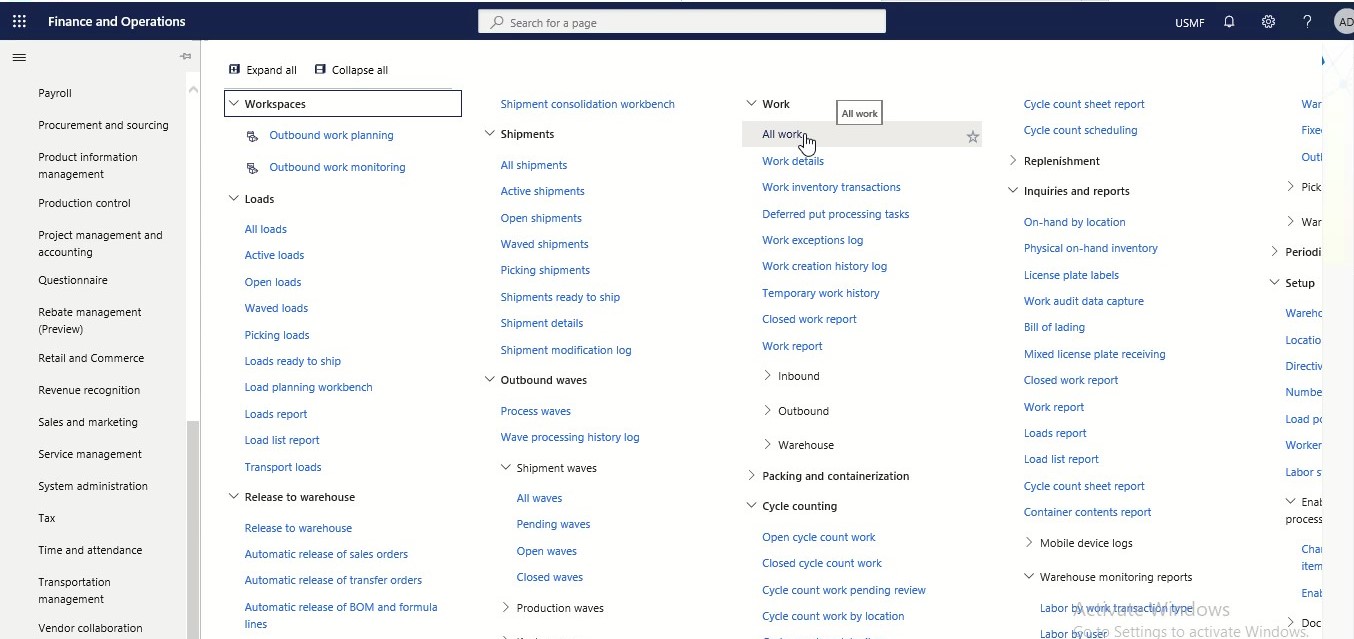 Step 2
In the grid, select a work ID to split. The Work order type field must be set to one of the following values:
Sales orders
Raw material picking
Transfer issue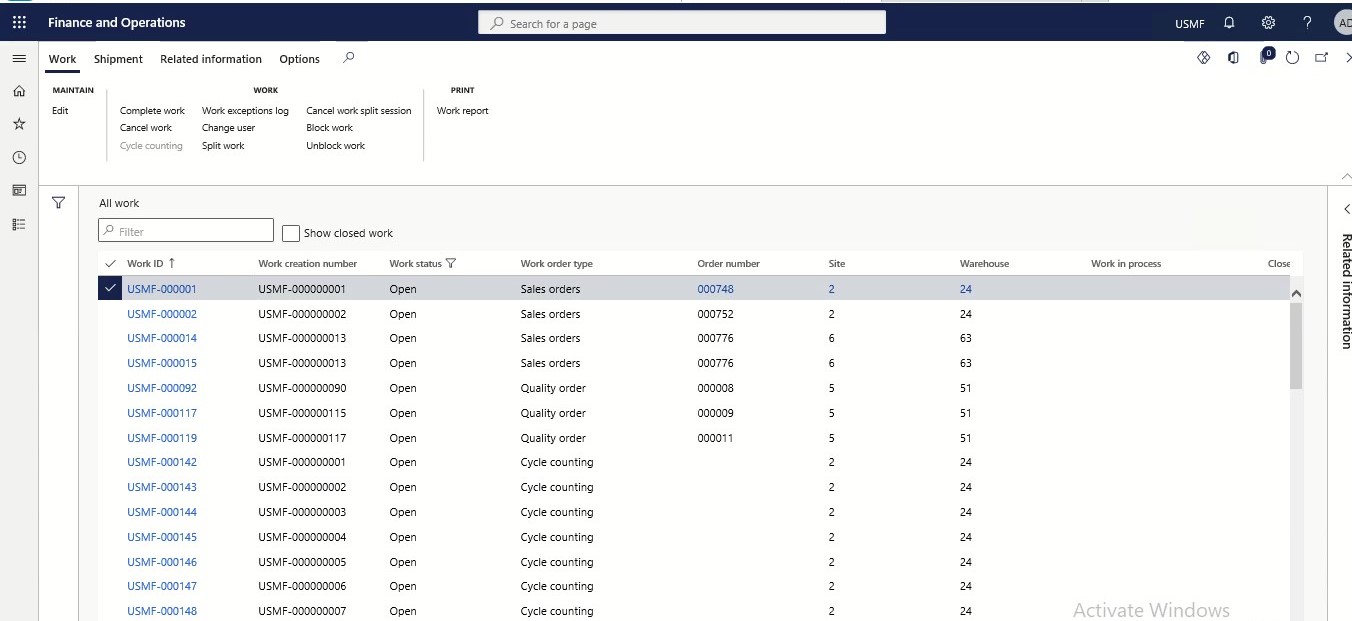 Step 3
On the Work tab, on the Action Pane, in the Workgroup, select Split work. Then, to view all lines for the work ID (for example, lines with a work type of put), select the Show all lines check box above the grid on the split work page.
The following message is shown: "Users can't process lines of the work until you finish splitting and close this page".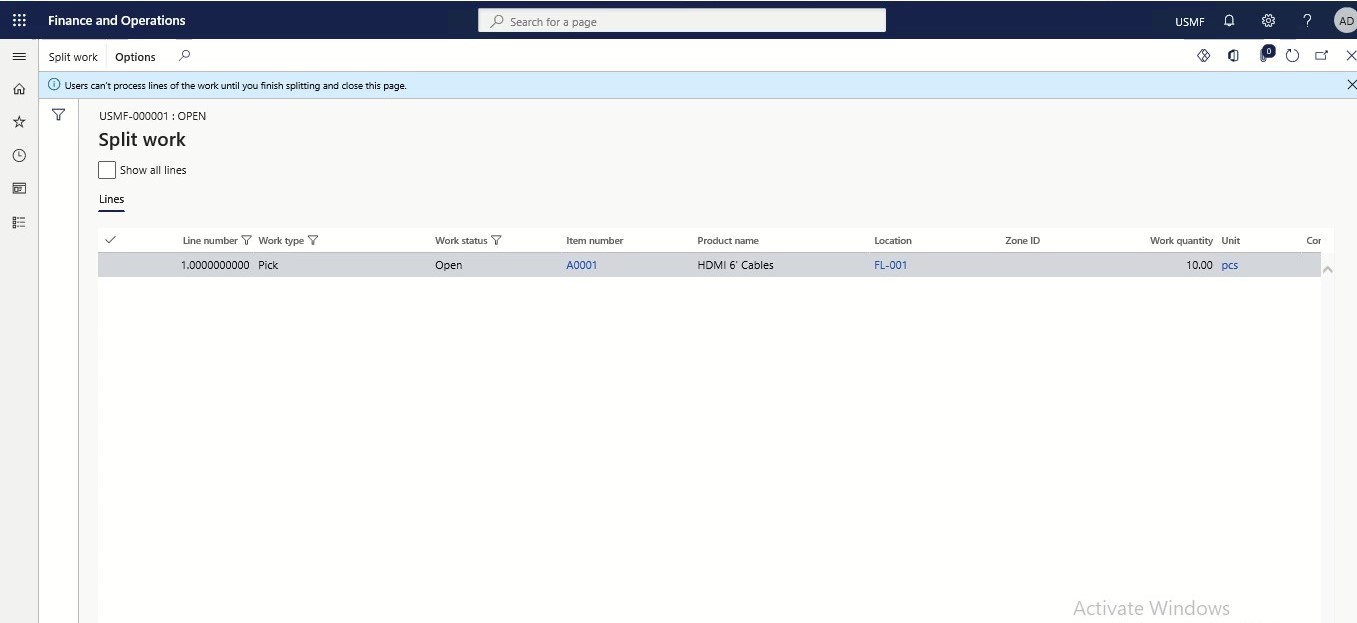 Step 4
Select the lines to remove from the current work ID and add to a new work ID. When you split the work, the selected lines from the original work ID are canceled and then copied to a new work ID. The existing work template structure and the location of the put are preserved. Values for the following work ID fields are copied from the original work to the new work:
Load ID
Work order type
Site
Warehouse
Work priority
Work pool ID
Wave ID
Work creation number
Step 5
On the Action Pane, select Split work.
  Step 6
The following message is shown while the work is being split: "Processing operation – Split work".
SUMMARY

The work split functionality lets you divide large work orders with several lines into smaller work IDs. Following the above steps, you'll be able to initiate and finish a work split in D365.
If not resolved in time, the warehousing challenges might damage the overall operations of your manufacturing organization. Addressing the above-mentioned significant challenges can only be effectively done through technology. Leverage Microsoft Dynamics Warehouse Management— a robust system—to help you establish resilient procedures to enable your warehouse operations with agility and connection.
On the surface level, D365 Warehouse Management may help you remove error-prone operations, limit manual labor, reduce processing time, increase accuracy, promote productivity, and simplify end-to-end warehouse activities. However, if you investigate the more advanced capabilities of Microsoft Dynamics 365 ERP, you can maximize the advantages you can get from the apps and enhance your supply chain procedures. Supply chain executives are constantly searching for ways to improve, and few things are more crucial to a thriving warehouse operation than efficiency. Microsoft Dynamics 365 Warehouse Management delivers several capabilities that help modernize the way you operate your distribution hubs. If you want to learn more about how direct deliveries can help you overcome excessive stocking in warehouses, read our blogs.
By upgrading the way your warehouse management system coordinates work orders, directs picking, and controls your fulfillment strategy, you can improve your warehouse workflows for a more efficient operation overall. In addition, these features help save waste and offer a safer environment for your team members.
SUMMARY

D365 can assist you in eliminating error-prone activities, reducing human labor, and improving accuracy. Additionally, it may help you optimize your warehouse procedures, resulting in a more efficient production. These features contribute to waste reduction and provide a safer work environment for your team members.
Modernizing

With Dynamics 365
Modernizing with Dynamics 365 Warehouse Management, you can update your warehouse management in the following ways:
Ensure

End-to-End Visibility
D365 Warehouse Management gives a 360-degree perspective of the complete warehouse system. With improved insight into your supply chain, you can simplify processes and control the movement of commodities through the manufacturing process.
Improve

Accuracy & Scalability
Automating decreases mistakes. Configure the built-in machine learning program to help you from raw material management through completed product delivery.
Maximize

the Real-time Value
Maximize the value of real-time patterns and make educated choices to ensure the warehouse's health and optimal performance.
Increase

Productivity Via Using a Mobile Workplace
Increase efficiency and control your warehouse from any mobile device equipped with Dynamics 365. Simplify typical activities by customizing mobile workplaces for the warehouse and individual employees.
Microsoft Dynamics 365 Warehouse Management and supply chain management offer many advantages for optimizing industrial operations. Isn't D365's Warehouse Management exceptional? However, if you are serious about managing your facilities, this solution can help you achieve targeted advantages that complement and enhance your warehouse management approaches.
SUMMARY

Microsoft Dynamics 365 Warehouse Management enables industrial processes to be optimized in various ways. Additionally, D365 Warehouse Management delivers targeted benefits that complement and strengthen your warehouse management strategy.
At Instructor Brandon | Dynatuners, we always seek innovative methods to improve your competitiveness and suit your Microsoft Dynamics 365 requirements. Our offerings are founded on defined procedures, industry experience, and product understanding. If you're interested in consulting with our specialists on how to effectively use work split to enhance warehousing operations and warehouse efficiency, don't hesitate to Contact Us.
How can a warehouse management system enhance warehouse operations?
A warehouse management system streamlines a warehouse's internal functioning, which may subsequently extend to the larger supply chain. Within the warehouse, a WMS simplifies the whole warehouse process from inward receipts to outgoing deliveries, enhancing operating efficiency and saving expenses.
What is productivity warehouse?
Warehouse productivity is a set of measures that management will evaluate to assess the success of their warehouse operations. The foundation of many of the indicators used in warehouse productivity is based on how much it costs to conduct an activity.
What is Warehouse management D365?
The Warehouse management module allows you to manage warehouse procedures in manufacturing, distribution, and retail firms. This module provides a wide variety of capabilities to support the warehousing facility at an ideal level at any time.