When it comes to businesses, some would say that customers are the most important aspect of success. However, as this research will unveil, one key component of large industries' success lies in their ability (or lack thereof) to access real-time inventory and order status. Therefore, the availability of this data is crucial when it comes to adjusting or scaling a business. Today, we will show you how to use Dynamics 365 to create a new warehouse layout. Ensure your warehouse's proper management by exploring the scenario of setting up a warehouse layout. However, first, let us explore some concepts.
Overview
Here is an overview of what you will find in this article:
What is Warehouse?
What is the difference between a Warehouse and a Distribution Center?
The Elements of a Warehouse
Warehouse Layout Guidelines
How to Create a Warehouse Layout with Dynamics 365?
Step-By-Step Guide to Create New Warehouse Layout with Dynamics 365
Enhance your Supply Chain; Enhance your Products.
Warehouse Management: Benefits for your Supply Chain
Conclusion: Create New Warehouse Layout with MS Dynamics 365
What is a

Warehouse

?
When defining a warehouse, instead of looking at outdated dictionary definitions, we must delve into what the industry authorities think. In this case, we will refer to one of the largest eCommerce and online store builders in the market.  With over $319 billion in economic impact throughout the world, Shopify is a clear example of how warehouse management transcends on-site premises. Furthermore, following the same train of thought, warehousing refers to storage. Storage of goods, either for sales or for distribution at a later date.
This is why the definition of a warehouse is so important in today's business environment:
What is the difference between a Warehouse and a Distribution Center?
You might ask yourself, "These are not the same?" However, the answer is deceptive. For a warehouse, its purpose does not go beyond storage. For a distribution center, its use, more than storage, also includes fulfilling orders. Therefore, this means that a warehouse could be specifically for storage, but also, it could serve for order fulfillment, and in that case, we might consider it a distribution center.
Managing a warehouse falls under the category of logistics management. Specifically inbound logistics.
The Elements of a Warehouse
1.     Storage Capacity
The first element is storage capacity. As such, to optimize the storage capacity of a warehouse, we can use shelving and rack systems. Therefore, when it comes to shelving, employees enter the product's data into a warehouse management system and retrieve the corresponding products by hand. In racking, employees follow the same procedure. However, retrieval must use equipment such as forklifts.
2.     HVAC System
Firstly, for some products, such as those that require specific humidity or temperature levels, companies might use a climate control system. Hence, this is also very prevalent within the pharmaceutical industry, given the possibility of certain products perishing or degrading under the wrong conditions. Dynamics 365 Field Service app and Microsoft Azure can be a way to bring an HVAC (heating, ventilation, and air-conditioning) solution that integrates security, lighting, and room scheduling as well. For example, such was MacDonald-Miller Facility Solutions' case, where being able to design smart-building systems translated as cost savings and growth opportunities.
3.     Inventory Management System
There must be an inventory management system in place. In prior days, we used to manage it by hand, and it was prone to errors. Nowadays, with systems such as the Dynamics Supply Chain Management app, we can manage our inventory automatically. Therefore, the main goal of these systems is to allow the business owner to know where each unit is at all times. Moreover, inventory management allows businesses to ensure quality while controlling their inventory and inbound operations.
4.     Warehouse Equipment
Though it might sound self-explanatory, you need equipment to move goods within and from a warehouse. Aside from containers, shelves, and racks, a warehouse's staff might need forklifts, conveyor belts, or pallet jacks. However, the specific needs will vary depending on the industry.
5.     Supplier, warehouse, and shipping relationship
Aside from elements within the very warehouse, we must remember that a warehouse is a part of a business's supply chain. Therefore, when it comes to this, warehouses tend to relate with suppliers and shipping departments or companies directly. This element refers to shipping supplies to the warehouse to process them in another facility or ready-to-sell products that make their way to retail stores. Furthermore, it also includes products sent through eCommerce to a customer using mail delivery.
6.     Transportation
Now, let us talk about transportation. When it comes to transportation, it must be cost-effective and readily available. It will depend upon the industry, but the overall goal is to bring in products or move them out to fulfill orders. Therefore, transportation requires the warehouse management team to keep access to the facility in mind. Moreover, your transportation method will vary depending on the business's niche and the availability of ports, airports, rail lines, or interstate highways.
7.     Staff members
Finally, arguably the most important element of a warehouse is its staff. However, the staff is not only the team in charge of the operation and managing the facility. It also includes the security staff and the "pickers," those who load products into the warehouse.
As you can see, warehouses fit within the framework of the supply chain. Nevertheless, their complexity levels depend entirely upon the business and the industry to which they belong. Therefore, managing a warehouse is not just about managing goods and supplies; it also includes research and development, marketing, sales, human resources, and other processes corresponding to the business.
Summary
These are the elements of a warehouse:
Storage capacity
HVAC system
Inventory management system
Warehouse equipment
Supplier, warehouse, and shipping relationship
Transportation
Staff members
Guidelines to Create a New Warehouse Layout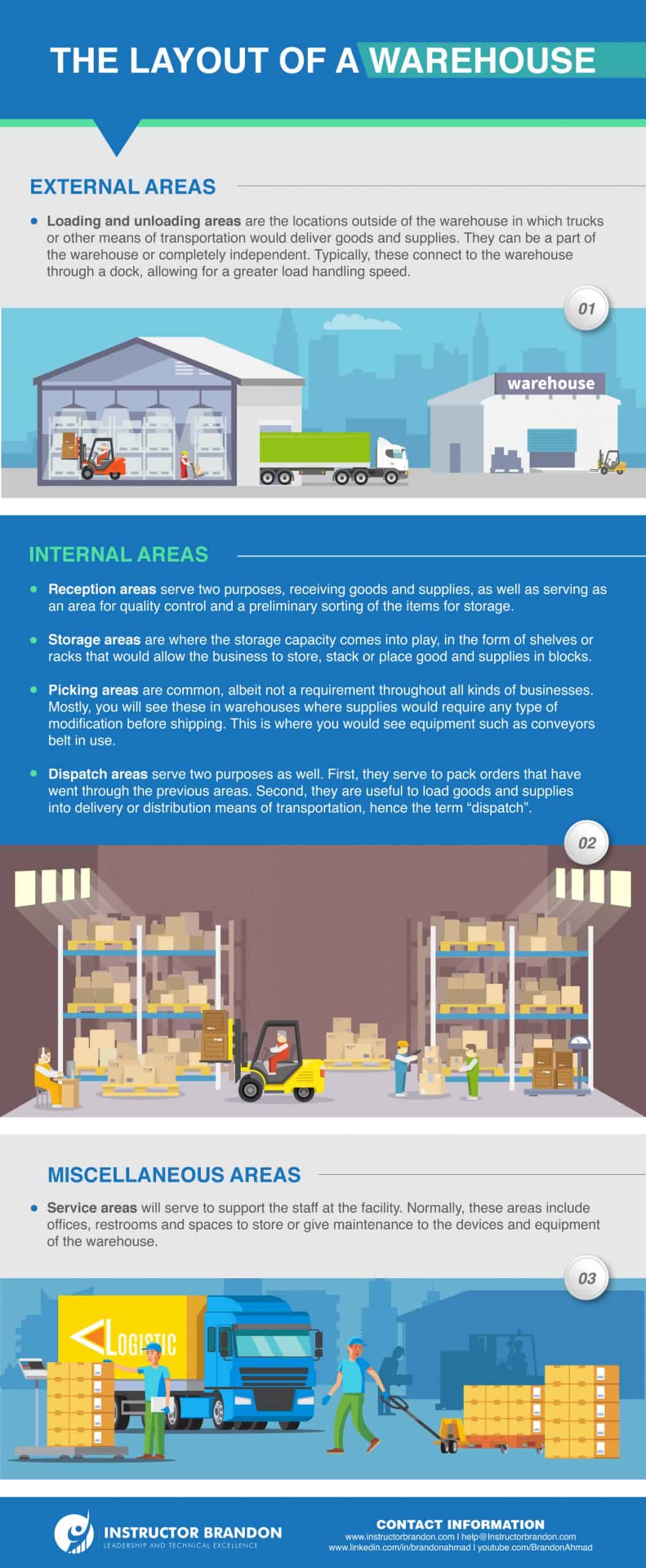 In terms of creating a new warehouse layout, we need to understand that certain aspects, such as the surface area available, are defining factors. Now, we will delve into the internal and external layout and the needs that a warehouse should fulfill for a business.
External Areas
Loading and unloading areas are the locations outside of the warehouse in which trucks or other means of transportation would deliver goods and supplies. Now, they can be a part of the warehouse or completely independent. Typically, these connect to the warehouse through a dock, allowing for a greater load handling speed.
Internal Areas
Reception areas serve two purposes, receiving goods and supplies and serving as an area for quality control and a preliminary sorting of the items for storage.
Storage areas are where the storage capacity comes into play, in the form of shelves or racks that would allow the business to store, stack, or place goods and supplies in blocks.
Picking areas are common, albeit not a requirement throughout all kinds of businesses. Mostly, you will see these in warehouses where supplies would require any modification before shipping. Therefore, this is where you would see equipment such as conveyor belts in use.
Dispatch areas serve two purposes as well. Firstly, they serve to pack orders that have gone through the previous areas. Secondly, they are useful to load goods and supplies into delivery or distribution means of transportation, hence the term "dispatch."
Miscellaneous Areas
Service areas will serve to support the staff at the facility. Normally, these areas include offices, restrooms, and spaces to store or give maintenance to the warehouse's devices and equipment.
Having a clear understanding of a warehouse's areas comes in handy not only for a layout designer but also for the developer in charge of the supply chain and logistics management. Therefore, when it comes to the needs of a warehouse, it is crucial to define the needs that each area should fulfill:
A warehouse should be efficient with space. Moreover, this includes vertical and horizontal space within the facility.
Once goods and supplies enter a warehouse, the layout design should allow the storage and transition throughout the areas with the least steps possible. Therefore, ensuring efficiency and fulfillment of delivery schedules.
There is no purpose to a disorganized warehouse. Aside from using the space to its maximum efficiency, it should provide ease of accessibility to each stored item. Furthermore, over the long term, this will also help with inventory management.
Though there should be clearly designated areas for each part of the process, and each product, the layout design should allow for storage flexibility.
The warehouse organization should allow for accurate management of the items stored.
Moreover, it is advisable to study the space, forecasting congestion points, and providing ease of access to the staff. In this way, we can ensure the execution of maintenance tasks and the facility's proper allocation of resources. Remember, the goal of proper warehouse management is achieving the most efficient workflow possible while reducing runtimes to a minimum.
How to Create a Warehouse Layout with

Dynamics 365

?
Now, we are getting to the good part, which is the step-by-step guide to set up a warehouse layout with Dynamics 365.
Therefore, to set up a warehouse layout, we will be using the Inventory Management module's basic warehousing.
Step-By-Step

Guide to Create New Warehouse Layout in

Microsoft Dynamics 365
1.    Setting up the default for location capacity
a. Assuming you are in the navigation panel, go to Modules, and then select Inventory Management. Now, go to Setup, and enter Inventory and Warehouse management properties.
b. There, you will be able to see and select the Locations tab.
c. Now, you will see fields for Standard width, Standard depth, and Standard height and you will be able to enter the corresponding values for each one.
d. Finally, after entering the values, select Save and close the page.
2. Defining the format for location name
a. Go back to the navigation panel. Next, go to Modules, select Inventory Management and enter Setup again. Once you are in, you will go to Inventory Breakdown and there, you will select Warehouses.
b. Now, click on New.
c. Next, you will see three fields: Warehouse, Name and Site. Whereas Warehouse and Name will allow you to type in the value, you will be able to select your choice in the Site lookup. Moreover, in this section you will find options to define your default format for location names. In this case, we will add aisle, rack and shelf number.
d. Firstly, to set up the aisle number, set Include aisle to "Yes".
e. Secondly, for the rack number, set Include rack to "Yes", and you will be able to type the value in the Format field.
f. Lastly, for the shelf number, set Include shelf to "Yes" and then type the value in the Format field.
3. Defining the warehouse locations
| | |
| --- | --- |
| a. Firstly, let us go to the Action Panel, and then click on Warehouse. | |
| | b. Secondly, once in there, select the Location Wizard and click Next. |
| c. Next, we will de-select the Outbound docks and Bulk locations options. | |
| | d. Now, click Next until you reach the Finish button. |
| e. Lastly, click on Finish, close the page and refresh. | |
Summary
How to Create a Warehouse Layout with Dynamics 365?
1. Enter the navigation panel and go to the Inventory management module.
2. Set up the default location capacity
3. Define the format for the location name
4. Define the location of the warehouse
Warehouse Management:

Benefits

for your Supply Chain
Now, obviously, we would not go through such a process if it did not translate to tangible benefits for a business. As such, we will point out the key benefits of handling our warehouse management through Dynamics 365. Moreover, we will also highlight a case study about Majans, a family-owned business that accomplished ambitious business goals using Dynamics Supply Chain Management to enhance warehouse control.
Dynamics allows us to manage every single warehouse process. From manufacturing and distribution to shipping. Moreover, with its current features, we can ensure optimal integration of the overall business picture. Transportation, quality control, purchase, sales, and everything we need to ensure the workflow is adjusted to the business requirements.
As far as warehouse management goes, this is what we can gain from using Dynamics' Supply Chain Management.
Supply Chain Benefits
Real-time visualization of production, transfer, sales, and return orders.
Query-based inbound and outbound material workflow, which is entirely compatible with Manufacturing and Transportation offerings integration.
Metrics of stocking limits and locations.
Inventory status, including support for item serials and properties.
We can set up picking strategies. In a previous piece, we went through the different types of picking methods and their benefits:
Single order picking, batch order picking, zone picking, pick and pass, wave picking, and voice picking.
Support for barcode scanners.
Advanced counting, including pallet and container types.
Integration with Zebra ZPL, which allows support for label printing and routing. This has been a key aspect in successful outcomes for relief centers across the U.S. It allowed them to deliver supplies, foods, and other necessities, overcoming the pandemic's impact on their supply chain.
Integration with Power BI, including automatic inventory movement visualization.
Quality control (QMS) integration, even going to traceability of material handling on site.
Support for manual packing and container management, including docking.
At first glance, these benefits might seem generic. However, we should not take their value for granted.
Enhance your Supply Chain; Enhance your Products
Let us meet Majans. This company is a consumer goods manufacturer with a focus on innovative snacks. By now, you are probably wondering how Dynamics 365 helped their warehouse management. Therefore, to find out, let's look at Microsoft's case study.
The challenge for this company, which started as a family business, began with its growth. Moreover, as they scaled, waste and inefficiency with resource handling grew with them. It was then when the owners realized the necessity of streamlining production while keeping a close watch on their operations. However, to understand their product and their challenges, we need to understand their supply chain.
Their Challenges:
Everything starts with their suppliers for raw materials. They use peas, nuts, rice, and corn, which come from farms. Furthermore, one of the key elements here is that the company needed to dispatch their purchase order one year in advance. To this extent, they needed accurate forecasting, which would allow them to get exactly what their production needed.
Once the shipment arrived, it was necessary to observe their production machines' operations, account for unforeseen failures, and ascertain which of their snacks were selling the most. Therefore, when it came to this point, their challenge was that they stored this information in different parts of the company. Moreover, lacking unification meant not counting on a source of real-time information of their entire supply chain.
Furthermore, as a company, they still had to adhere to manufacturing processes and standards. This meant that they lacked flexibility when it came to adjusting their operation to supply or production changes in schedule. Therefore, by using Dynamics, they were able to diminish the waste of resources and increase efficiency, timesaving, and decrease costs. Now, they could allocate these newly freed resources into research and development to design new products, which could bring innovation to the snack market.
The last challenge came in the form of the market's demand. As you may know, the snacking industry is highly competitive, and as such, this company sought to improve its customer experience and the quality of its products. Therefore, this translated as a need for quality control and customer relationship management.
Now, that is when Dynamics 365 IoT intelligence came into play.
Their Solutions:
Connecting IoT sensors to their production machines allowed them to acquire insights into their product. Therefore, by collecting real-time information, they could address variables like moisture or salt content in their production. Before implementing Dynamics, they executed their quality control manually. Now, they could automate the assessment of their product line, preventing product loss and poor customer experience due to human error.
Furthermore, implementing Dynamics 365 allowed them to improve their overall equipment effectiveness by 10%. The IoT intelligence provided those real-time analytics on performance and availability. Therefore, this translated as having the possibility to send the necessary maintenance staff to bring optimal solutions and maintain the production line up and running.
Due to the Power BI dashboards, their executives now had key performance indicators (KPIs) in a single, seamless platform. Thus, allowing them to make quick, data-driven decisions to optimize performance, not only for production but also for inventory and sales.
Moreover, implementing Dynamics did not stop in being a solution for their issues. It became a tool to improve their value as a company and their production performance. For example, when it came to production scheduling, Majans was able to identify that they were not optimizing their time between machinery shifts. By doing so, they could use the same production machines to output higher volumes of higher-quality products. Overall, this seemingly small change provided them with a 15% improvement in production.
Nowadays, by implementing Dynamics 365 to oversee their operation, Majans went from a mid-sized manufacturing company to a true industry giant. Therefore, these technologies have allowed them better control over their operations and the ability to keep their promise to their customers in bringing the highest quality snacks.
Conclusion: Create New Warehouse Layout with

MS Dynamics 365
With these research pieces, our goal is to show you how and why managing your business's different elements through Dynamics 365 can be extremely beneficial for ensuring a business's future success.
We hope that this information will be useful to you. Moreover, if you would like to expand your knowledge about Dynamics 365 and its related technologies regarding inventory management, we recommend you our blog series on supply chain and logistics management. There, you will find a myriad of guides on how to use the different tools within Dynamics to enhance a business's supply chain. However, you can further expand this information by acquiring real hands-on experience using the labs within our courses.
Technology is the main driver for the transformation of business today. Moreover, when it comes to a business, having real-time control over inventory and warehouse allows business owners to enhance their outcomes and ensure success. You can also harness these tools. Become a driving force for the future of successful businesses.
Thank you for reading our post on How to Create a New Warehouse Layout with MS Dynamics 365. If you have any questions, leave us a comment in the section below, we will reply as soon as possible. Do not forget to visit our blog section to learn more about Microsoft Dynamics 365. Moreover, you can reach out to us here if you have any questions concerning our products. We want to ensure you get the best quality, therefore, any feedback is also appreciated. This has been Brandon Ahmad, founder of Instructor Brandon and Dynatuners.
What is a Warehouse?
Warehousing refers to storage. Moreover, a warehouse is a facility for storing goods, either for sales or for distribution at a later date.
What is the difference between a Warehouse and a Distribution Center?
For a warehouse, its purpose does not go beyond storage. Nevertheless, for a distribution center, its use, more than storage, also includes fulfilling orders.
What are the elements of a Warehouse?
Storage capacity, HVAC system, inventory management system, warehouse equipment, warehouse-supplier and warehouse-shipping relationship, transportation, staff members.
What are the areas of a warehouse?
There are external areas (loading and unloading areas), internal areas (reception, storage, picking, and dispatch areas), and miscellaneous areas (service areas).
What are the benefits of Dynamics 365 Warehouse Management?
Mainly, inventory visibility in real-time. Metrics of stocking limits and locations. Furthermore, we can setup picking methods. Integration with Zebra ZPl for label printing and routing. Integration with Power BI, including automatic inventory movement visualization. Moreover, quality control even goes into traceability of material handling.