Find Affordable

Shipment Rates

with D365

Transportation Management
Shipment Costs | Transportation Management | Logistics Management
Before Dynamics 365 Transportation Management System, there wasn't enough information or data sets available to the users. However, with the increasing ability to integrate and execute technology, it has become convenient for industrialists to gain insights into vital details. Such insights play a significant role in achieving a successful and affordable transportation management system.
Features like freight rate comparison with rate master, rate base assignment, and break master help users to work efficiently through connected operations. Moreover, it also adds considerable flexibility and scalability in everyday transportation activities while keeping pace with current trends. Furthermore, with enhanced visibility across distribution, customer service, sales, and freight rates, Dynamics 365 Operations allows users to optimize route planning and processes to meet the ever-changing needs of the market.
Dynamics 365 can help users estimate the most affordable shipment rates by performing comparative analysis and implementing scalable transportation plans. However, before starting with the steps to perform comparative analysis in Dynamic 365, let's go through some of the essentials of transportation management.
Introduction to
Transportation Management System

(TMS)
Generally, Transportation Management System is a collection of extensive information regarding freights and logistics. However, it is also a transactional and inter-communication system that enables users to plan, implement and track outbound or inbound transportation. Therefore, D365 Transportation Management System must be implemented with strong integration of freight systems and data resources.
The supply chain, ERP and order management systems automatically feed data into the transportation system. However, transport management also integrates with warehouse systems to better coordinate the tasks at the warehouse. It also assists with freight management systems, logistics management, work scheduling, cross-docking and load building.
The supply chain management system consists of three components: Enterprise Resource Planning (ERP), Warehouse Management System (WMS) and Transportation Management System (TMS). Each of them has an essential and distinct role in the supply chain. Moreover, integrating these three systems facilitates data sharing and documentation to streamline customer support.
Following is a summary of how the above table works.
Besides accounting and resource planning, the ERP system also involves order invoicing and inventory management systems. In comparison, the WMS assists users in fulfilling shipping and receiving duties from the warehouse or distribution centers. It includes picking products off shelves for transportation or storing received goods.
System's job in inventory management is to track data from barcodes, read inventory management modules using radio frequency identification (RFID) labels and provide updated inventory status. The inventory data in the ERP system and the WMS are in sync via an integrated connection.
The transportation activities use the order information from the ERP system to prepare and execute shipments. Apart from basic information about the customer, the ERP database also includes comprehensive information to guarantee the accuracy of logistics services.
Moreover, the transportation system provides the tracking number, carrier's name, and delivery charges essential for accounting and fleet management tasks. The data for shipping rates might also be sent to a customer relationship management (CRM) module, allowing sales and customer support departments to keep the customers updated on their order status.
SUMMARY

To be concise, a Transportation Management System (TMS) is a software system that manages any operation related to transportation. As a reputable third-party for Dynamics 365 experts, we have the capability to deliver ideal solutions for seamless warehousing. Dynamics 365 offers some of the powerful features in the Transportation Management System. So, let's look at how these features can help you improve transportation operations and save costs.
TMS

&

Supply Chain
The role of transportation management system in our industrial supply chain cannot be overstated. Commonly, the supply chain analyzes, implements and controls the flow of goods and services throughout different stages of their life span. This process starts from purchasing raw materials to production and ultimately to distribution. Therefore, transportation is an essential component of an efficient supply chain. `
Even the most nominal processes like transporting the raw materials require fleet management to carry them from the origin to the warehouse or production plant. Your production material may have intermediate stops along the route in addition to the ending destination. Simultaneously, the manufacturing process itself may require other transportations, such as subassembly points to move raw materials or goods from facilities to one of the subcontractors.
All of these processes make transportation management complex and increase the cost of transportation. The Dynamics 365 transportation management system mitigates these complexities and automates the system to help users save time and resources.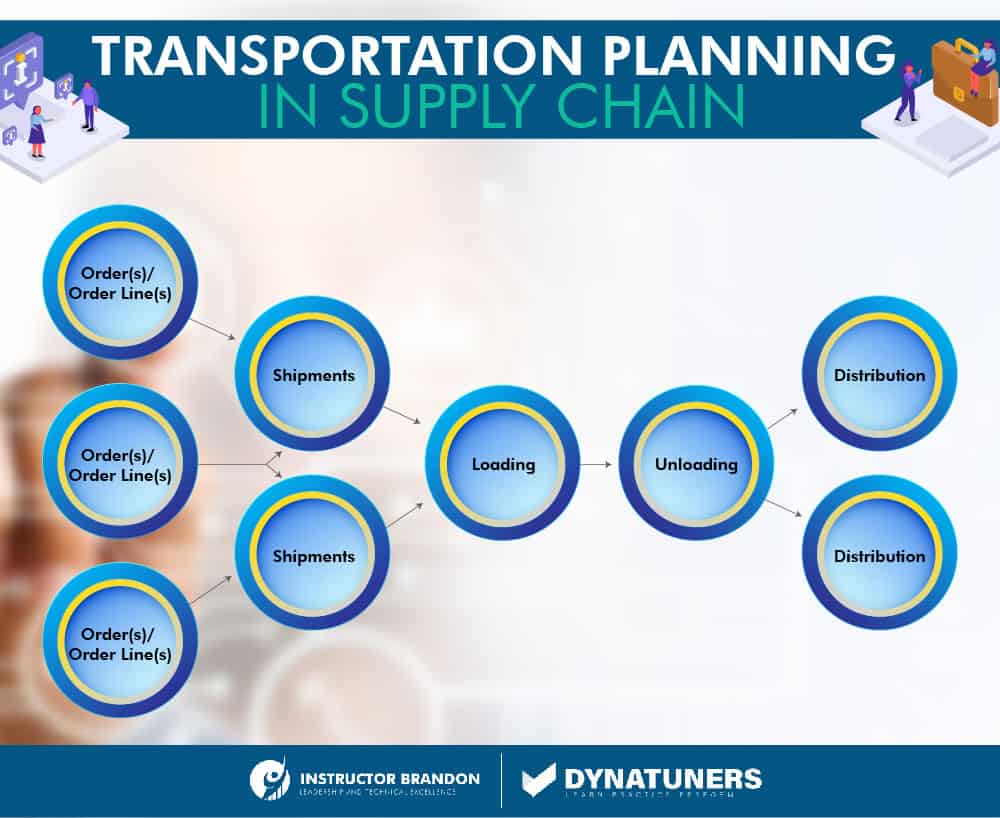 Planning in transportation management is based on orders and the shipments of these orders. The inbound transfer orders are a part of the transportation system; however, they aren't necessary for planning transportation. In comparison, outbound transfer orders can be scheduled alongside sales orders to reduce lead time.
In the above table, shipment is a collection of one or more order lines heading to the same delivery point with the load. Similarly, the load is a collection of shipments transported simultaneously.
SUMMARY

Sound transportation management will always result in the highest supply chain visibility. When a company feeds its transportation systems with a predictive analytics scheme, performance is enhanced across the board. Once the inventory information is in Dynamics 365 systems, the rate comparing system facilitates you to extract the most affordable transportation rates.
Understanding Dynamics 365

Transportation Rating System
When it comes to Dynamics 365 ratings, there are five essential components for it:
The rating profiles
Rate master
Rate base
Rate base assignment
Break master
To help you understand the relationship between the components, here is an illustration of the flow.
If you have a closer look, there is a direct relation between rate profile and rate master. In comparison, the rate master can have several rate base assignments. One rate base assignment can only have one base rate. Similarly, one base rate has one break master. Dynamics 365 connects the rating profile to the break master and completes the rating cycle.
There is some detouring to complete the final stage regarding rates. As illustrated in the above image, the basic order in which Dynamics 365 sets up the rate profile.
Starting with break master, let's go through the components one by one and see what role they play in the transportation rating system of Dynamics 365. So, the break master allows users to set values for rate break. However, you can only assign values already available in the base rate records. It would help if you keep track of the data types to ensure that the selected data matches the break unit. Dynamics 365 allows a free text field for the rate comparison. Therefore, we have to be cautious while putting invalid comparison indicators.
The second component on our list is the Rate Master. We can consider it a doorway to rate base assignment and rate base. In Dynamics 365 you can edit an ongoing master or even create a new one.
You can name your rate master and even assign metadata ID to it. The metadata you enter will indicate required fields and forward them to the rate base assignment fields.
SUMMARY

Each shipping carrier has its rating profile. You link the shipping carrier to the Rate master in the profile. The rate master defines the rate base assignment. Whereas, rate base determines the shipment rates.

Now that we have a fundamental understating of how the rating system for Dynamics 365 works, we can proceed further towards creating a rate profile to compare freights rates and choose the best options among them.
Conducting

Comparative Analysis

for

Shipment Rates

in Dynamics 365
  Step 01
Go to Transportation Management > Setup > Rating > Rate master.
  Step 02
Click on New.
  Step 03
Enter the Rate Master and Name of the master. Select Rating Metadata ID from the drop down list and click on Save.
  Step 04
Click on Rate Base on the action pane.
  Step 05
Select New. In the Rate base field, enter a value. In the Name field, enter a value. In the Break master field, select the drop-down button to open the lookup. For this example, select Weight.
  Step 06
 Expand the Details section. Select New. In the Drop-off postal code from field, enter 30301. In the Drop-off postal code to field, enter 30318. In the Drop-off country region field, enter USA.
  Step 07
In the <1.00 Lbs field, enter 100. In the <5.00 Lbs field, enter 300. In the <20.00 Lbs field, enter 500. In the <100.00 Lbs field, enter 1000. In the <1,000.00 Lbs field, enter 3000. Select Save. Close the page.
  Step 08
On the Rate base assignments section, Click on New. In the Name field, enter a value. In the Rate base and service fields, select a value.
  Step 09
 In the Pick-up Postal Code field, enter 98052. In the Pick-up Country Region field, enter USA. Select Save.
SUMMARY

To create a new rate base assignment, you can use a generic page displaying an overview of all current rating profiles. You can also create a rating profile directly with the shipping carrier. The information for the rating profile remains the same in both cases.
How Dynamics 365 Helps You

Overcome Transportation Crisis
Prime Functions of Transportation Management System
Planning
Freight Management
Execution
Administration

Routes, loads, orders and carriers

Analytics and Reporting
Performance Management

Freight Rates
Contract Management
Order Management
Multi-mode Transportation

Booking
Tracking
Real-time Visibility
Communication

Billing
Payment
Settlement
Auditing
The busiest shipping season is approaching while the market is still recovering from Covid-19 turmoil. The supply chain management has been devastated with bottlenecks, capacity shortage and high freight cost. However, difficult times provide a chance to optimize shipping procedures and use digital solutions like Dynamics 365.
Dynamics 365 freight rate management assists in navigating the volatility of current market trends.
Digitizing your transportation management can enable you to overcome the current transportation cost hypes and emerge stronger than before. Furthermore, automation allows quick response to changing market realities.
The supply chain becomes tedious if you continuously modify your prices to keep up with the frequent market swings. Updated rates enhance the efficiency of transportation rate management. If these prices are not updated time and again, evidently your team will end up quoting incorrect prices and end up incurring losses.
If you manage your freight rates on a digital platform, your prices will automatically adjust every time you tender and award new shipper carrier business. Using automation in this way allows you to tender frequently, receive better rates, mitigate capacity shortages, while focusing on the overall supply chain strategy.
Increase visibility

of your freight data
65% of procurement executives say that they have little to no visibility outside their tier-one vendors. Even in a stable market, this issue prevails. Although, in the current volatile markets packed with bottlenecks and capacity shortages, comparing freight rates frequently might bind your supply chain to a standstill.
SUMMARY

How to plan shipments rapidly and formulate delivery schedules when you don't have enough information about the rates?

When you digitize your freight rates, you'll always have the most up-to-date prices in one spot that will allow you to compare rates from multiple suppliers. Furthermore, integrated digital analysis tools will enable you to extract your freight data and gain a clear picture of your shipment details.
At Instructor Brandon | Dynatuners, we always seek innovative methods to improve your competitiveness and suit your Microsoft Dynamics 365 requirements. Our offerings are founded on defined procedures, industry experience, and product understanding. If you're interested to consult with our technical solutions experts on how we may help you establish a rating system to avail least expensive shipping rates, don hesitate to Contact Us.
How to determine Freight Rates?
The factors determining freight rates are mode of transportation, weight, size, distance, points of pickup and delivery, and the actual goods being shipped.
How to calculate Freight Cost Per Unit?
Calculating your business's freight cost per unit is quite easy: you can divide the freight charges by the units shipped per period e.g. month. Your units might be weight e.g. pounds or simply product units, especially if you're sending many of the same items.
What does Cubing refer to in Logistics?
Cubing is a method where we optimize our warehousing space to ship or store Items. With cubing, you can properly organize items to reduce the costs of freight per piece: reducing freight expenses eventually allows us to gain higher profits.