How to Create a

Fixed Pay Plan

with D365

Compensation Plans
Pay Frequencies | Performance Ratings | Compensation Types | Company Performance | Grade Plans
What is a

Compensation Plan

?
A compensation plan is a comprehensive document that specifies your workers' earnings, salaries, perks, and payment arrangements. Bonuses, incentives, and commissions offered to workers are also detailed in compensation plans. Additionally, compensation plans may include information on anticipated raises and increments based on years of service. Compensation planning is essential for attracting and keeping employees, and understanding the reasons behind this can help you build an appealing pay strategy for your company.
Hiring the most capable and talented personnel and retaining them is a crucial objective of an efficient human resource (HR) department.
One of the most effective strategies an HR professional employs to recruit top talent is to give a remuneration package that workers find hard to refuse. According to the Society for Human Resource Management, 63% of workers in the United States believe that income and benefits are among the most significant factors that influence job satisfaction.
Compensation and perks are critical components of a team member's workplace happiness since they directly reflect in their performance and willingness to work. So then, an HR department needs to ensure that the remuneration and perks supplied to workers are appealing enough to maintain strong morale. Such compensation policies encourage workers that the organization values them and appreciates the job they accomplish. After all, human resource is among the company's most valuable assets.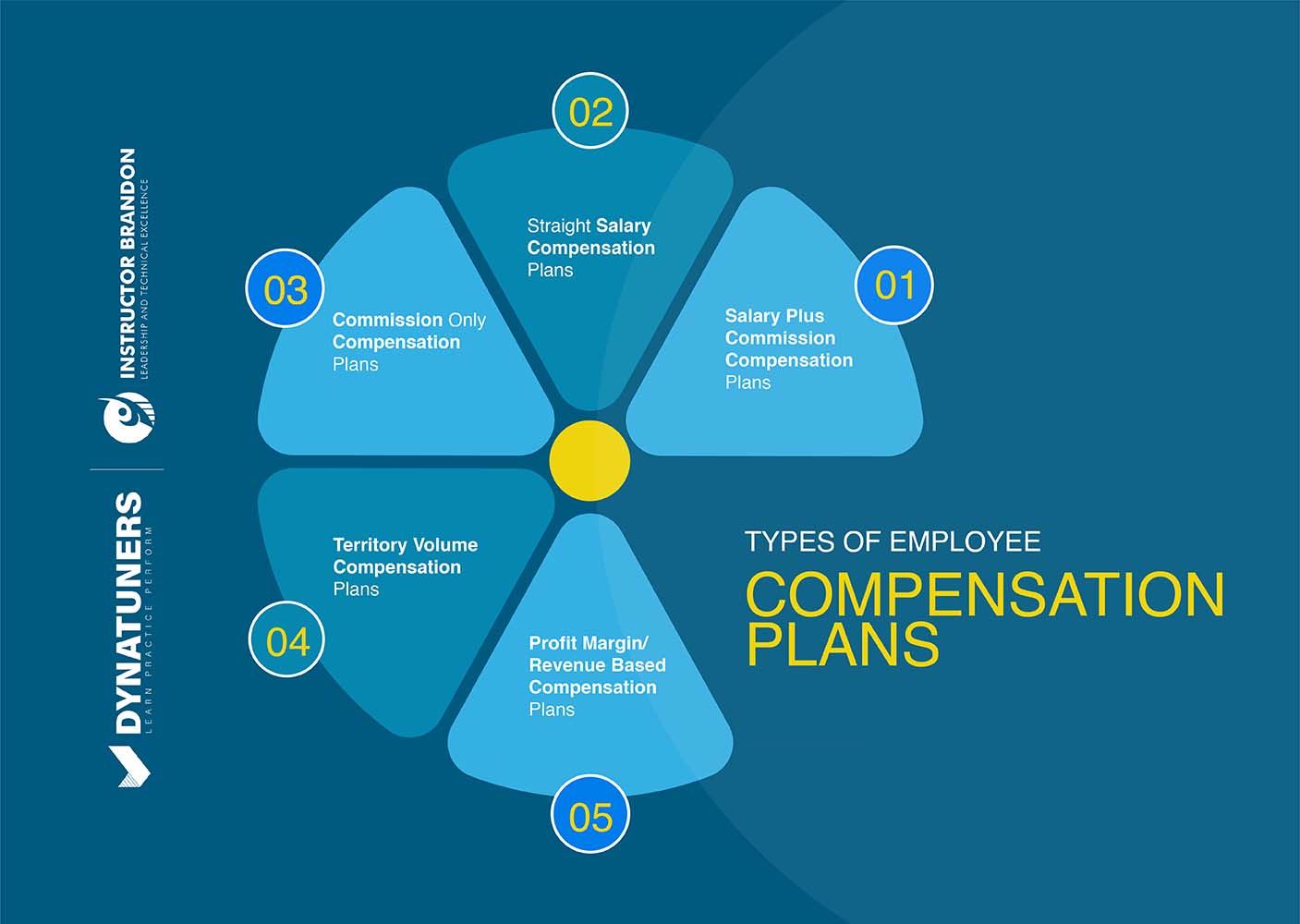 SUMMARY

A compensation plan is a detailed document that specifies your employees' earnings, wages, benefits, and payment methods. In addition, compensation plans outline the bonuses, incentives, and commissions paid to employees. According to the Society for Human Resource Management, 63% of American employees feel that salary and benefits significantly impact job satisfaction.
What is the

Difference

between

Pay

and

Benefits

in the Workplace?
While pay and benefit seem to be the same thing, these vary in many critical ways.
Compensation is a term that refers to a payment made to an employee in exchange for their services to an organization. When a person works for an organization, they are compensated for their time and skills by means of monetary compensation, amenities such as free meals, unlimited vacation time, excellent healthcare, and bonuses. All of this is included in the employee's remuneration, which may be monetary or non-monetary in nature. By contrast, benefits relate to a non-monetary compensation provided to an employee as a mark of gratitude for their job. Flexible work hours, the ability to work remotely, access to gym memberships and catered meals, as well as a casual dress code are all popular bonuses among workers.
While perks may not directly benefit an employee, they are critical in attracting skilled workers to a business. For example, assume an employee is presented with two employment offers. Both offers provide the same monetary reward, but the first includes a more comprehensive benefits package. As a result, the employee is highly likely to accept the first employment offer. Explore our group learning options to maximize your return on investment and develop your team's dynamics competence.
SUMMARY

Remuneration is the monetary compensation received by an employee in return for their services. Benefits are non-monetary compensation given to an employee as a token of appreciation for their work.
Why are

Remuneration

and

Benefits

Critical?
Human resources are the most critical component of every business. The more talented the workforce of a business, the better its production and bottom line. A professional approach to salary and benefits in the workplace contributes significantly to employee satisfaction. Additional pay and perks are essential to maintaining employee motivation. When employees are well compensated, they are more motivated to work. Their morale remains strong and they exhibit an improvement in work satisfaction. High morale guarantees that people are encouraged to work each day and do their best.
Additionally, highly motivated and satisfied individuals are less likely to seek employment other than their present position, thereby sustaining themselves for a more extended amount of time. Secondly, attracting the top talent is extremely important. Any intelligent and diligent employee understands their worth and wants to maximize it via the highest wage and benefits possible. If an employee feels underpaid or a rival offers the same monetary remuneration but a more fabulous benefits package, they will likely leave. Therefore, HR professionals should be aware of their rivals' pay packages and strive to match them to recruit and retain top personnel.
Get a hands-on, real learning experience with us, enroll now.
SUMMARY

A professional approach to compensation and benefits in the workplace substantially contributes to an organization's employee contentment. Therefore, human resource professionals should be aware of their competitors' total compensation packages and make every effort to match them whenever possible to recruit and retain top talent.
How Can you

Ensure Pay Equity

?
In its simplest form, compensation fairness guarantees that everyone in a firm is compensated relatively and following their company's best practices. In an ideal world, every employee in the same job at a firm would get an identical remuneration package. However, one manager may be responsible for a ten-member team, while another may be responsible for a thirty-member team. In addition, one analyst may be working with a customer who needs a specific understanding of financial technology, while another may be working with a client who does not. In both circumstances, this person has the exact roles of manager and analyst. However, their workloads and the skills necessary to fulfill these positions are distinct. Do you want to learn more on how to implement security roles for advanced user data protection through Dynamics AX, check out our blogs.
SUMMARY

In its basic iteration, compensation fairness ensures that everyone in a business is treated equitably. Ideally, every person doing the same work at a company would get the same compensation package. However, their responsibilities and the skills required to fill these roles are diverse.
Compensation Plans

in D365
Compensation management enables managers to administer and handle fixed and variable compensation programs for their organizations' personnel.
Compensation management monitors and manages the distribution of basic pay and bonuses. Set compensation programs regulate an employee's fixed base pay and merit raises. Variable compensation plans handle the payment of incentive compensation like bonuses, performance awards, stock options, and grants, as well as one-time prizes.
Employees may be enrolled in one or more of these kinds of plans. To be eligible for membership in a compensation plan, an employee must fulfill the following criteria:
First, the individual must be assigned to an active role.
The employee must satisfy the conditions established by the compensation plan's eligibility standards.
SUMMARY

Compensation management is a term that refers to the process of monitoring and managing the allocation of base pay and bonuses. In addition, it enables managers to manage and administer fixed and variable compensation plans.
Functional Walkthrough

of

Compensation Plans

in D365
Create a fixed compensation plan.
  Step 1
Select Compensation management.
  Step 2
Select Fixed compensation plans.
  Step 3
Select New.
  Step 4
In the Plan field, enter a value.
  Step 5
In the Description field, enter a value.
  Step 6
In the Effective Date field, enter a date.

  Step 7
Select whether the fixed compensation plan is a Band, Grade, or Step plan in the Type field.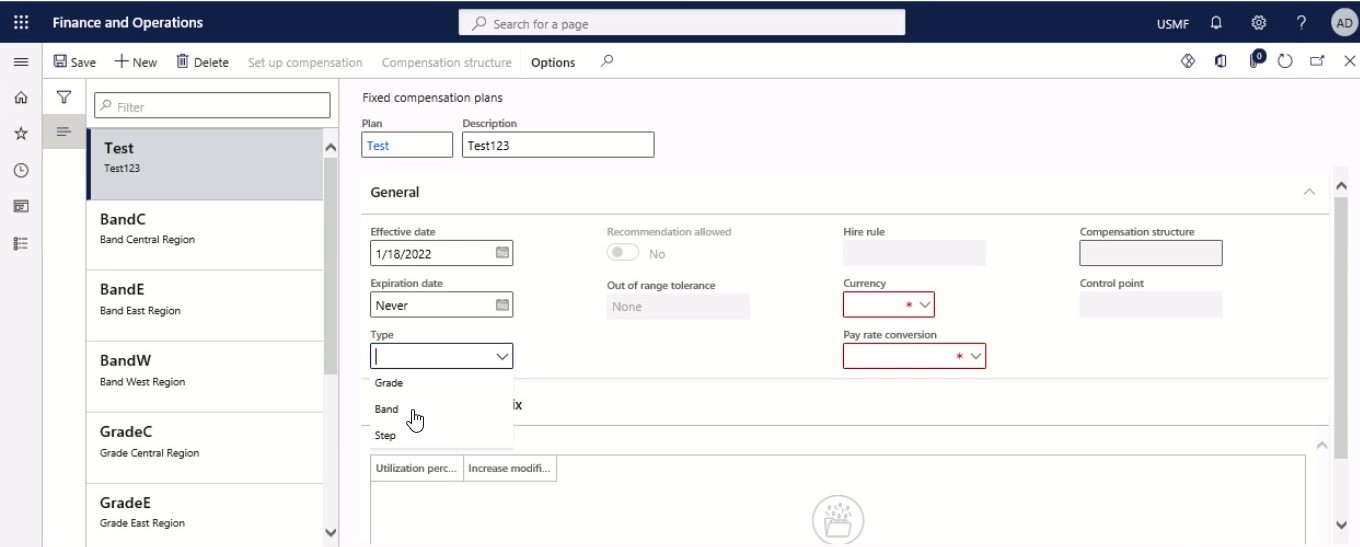 Step 8
The Recommendation allowed check box will be the default value for any actions added to this plan in a Process event.
  Step 9
The Out-of-range tolerance field allows you to specify how you want to handle compensation amounts that fall beyond the specified compensation structure range for the given level.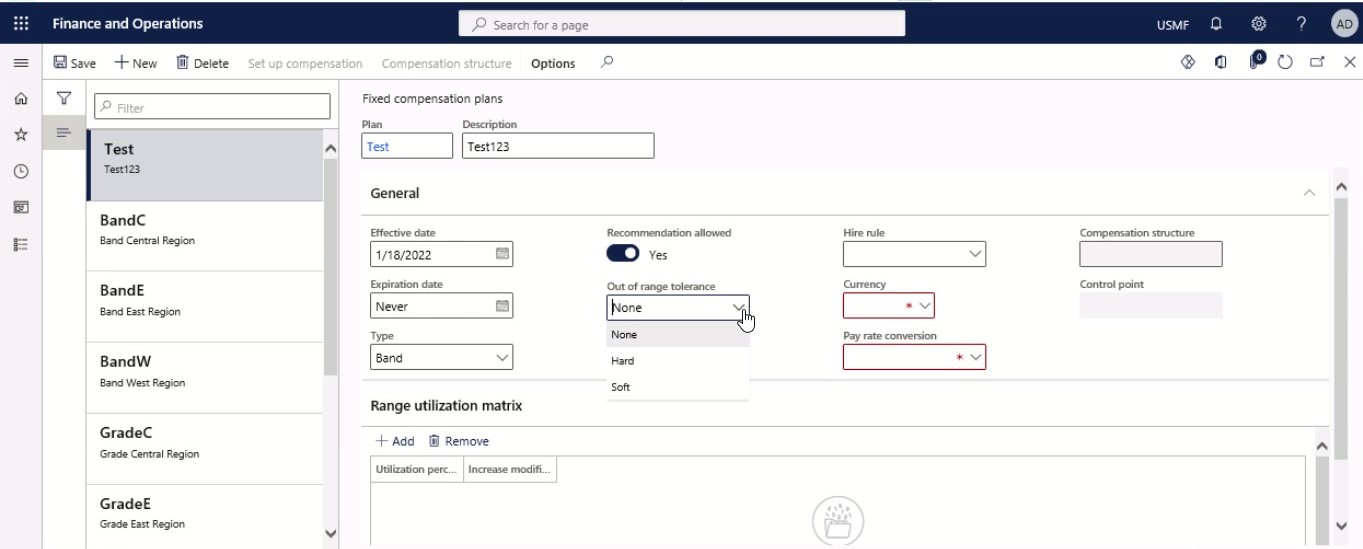 Step 10
The Hire rule field calculates an employee's compensation during a process event.
  Step 11
In the Currency field, type a value.
  Step 12
In the Pay rate conversion field, enter or select a value.
  Step 13
Select Save. This enables the Set-up compensation button and continues defining your compensation structure for the plan.
 Step 14
Select Set up compensation.
  Step 15
Select Create new from existing compensation matrix.
  Step 16
In the Copy from grid field, enter or select a value. Optionally, you can change the name of the new compensation grid that you create by copying the selected grid.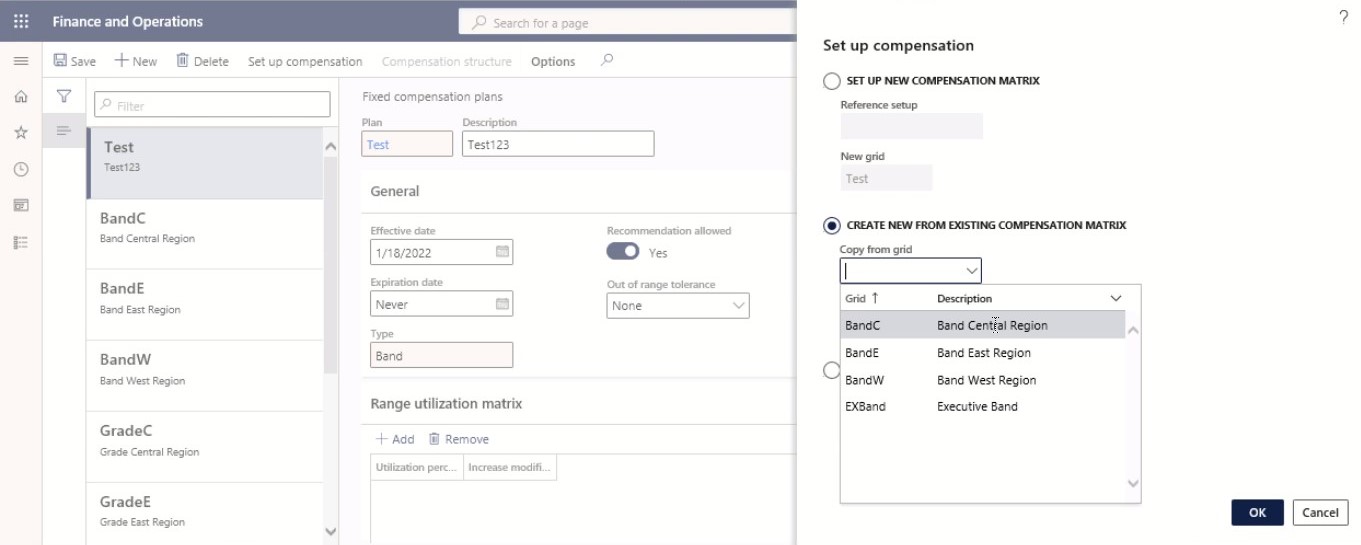 Step 17
Select OK.
  Step 18
Select Mass change. Mass change allows you to maintain the compensation matrix amounts by applying a percent or flat amount increase to one or more levels or reference points.
  Step 19
In the Adjustment amount field, enter a number.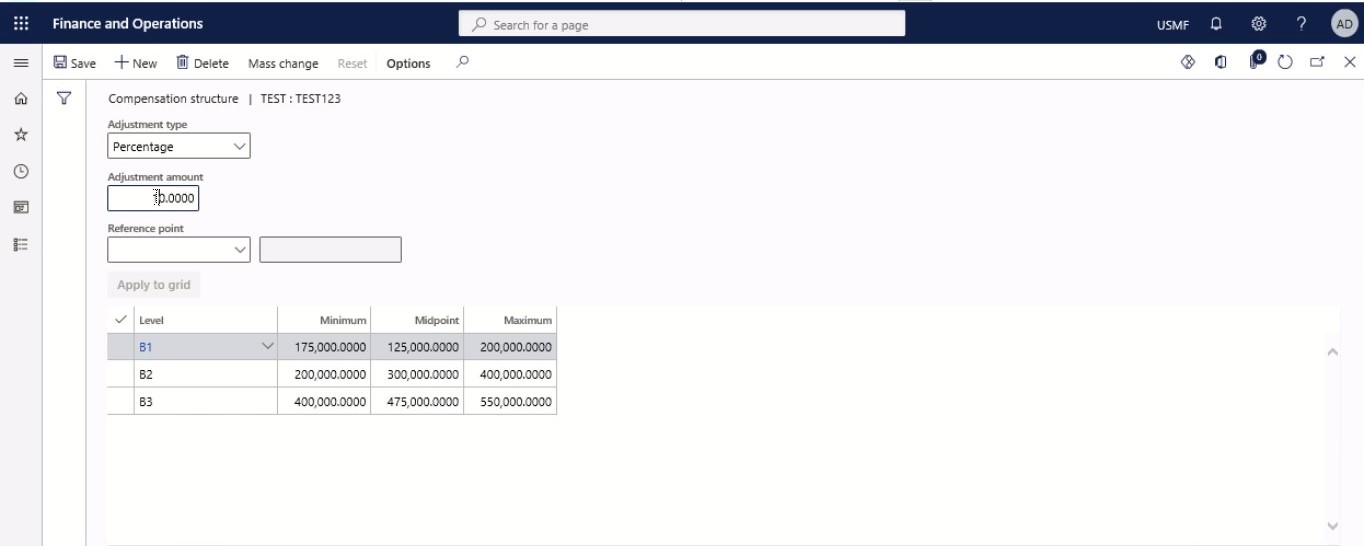 Step 20
In the list, mark or unmark all rows.
  Step 21
Click Apply to the grid.

  Step 22
Close the page. After creating the compensation structure, you can select which reference points to use as the control point for the fixed compensation plan.
  Step 23
In the Control point field, enter or select a value.
  Step 24
Close the page.
Create

an

eligibility rule

for the fixed

compensation plan
  Step 1
Select Eligibility rules.
  Step 2
Select New.
  Step 3
In the Eligibility field, enter a value.
  Step 4
In the Description field, enter a value.
  Step 5
In the Effective Date field, enter a date. Both fixed and variable compensation plans use eligibility rules. In the Type field, select the type of plan.
  Step 6
In the Plan field, enter or select a value. Select the criteria an employee must meet to be eligible for the compensation plan. Criteria can include:
Department
Labor union
Location (Compensation region)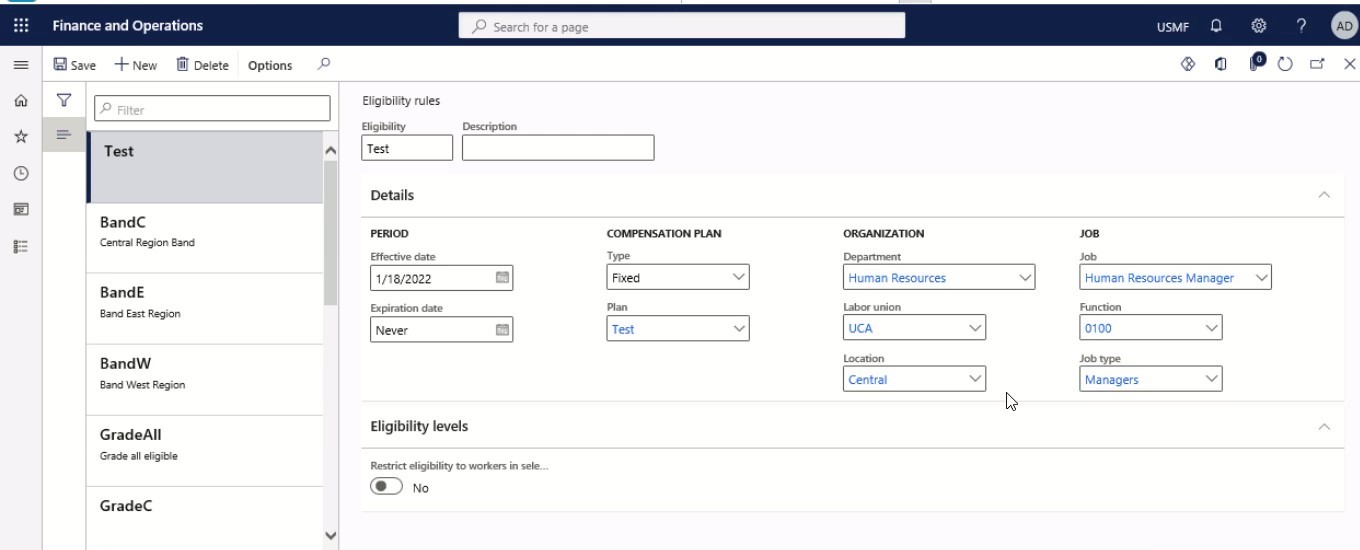 Step 7
Close the page.
SUMMARY

Following the above steps, you will be able to create a fixed compensation plan and also generate an eligibility rule for the fixed compensation plan in Dynamics 365.
Benefits

of

Compensation Management

with Microsoft

Dynamics 365
Utilizing compensation management in Microsoft Dynamics 365 enables you to understand how to give and allocate benefits to their workers and design fixed and variable pay plans.
You'll get acquainted with the collection of tools available for setting up and administering benefits, deductions, and workers' compensation programs. Since several circumstances influence worker eligibility for the different kinds of benefits offered by a business, you will see how Dynamics 365 assists human resource managers in determining the type of eligibility that applies to each benefit.
Additionally, you will learn how compensation management is utilized to govern the distribution of base pay and awards and how compensation plans may increase an employee's fixed base pay and merit. This includes bonus payments, performance awards, stock awards, and grants, as well as one-time rewards.
Sr.

Compensation KPIs

Compensation KPIs
Description

1.

Percentage of Cost of Workforce
The cost of labor as a percentage of overall expenses may be calculated by adding all wages and dividing by the total business costs for a certain time period.

2.

Salary Competitiveness Ratio (SCR)
Determines the marketability of compensation choices. It is calculated by dividing the average income earned by firm by the average salary offered by rivals or the rest of your industry.

3.

Health Care Expense per Current Employee
Provides insight into the scope of a company's health care plan. It is calculated by dividing the entire cost of health care by the total number of workers.

4.

Benefits Satisfaction
This enables a business to determine an employee's level of satisfaction with certain perks supplied. Can be ascertained through surveys and used to segment each benefit.

5.

Employee Productivity Rate
Contributes to the measurement of labor efficiency throughout time. Calculated by dividing the entire income of the business by the total number of workers.

6.

Return on Investment (ROI)
As an employer, you want to guarantee that the money you invest in staff training is worthwhile. Profitability may be defined as the profit generated by each dollar invested in social compensation/wages.
SUMMARY

Human resource managers may use Microsoft's Dynamics 365 to understand how to provide and assign benefits to their employees. You'll learn how compensation management is used to regulate the allocation of base pay and bonuses, as well as how compensation plans may be used to increase an employee's fixed-base income and merit.
How Does

Compensation Contribute

to a

Business's Success

?
Numerous factors contribute to the composition of an employee's wage and benefits package in a corporation. Because of this, an HR professional must establish and communicate to current and potential workers that their company offers competitive compensation and benefit packages.
Having clear salary and benefit policies helps a business in two separate ways. To begin, they can attract and retain the most outstanding individuals in their field, as previously highlighted. Second, it gives businesses a clear picture of how much compensation and benefits accounts for in their total operating expenditures, ensuring they are keeping revenue at a level that will enable them to afford competitive remuneration for their workers.
Engage your workers, develop their careers, and develop data-driven initiatives to enhance the employee experience. Dynamics 365 is a comprehensive system that enables you to rethink, reconfigure, and re-evaluate your business processes.
Dynamics 365 focuses on compensation, benefits, leave and absence management, compliance, payroll integrations, performance feedback, training and certification, and self-service programs to create a better workplace where employees—and your business—can thrive. If you have any questions, feel free to reach us out at help@instructorbrandon.com.
SUMMARY

Having transparent compensation and benefit rules enables businesses to recruit and retain the best talent in their area. Additionally, it provides firms with a clear image of the proportion of salary and benefits that make up their overall operating expenses. Dynamics 365 is an all-in-one solution that allows you to rethink, reconfigure, and re-evaluate your business processes.
At Instructor Brandon | Dynatuners, we always seek innovative methods to  improve your competitiveness and suit your Microsoft Dynamics 365 requirements. Our offerings are founded on defined procedures, industry experience, and product understanding. If you're interested in consulting with our specialists on compensation plans in D365 and how that can benefit you to attract and retain talent, don't hesitate to Contact Us.
What is a compensation plan in human resource management?
A compensation plan, defined as the motivating element that motivates people to go to work, is the core idea in human resource management. HR workers worldwide spend the majority of their workday managing pay plan benefits. Salary and commission-based compensation are the two primary options.
How are compensation programs defined?
A compensation plan is a monetary arrangement meant to entice and retain workers. A fundamental pay package is merely comprised of a salary or earnings. Additional advantages like as bonuses, perks, and commission, health insurance, or retirement investments may be included in a more complete remuneration package.
What sorts of compensation plans are available?
Straight Salary Compensation, Salary plus Commission Compensation, Commission Only Compensation, Territory Volume Compensation Plans, Profit Margin/Revenue Based Compensation Plans, and Residual Commission Compensation are the different types of compensation plans for compensating employees other than commissions.