Optimize

Postdated Checks

for Trouble-Free

Financial Transactions
Postdated Checks | Cash and Bank Management | Dynamics 365
Sooner or later, every business needs to innovate and automate, especially in times when they need to position their pedestal higher in their competitive circles. You have to satisfy your customers at every touch point, even before they purchase from you.
You might have to settle with them through postdated checks to ensure their purchases.
In this accelerating era, many brands are vying to be the best. And for your business to drive in the waters, you might need to look forward to a resource planning solution that streamlines your way.
Please keep reading to know how and why every emerging company should deploy a financial solution like D365  to scale their business financially.
Dynamics 365

Cash

and

Bank Management

Overview
Typically, every enterprise is like a machine that needs consistent optimization and automated deployment at every level to perform efficiently. Dynamics 365 Cash and Bank Management is a Cloud Solution that ensures your business's effective and accurate financial management by analyzing every part of the trade for better results. With such robust solutions from the tech giants, you can manage a company's finances, operations, sales, customer service, and more.
What are the components of D365 Cash and Bank Management?
Including the main topic that we will discuss; Cash and Bank Management comes with the following functionalities:
Financial Management
Project Management
Customer Relationship Management
Human Resources Management
Within Financial Management by Dynamics 365, Dynamics Integrated Solutions (DIS) offers Postdated Checks.
Essentially every company today would have come across checks while either paying their employees or while buying assets for their company. Companies use such financial tools to automate their transactions.
Unfortunately, organizations face difficulties in areas such as getting valuable insights from different business tenders despite their automation. We have also encountered people in trouble while migrating their data from third-party software. While acknowledging such hurdles, Dynamics 365 Finance and Operations facilitates data migrations outside of its framework.
Businesses also encounter a lack of templates and blueprints. This outlines the need for local wholesalers, retail services, and aid-provisioning companies. In addition, this provides us the opportunity to help our clients and deploy error-free financial operations with CETAST (Collaborative Environmental Transportation Agreement for Streamlining).
SUMMARY

The Cash and bank management module in Dynamics 365 Finance allows you to manage an organization's bank accounts as well as the financial instruments linked to those accounts. Deposit slips, checks, bills of exchange, and promissory notes are examples of these items.
What

are

Postdated Checks

?
Checks can be of many different types: order check, replacement check, stale check, open check, etc. But keeping the current financial complications in view, we are going to talk about the postdated checks. Financial bodies use these checks to make payments on a specific date. Despite that:
Rigorous guidelines around the issuance and processing of postdated checks.
Postdated checks are mostly used to offset liability and ensure payment of dues post-delivery of service.
Dynamics Integrated Solutions introduces postdated checks by analyzing local market practices and best business knowledge. These practices ensure payment security with local legalities and have proven to be a performance enhancement tool for customers' competitive gains.
Implementing the postdated checks in Microsoft Dynamics 365 Finance can help you control cash flow through flexible transfers and on-time payments.
Here are how the postdated checks listed in an ERP system.
Listing of Postdated Checks

No.

Rct No.
Date Created
PD Check Date
Check No
Status
Amount
Action

1.

Rct1029
2022-02-22
2022-03-03
1012
Bank-In
$7263.00
Queued

2.

Rct1129
2022-02-25
2022-03-05
8280
Bounced
$650.00
In Progress

3.

Rct1219
2022-02-27
2022-03-07
1298
Cancelled
$10927.00
Completed
SUMMARY

The correct implementation of financial automation is crucial for the business to incorporate postdated checks. We at Instructor Brandon | Dynatuners help firms to adapt immediately to changing market demands and drive business growth through streamlined automation. In addition, we help our clients to increase their financial performance with integrated operations.
Why

Use

Postdated Checks

?
Your business might need to encounter postdated checks for one of the following reasons:
Suppose your finance department doesn't have enough funds to pay for the current deliveries. However, they are sure that they have incoming cash payment within the next two weeks, so you mention the date after you receive your payments.
Another scenario where postdated checks are useful is when you are willing to pay after the delivery of the product or any dues for services that you may accrue. These cases are useful when either your company or the recipient agrees to mitigate the payment depending on the delivered product or the quality of services.
The deployment of postdated checks through Dynamics 365 can provide your business with the following benefits:
All financial operations are FRB and FDIC compliant using Dynamics 365 Finance.
Effortless tracking of payments for postdated checks through posting journals and items.
User-friendly environment to manage attachments, journal items, journal entries within PDC form.
You can easily deal with different stages of postdated checks payment such as deposits, etc.
PDC management system offers a facility to print PDF reports for the PDC payments.
You don't need any complex configuration to install it or use it.
The use of PDC payment can save both time and human effort.
Postdated checks are helpful when your company needs to write multiple payment transactions for a specific date in the future.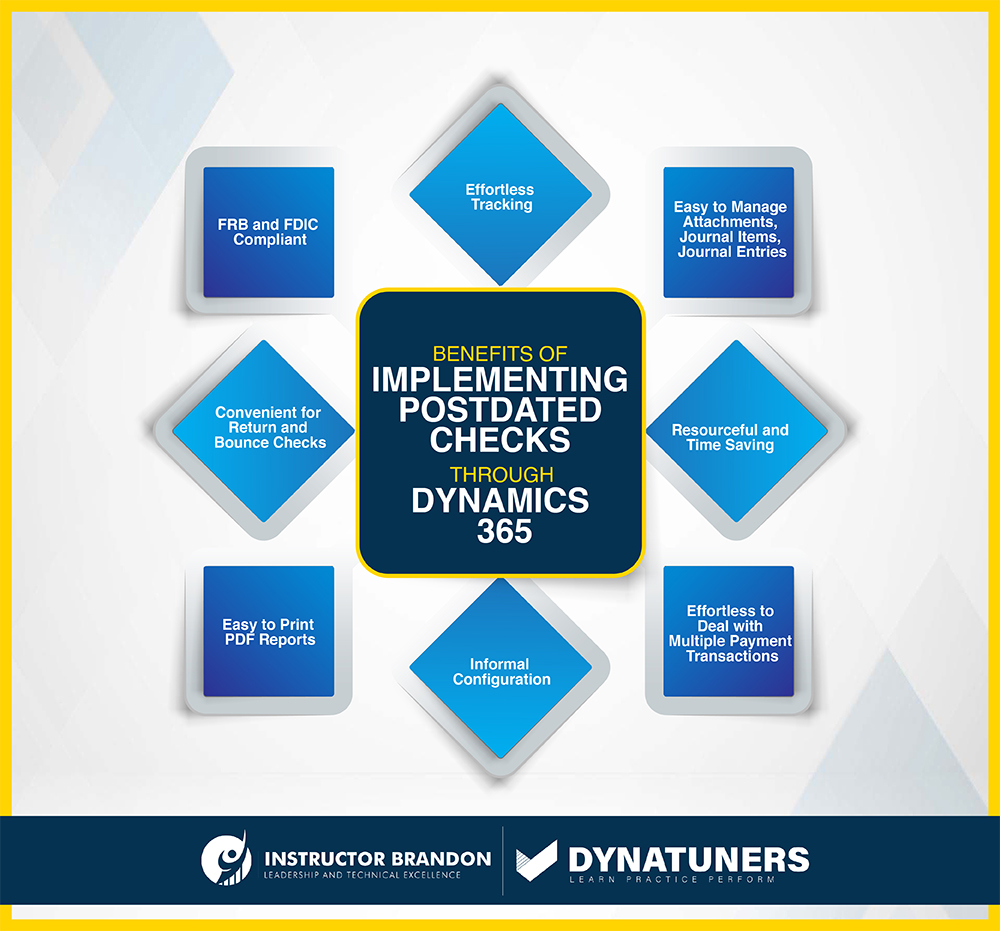 Challenges

while structuring

PDC management system
Without a doubt, postdated check management solution is somehow more challenging than some other payment methods for receiving or sending payments to bank accounts. Here are some common challenges companies face while dealing with the automation of postdated checks.
Companies lack a specialized service provider or vendor having proficiency in PDC management. Usually, while performing a financial transaction, organizations outsource the entire PDC management to technical specialists and handle front-end customer interactions themselves. We provide those companies the assistance they require as a trusted third party while helping them to register and manage their PDCs.
Postdated check is categorized as high-risk business processes. That is why most businesses do not consider this mode of payment checks while managing their finances.
Postdated checks are considered to be highly operational. This is due to their intensive nature of requiring technical solutions in certain situations, such as holding payment when your customer does not want the check to be processed.
Businesses also come across an issue while handling a bounced check. For example, you might have to request the bounced check to be re-presented for another date.
Some companies face difficulties while clearing and cannot settle clearing entries, even if their payment gets matured. In this case, they do not get the status of posting.
Here is a flow chart to help us understand how the clearing of checks work in banks.
Work Template Details:
Work Kind

– the type of work to be performed.

Line Number

– the sequence number for processing the work in the template.

Custom work type

– only utilized if Work Type is set to Custom.

Required

– is the step in the process that must be completed?

Halt work

– stop the work so that it may be taken up by another user or picked up at a later time.

Freeze

Code of directives

Work Class ID

– Use this ID to set up the mobile device's interface.

Query for Work Template
Once again, the order in which the Work Templates are picked is crucial in determining how they are chosen.
The second most essential aspect is to double-check if the newly generated Work Template is valid by looking for a checkmark in the "Valid" column.
For simplicity of usage and recognition, each Work Template will be given a name that identifies the template's requirements. By selecting Edit Query, you may provide the template's criteria, which include any database joins needed to access the data as well as any sorting requirements.
By giving a greater priority to certain templates, the Work Priority may be utilized to prioritize specific tasks above other work.
By assigning a Work Pool ID to a certain Work Template, it may be preset to be allocated to a group of employees.
SUMMARY

There is no way of telling if you could ever need to come across this financial tool to close any deal or buy machinery for your warehouse. Besides their unsophistication in the paper world, postdated can be tricky to handle when you step into the world of 1s and 0s. So, let's start with small steps and see how you can set up postdated checks in Dynamics 365 Finance.
Setting up

Postdated Checks in Dynamics 365

Cash

and

Bank Management
To get started with a postdated check, you must set up a new payment method. You would also have to specify a payment routine to the system for clearing accounts, accounts receivable, accounts payable, receiving checks, issuing checks, withholding tax.
Step 1
First, you need to click on the Cash and bank management; you will find Cash and bank parameters under Setup.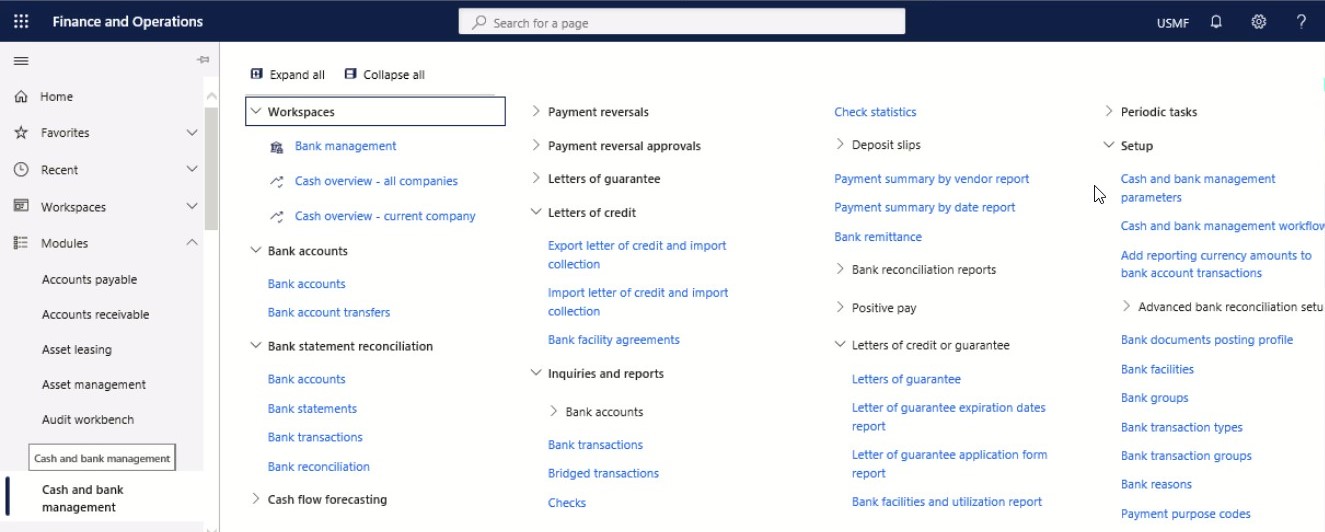 Step 2
Click on the Postdated checks tab.

Step 3
Here in the check box, you can Select or clear the Enable postdated checks.
Step 4
Select or clear the Post journal entries for postdated checks.
Step 5
In the Clearing account for issued checks field, specify the desired values.
Step 6
In the Clearing account for received checks field, specify the desired values.
Step 7
In the General journal for clearing entries field, type a value.
Step 8
In the Transfer postdated checks to this vendor payment journal field, type a value.
Step 9
In the Withholding tax clearing account field, specify the desired values.
Step 10
Click Save.
Step 11
Close the page.
Step 12
After that Go to Accounts payable and click on Methods of Payments under the Payment.
Step 13
Click New.
Step 14
In the Method of payment field, type a value.
Step 15
Select the Postdated check clearing posting option to indicate that the check amount is posted to a clearing account.
Step 16
In the Account type field, select 'Bank'.
Step 17
The offset account of the payment method will be a bank.
 Step 18
In the Payment account field, specify the desired values.
 Step 19
Select the bank account that is used to deduct the invoice amount.
Step 20
Click Save.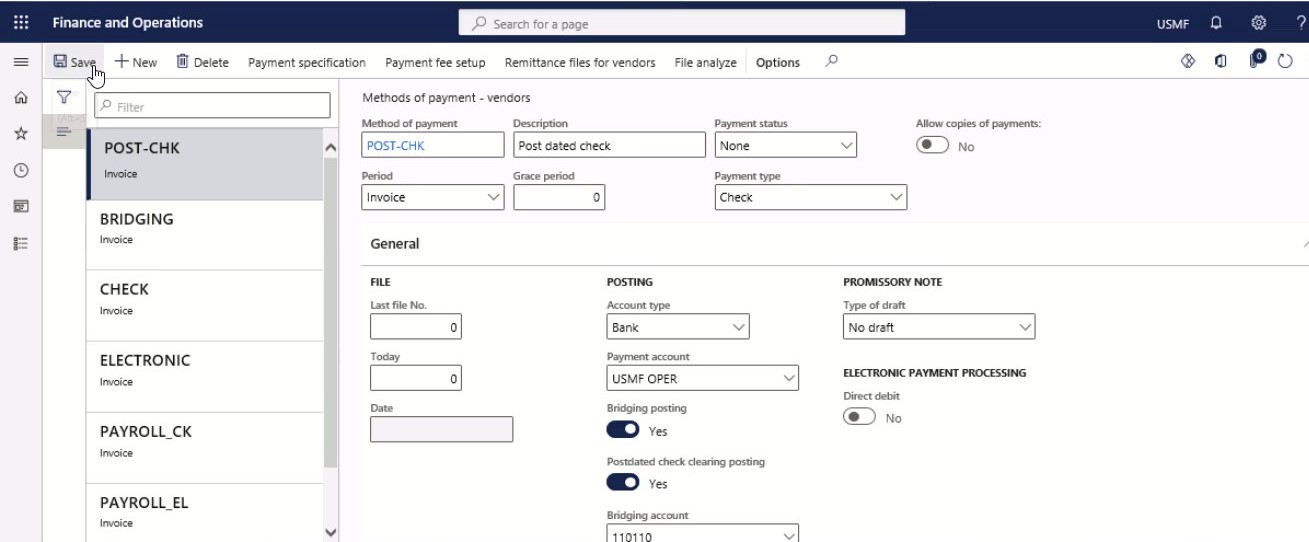 Close the page.
How to

register

and

post

a postdated check for a

vendor

in Dynamics 365 FO
In the second part of our functional section, you will see how you can register the check details of a postdated check that you want to issue to a vendor. Once your payment is posted, the system recognizes vendor liability. However, the bank account doesn't recognize your payment unless you register it using a clearing account.
To register and post a postdated check for a vendor:
Step 1
First, you need to click on the Accounts payable; under payment, you will find the Payment journal.
Step 2
Click New.
Step 3
In the Name field, type 'VendPay'.

Step 4
Click Lines.

Step 5
In the Account field, specify the desired values.
  Step 6
In the list, mark the selected row.
  Step 7
In the Debit field, enter a number.
Step 8
Go to Payment tab.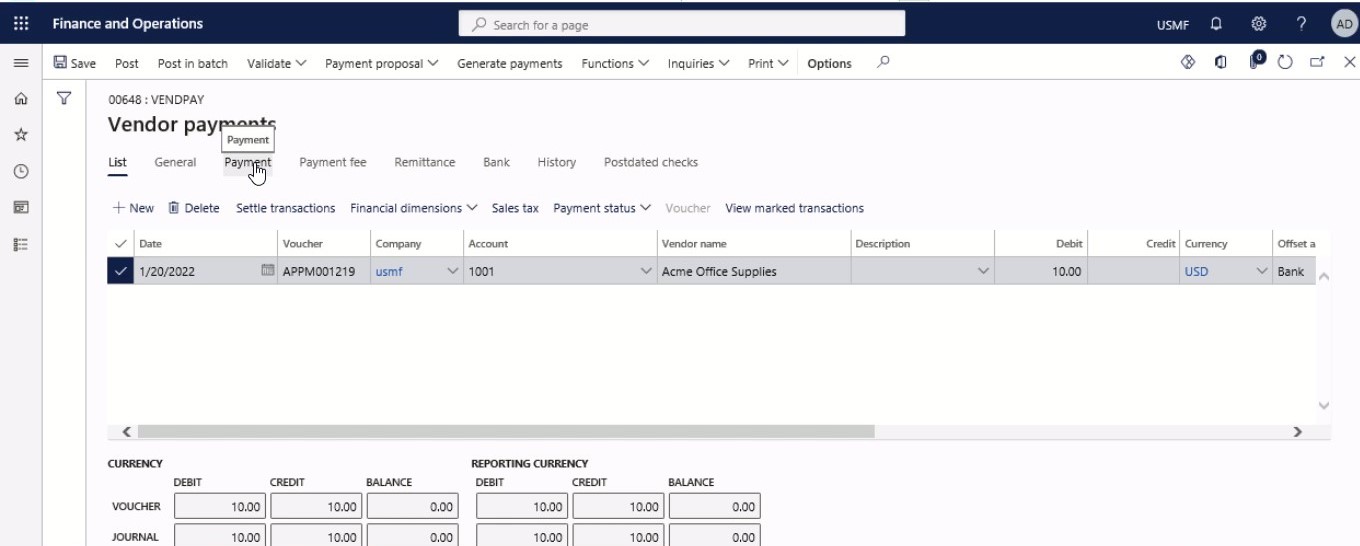 Step 9
In the Method of payment field, click the drop-down button to open the lookup.
  Step 10
Select the method of payment for the postdated check.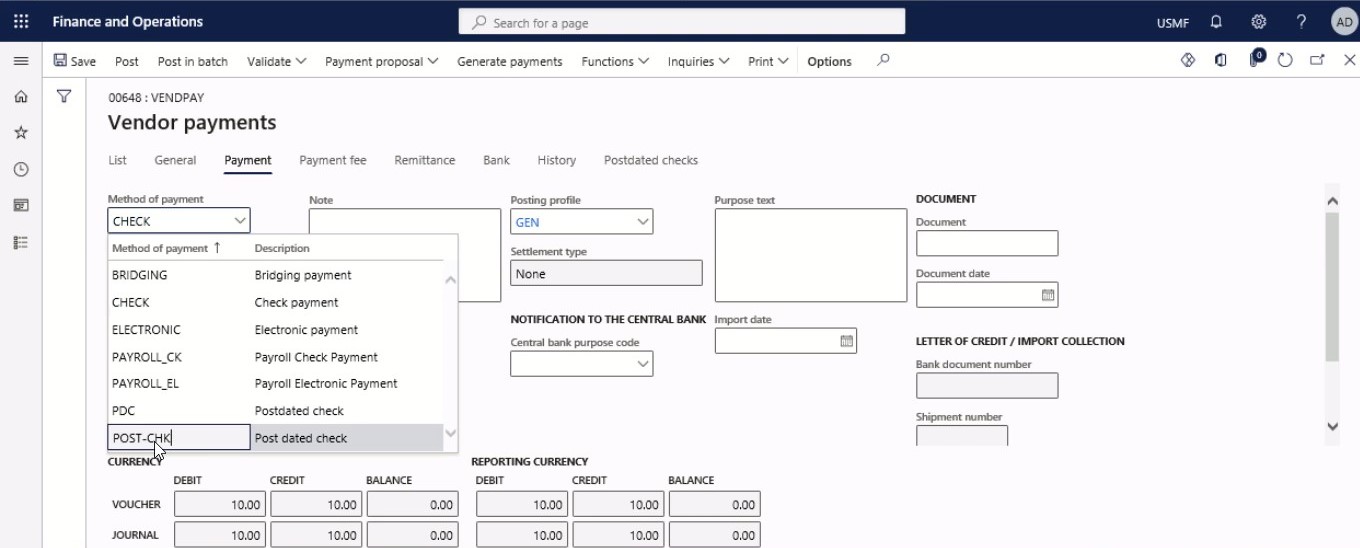 Step 1
Click the Postdated checks tab.
  Step 2
In the Check number field, type a value.
Step 3
In the Issuing bank name field, type a value.

Step 14
Click Post.
Step 15
Close the page.
How to Settle

a Postdated check for a

Vendor
After registering and posting a postdated check to the vendor, you need to settle it in Dynamics 365 Framework. When a postdated check finally attains the maturity date, you can settle that check posted to a bridging account for a vendor. Once the postdated check is settled, the bank will either add to or deduct from the clearing account you use for the transaction.
To settle a postdated check for the vendor payments:
Step 1
First, you need to click on the Accounts payable; under payment, you will find the Payment journal.
Step 2
Click Settle.
  Step 3
Click Settle clearing entries.
Step 4
Settle the vendor account for the check transaction.

Step 5
Close the page.
 Step 6
Go to General ledger > Journal entries > General journals.
Step 7
In the Show field, select 'All'.
Step 8
Select or clear the Show user-created only check box.
Step 9
In the list, mark the selected row.
Step 10
Click Lines.

Step 11
Click Voucher.
Step 12
Close the page.
SUMMARY

Postdated check settlements in Microsoft Dynamics 365 for Finance and Operations can be unsettling, especially when the payments do not nicely match up to your invoices. Even worse, it becomes disturbing when you receive multiple payments for one invoice!

Well, not anymore! If you are having issues while following the above steps for settling postdated checks, email us your complete query, and we will analyze and resolve your case to the root.
Some of the

Add-on Facilities

for Postdated Checks
Dynamics 365 Finance as comprehensive business management software allows us to develop valuable add-ons to facilitate the smooth running and efficient management of postdated checks. We can help you incorporate non-built-in functions that support postdated checks; here are some of the examples:
Introduce a feature that lets you mark an entry as postdated or specify the date the check was issued or received.
Make your accounting books equipped with updating automatic transactions on the date specified for the postdated check.
With the help of an add-on facility, you can get a comprehensive summary of all the transactions done with postdated checks. By using transaction summaries, you can also include postdated transactions within financial reporting, such as outstanding bills, and find solutions accordingly by making on-time decisions.
Conclusion
Today's blog discussed scenarios where your business could encounter postdated checks, what challenges you might face during implementing PDCs, and some examples of the add-on facilities you can avail of from our services.
Furthermore, in the functional part, we showed you how you could set up postdated checks and register, post, and settle them for a vendor in Dynamics 365 FO.
Postdated checks are one of the most frequently used features of financing. Our detailed blog on postdated checks covered nearly every aspect of this feature, if you have any queries related to postdated checks, feel free to contact us.
At Instructor Brandon | Dynatuners, we always seek innovative methods to improve your competitiveness and suit your Microsoft Dynamics 365 requirements. Our offerings are founded on defined procedures, industry experience, and product understanding. If you're interested to consult with our technical solution experts on why your postdated checks are getting errors while settling, feel free to Contact Us and get more information on it.
What are bridging accounts?
As the name implies, bridge accounts link ordinary savings accounts and more significant investment accounts. As a result, the bank offers a bridge account to get consumers to start investing in the hopes that once they have saved enough money, they will transfer the funds to a standard investment account.
Can postdated checks be cashed early?
Is it possible for a bank or credit union to cash a postdated cheque before the due date? Yes. Banks and credit unions don't always have to wait until the check's due date to cash it. If you give the bank or credit union enough warning, state's law may oblige them to hold off cashing the cheque.
What happens if a cheque is postdated?
A postdated cheque is a type of check that is drawn with a future date placed on it. The drawer will only issue a postdated cheque to the recipient the person or business who will receive the payment, also known as the payee if the drawer wishes the recipient to wait before depositing the cheque.