Reserve

Inventory Quantities

in Microsoft Dynamics 365
Inventory Count | Inventory Management System | Warehouse Inventory Management | Reserve Inventory | Project Management
What is an

Inventory Reserve

?
An inventory reserve is a sort of accounting entry that assists in determining the amount of deduction claimed on inventoried items that have depreciated in value or are deemed obsolete for the firm's operation. The purpose of this sort of accounting entry is to account for the fact that certain assets in the inventory cannot be sold at a price that covers the original purchase price. This sort of entry conforms to widely recognized accounting rules and is utilized by various companies.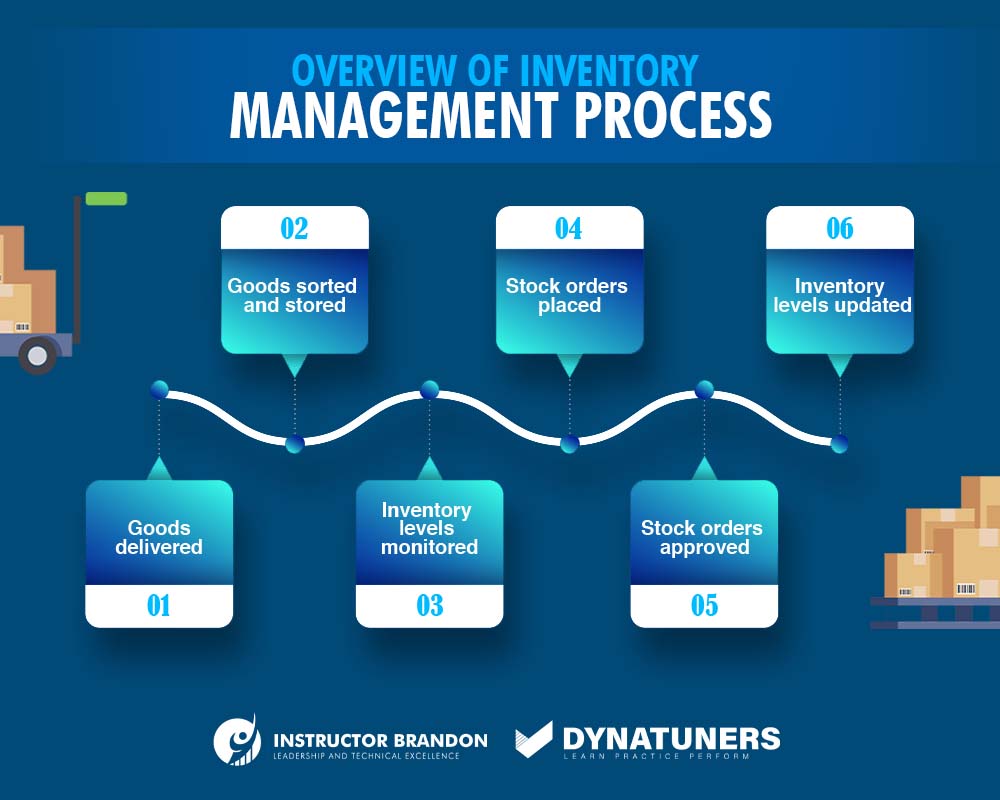 SUMMARY

Inventory reserves are a kind of accounting entries that aid in assessing the amount of inventory assets that have deteriorated in value. The goal is to account for the possibility that certain items in the inventory can't be sold at the initial purchase price.
How Does

Inventory Reservation

Work?
Frequently, business needs demand that product inventory is guaranteed for a client and placed on hold upon receipt of the order. This is accomplished by setting aside merchandise for a particular consumer. Almost every inventory model may benefit from the use of an inventory reserve. The entry may be made regardless of whether the inventory is operated on a first-in-first-out or FIFO basis, last-in-first-out or LIFO basis. In either case, the entry decreases the value of inventories on the balance sheet. Simultaneously, the inventory reserve increases the cost of products sold on the income statement. Depending on the size of the loss experienced due to the entry, it may be reported as a specific line item on the income statement rather than as part of the more general cost of goods sold section. Using an inventory reserve enables the tracking of circumstances in which obsolete materials, equipment, and other assets can be appropriately accounted for in the inventory.
Utilization of Inventory Reserve
For instance, if a textile manufacturer discontinues the usage of a certain kind of carding or spinning gear, all replacement components already stored in the plant's storage space may be designated outdated. Thus, it is still necessary to remove them from active inventory and therefore reduce the amount of tax payable on their worth. Utilizing an inventory reserve entry assists in mitigating that tax burden, presenting a more balanced financial picture of the business. While an inventory reserve may be beneficial to a business in various ways, it can also be utilized to create a false impression of the company's financial soundness. This is true if the entry is utilized in any way to alter the accounting.
For instance, if management decides to pad the reserve during times of success, they may then withdraw some of those assets from the inventory reserve during a downturn, creating the impression that the organization is in better financial shape.
Sr.

Inventory Management KPIs
KPI
Description
Calculation

1.

Inventory turnover
This KPI addresses the question: Are you selling inventory quickly enough throughout the year?
Total yearly sales/average monthly inventory

2.

Gross margin return on investment
This KPI provides insight into the effectiveness of inventory in terms of cash flow and profit generation.
Gross margin/average inventory cost

3.

Weeks of supply
This KPI provides the answer to the following question: How much do we need to purchase or markdown?
Total inventory on hand/average weekly unit sales
SUMMARY

An inventory reserve may be beneficial in almost any inventory model. Regardless of whether the inventory is run on a first-in-first-out (FIFO) or first-in-last-out (FIFO) basis, it may be recorded on the income statement as part of the cost of goods sold.
The Inventory Reserve's

Purpose
A reserve for inventory is a proportion of a business profits set aside to cover the expenses of the business inventory. Because this prediction requires conjecture about future inventory levels, the organization must conduct a hypothetical forecast to arrive at a realistic estimate. Companies may cite various reasons for these projections, including obsolete, rotten, or stolen goods. Additionally, businesses may employ inventory reserves under practically any inventory accounting  system, including FIFO, LIFO, and weighted average.
Other reasons may include the following:
First ordered, first delivered, which ensures that clients get available products in the order they placed their purchases.
Inadequate inventory levels resulting from a vendor's lengthy or unclear delivery time. You may want to ensure that particular clients or orders get the first goods available.
Priority delivery is given to specific clients and certain kinds of goods.
Serialized or batch-numbered items. You may indicate which goods have been sent to or will be delivered to specific orders.
Custom ordered items that are held in reserve for certain requests.
Orders for production. For instance, you may designate manufactured things and customize them for specific orders.
Inventory Reservation
Inventory may be reserved automatically when a new order line is formed or on a per-order basis. Additionally, inventory might be reserved at various phases of the manufacturing process. Reservations are only available for in-stock items. Services cannot be booked due to a lack of inventory. Reservations may be made for both actual on-hand inventory and ordered but not yet received items. If a more significant amount is reserved than currently in stock, a notice indicates that such a huge number cannot be reserved. You then can reserve the amount or change the quantity ordered. The quantity may be reserved or modified. If you reserve more products than are available, the difference is made up the next time the items become available for delivery.
SUMMARY

Maintaining an inventory reserve enables a business to offer a more realistic picture of its assets on its balance sheet. Companies may reserve inventory due to several reasons, such as old, or stolen products or any rotten goods. Reservations may also be made for things that are already on stock as well as those that have been ordered but not yet arrived.
Establishing

a Reserve Inventory
The business establishes an inventory reserve account when a business anticipates that the ultimate value of its inventory will be less than the recorded value. The firm may decide the amount to deposit in the Inventory Reserve account using a percentage of sales, cost of goods sold, or the value of its inventory. The account must have a credit balance to balance the Inventory account's debit balance. Explore our group learning options to maximize your return on investment and develop your team's dynamics competence.
SUMMARY

When a company expects its inventory's final worth to be less than its reported value, it creates an Inventory Reserve account. Businesses might use a percentage of sales or the cost of items sold to determine the amount to deposit in the account.
Indicators

That You Should Have an

Inventory Reserve
Inventory management may be critical to your business's success. Your inventory may assist you and your consumers in going ahead. For many organizations, inventory is often recorded at the cost of acquisition and remains on the balance sheet until it is sold. Naturally, this consumes a significant portion of your operational cash. It is critical to accurately assess these elements to make the best judgments about your company's overall financial condition. Additionally, this data is crucial for everyday choices on how – and when – to utilize your inventory. As a result of overpriced inventory, you will need to establish an inventory reserve to lower the value shown on your financial statements.
Here are some examples:
Your Inventory Has Not Changed in the Last 12 Months
If you've been staring at the same pile of goods for a year, it's worthwhile to examine its realizable value. In this instance, there is the possibility of reducing it to a relevant value based on current situation.
The Product in Your Inventory Is No Longer Current
We anticipate the obsolescence of many goods that we use regularly. If it has crept up on you and your high-tech inventory has been surpassed by a fresh wave of innovation, now is the time to take a hit on that inventory. This should assist you in making choices based on a more accurate representation of your warehouse
The Commercial and Political Environments Have Alternated
The market is dynamic. Changes in customer preferences and requirements, as well as changes in the political environment, may have a significant influence on the value of your inventory. Most corporate executives are well aware of their industry's political and social climate. To stay ahead of these developments, it's vital to maintain an ear to the ground and ensure your inventory value is current and on hand.
Purchasing in bulk might provide you with an advantage in a steady market. However, can you utilize this inventory when you begin production process? If your budget does not need you to use these products, consider reducing their value or selling them for what they are worth today.
SUMMARY

Inventory is typically recorded at cost of acquisition and stays on the balance sheet until it is sold. As a result, it's vital to examine these factors precisely in order to make the greatest financial decisions for your organization.
The inventory reservation process in Microsoft Dynamics 365 explains how items are held in anticipation of future sales orders. Your company operations get last-minute orders regularly that must be executed immediately to ensure your customer's delight. In today's fast-paced society, most of us want rapid completion of tasks. Today, we even operate on same-day delivery system, but have you ever thought about how corporations do all of this? To begin, our companies often need to reserve a set quantity of commodities or inventory products to ensure their availability during order capture; here is where the Inventory Reservation Process comes in handy.
Inventory reservation is a critical component of the manufacturing process since it enables our organization to maintain an adequate supply and demand flow in the near term, allowing manufacturing and logistical operations to run smoothly. This translates into an overall improvement in our customer service since orders can now be completed on time.
As technology advances and client requirements continue to grow, systems such as Microsoft Dynamics 365 have stepped in to transform the business. Microsoft Dynamics 365 enables you to do these tasks very straightforward and efficiently. You can create inventory reservations, modify them, and even cancel them with a few clicks. But before we get into the Dynamics 365 Inventory Reservation Process, let's review the fundamentals. Get a hands-on, real learning experience with us, enroll now.
SUMMARY

The inventory reservation process is an important part of the manufacturing process. With a few clicks, you can establish inventory reservations, change them, and even cancel them in Microsoft Dynamics 365. This correlates to better customer service for our company since orders can now be fulfilled on time.
Functional Walkthrough

to

Create

Reserve Inventory

Quantities

in Dynamics 365
Steps:
MS Dynamics 365 allows reserving inventory either automatically or manually.
  Step 1
Select > Accounts receivable > Setup > Accounts receivable parameters.
  Step 2
Go to General > Sales default values > Reservation field, Select Manual.
  Step 3
Click Sales and marketing > Sales orders > All sales orders.
  Step 4
Create a new sales order.
  Step 5
In Sales order lines Fast Tab, select add line.
  Step 6
Enter an item quantity and other relevant information on the line.
  Step 7
In Sales order lines Fast Tab, go to inventory > Reservation.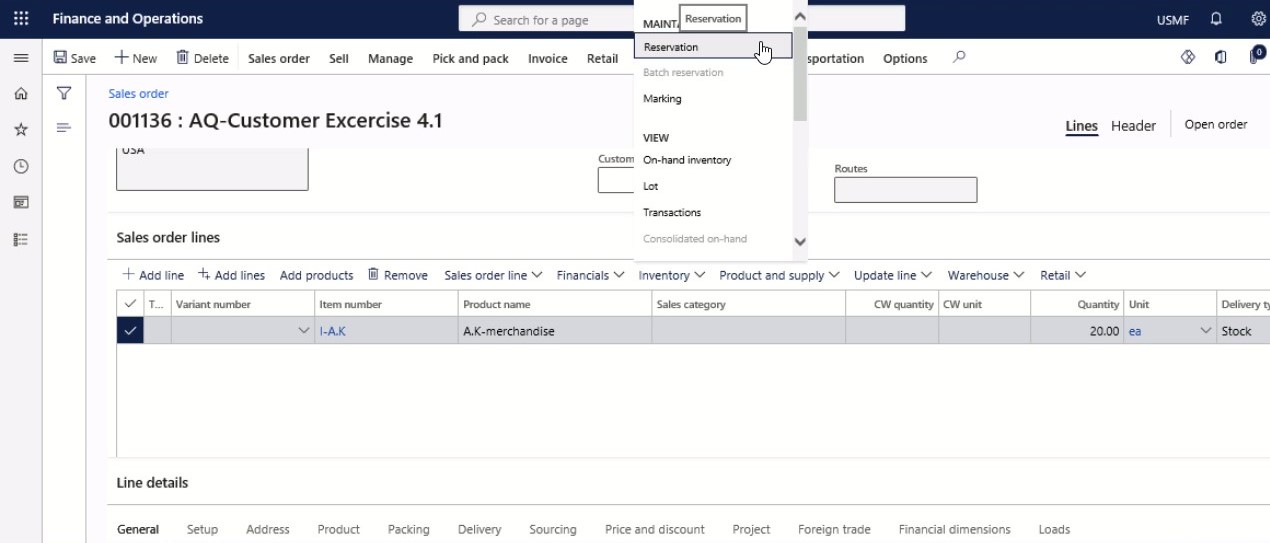 Step 8
You can enter the quantity you wish to reserve in the Reservation field.
SUMMARY

Following the above steps will allow you to reserve inventory quantities in D365.
Should a

Small Firm

Keep a

Reserve of Inventory

?
Utilizing an inventory reserve enables small company owners to forecast their companies' losses in advance and then put money away in preparation to mitigate those losses. For instance, if a weather calamity destroys your inventory, you may declare the loss by modifying your inventory reserves. While some of the products may still be sold and a part of the initial expenditure recouped, the damaged items must still be removed from active inventory. Utilizing an inventory reserve entry helps to reduce your small business's tax burden and creates a more balanced financial picture. While an inventory reserve might assist small companies, it can also provide a misleading impression of your small business's financial security.
For instance, if a small company owner increases their inventory reserve during lucrative periods, they may lower it during lean periods. This creates the impression that a small firm is financially sound. Please keep in mind that you must be prepared to explain to an auditor about any adjustments to the inventory reserve as a small company owner. Inventory management is a critical component of any small business that you must grasp to keep it profitable. Do you want to learn more on how consignment replenishment order manages stock inventory in dynamics 365 check out our blogs.
SUMMARY

The use of an inventory reserve allows small business owners to predict their losses ahead of time. For example, you may adjust your inventory reserves to report a loss due to natural events. However, as a small business owner, you must be prepared to justify your actions to an auditor.
Look out

for

Inventory Fraud
Inventory fraud occurs when physical inventory items are stolen and inventory records are manipulated on a company's financial accounts. A small company may be the victim of fraud committed by one of its workers, or the firm may commit fraud to deceive shareholders and tax authorities. Inventory is one of a manufacturer's most valuable assets. Additionally, it is one of the most difficult assets to quantify and monitor. As a result, safeguarding it becomes critical for direct development. Prompt identification and prevention of fraud may save your firm critical time and money.
SUMMARY

Inventory fraud happens when actual inventory items are taken and financial records are falsified. A small business might be the victim of employee fraud, or the company could perpetrate fraud to mislead shareholders and tax authorities. Timely fraud detection and prevention may save your company's time and money.
Final

Thoughts
Inventory Reservation in Dynamics 365 is not as difficult as one may believe. We explored the Inventory Reservation Process and how it works in Dynamics 365 in this blog. With this in mind, you may begin creating your configurations. If you're interested in learning more about Dynamics 365, please look at our training courses We will be delighted to assist you in mastering Dynamics 365.
SUMMARY

In this blog, we looked at the Inventory Reservation Process and how it works in Dynamics 365. If you want to learn more about Dynamics 365. We'll be happy to help.
At Instructor Brandon | Dynatuners, we always seek innovative methods to improve your competitiveness and suit your Microsoft Dynamics 365 requirements. Our offerings are founded on defined procedures, industry experience, and product understanding. If you're interested in consulting with our specialists on how to improve your warehousing workloads, don't hesitate to Contact Us.
Which service items can you reserve?
You may reserve products for sales orders, purchase orders, service orders, assembly orders, and production orders.
What is inventory reservation?
Inventory reservation is the practice of holding merchandise for a buyer who displays the desire to purchase it later. This assures availability of the required goods for the consumer during order arrival.
How are inventory reserves accounted for?
You debit your inventory to enhance its worth and credit it to decrease its value. An inventory reserve is similar to a balance sheet account. Since it is a contra asset account - one that decreases asset value, it is credited to raise and debited to decrease asset value.