Reduce

Stock Lapses

in Warehouse with

Scheduled Workload Capacity
Workload Capacity |  Scheduling | Warehouse Management
There is a limit to how much your warehouse can manufacture products and carry smooth industrial processes on a given day.
This might be due to storage space constraints, or a machine achieves its maximum number of items capacity in a given amount of time. Put it simply, your available inventory accounting and ability are limited, and there could be more inventory incoming in that duration is also restricted.
If there is one thing that industrialists have learned through all these years of experience, it's — you can't put your warehouse towards maximum productivity or you might experience a spike in stock lapses if your company's workload isn't distributed or scheduled accordingly. However, when it comes to practice, there are several factors associated with it. And automating those processes makes Dynamics 365 supply chain a powerful tool to manage all the scheduled workloads firmly.
Bounded by its processes, scheduling workload in Dynamics 365 is also a multi-step process that efficiently sets up the workload, defines limits, associates a master plan and finally monitors projects and schedules constantly through warehouse inventory check and stock management. All in all, it optimizes how workload is distributed according to the capacity and helps to keep the warehouse on track.
However, that is not all to it; our team can also help you project current and future warehouse workloads. In addition, you can also get the projection for incoming and outgoing workloads separately, but more on this later.
For now, let's get to workload managing. So, assume these are the steps it takes to complete a project from start to finish:
An inbound of physical inventory enters your task list
You verify your warehouse can get it done
You divide it up among your warehouse staff
Your inventory system either can or cannot complete the assigned tasks
Sounds almost simple, right?
The majority of people who work in the manufacturing business had seen moments when demand for products or services outstripped actual capability to satisfy those needs. These tedious scenarios show the need to thoroughly examine your capacity and how it is helping to pinpoint the source of the problems.
Workload management projection is the process of determining your organization's available capacity, which includes inventory holding capacity, machine capacity, labor capacity, and so on. It also seeks to determine how to improve capacity utilization to boost the operations' total available amplitude.
Why is Scheduling Workload Capacity

essential

?
While some of its brighter sides are visible, scheduling workload improves the way stocks are distributed and keeps the supply chain on pace. In addition, when correctly done, the workload may boost your warehouse efficiency and productivity by ensuring that stock levels are assigned timely.
Several aspects go into effectively completing a job. Scheduling workload capacity gives your supply chain a structure and a tried-and-true procedure for dealing with various issues, such as:
Not getting the most out of resources
11th-hour outbounds
Managing workload and time expectations
Keeping warehouse timeline on schedule and under budget
When it comes to Dynamics 365, things are pretty much the same. Here, to schedule workload capacity for a warehouse, you can create a workload setup for one or more warehouses and then associate the workload set up with a master plan or upcoming stock control.
In Microsoft's Dynamics 365 schedule workload capacity setup, you can define the limits for weight and volume for the outgoing or upcoming transactions. Scheduling is a reliable tool to comply with seasonal changes in warehouse management.
There are a series of tasks to schedule and view workload for your warehouse staff and machinery. In a nutshell, you create a workload capacity setup and define workload capacity limits for one or more warehouses. And specify how long those projections will take to complete.
In Dynamics 365, you go through four processes to completely set up the scheduling of workload capacity. Which are:
Create workload capacity setup, i.e., the planning of your project tasks according to team capacity.
Define limits and allocate tasks to team members.
Associate a workload capacity set up with a master plan.
And finally, monitor schedules and projects constantly.
SUMMARY

Managing workload capacity becomes essential for every business at one point or another. Once your warehouse starts getting more inbounds, scheduling plays a crucial role in streamlining the processes.
4 Steps

for scheduling workload capacity to

avoid stock lapses
1.

Optimize

productions and

create

workload capacity setup
The ultimate objective of many industrial businesses is to build an optimal and efficient timetable that balances supply and demand while reducing waste and expenses.
Companies might move closer to their objectives by leveraging their existing capacity.
Modeling the capacity of the entire infrastructure, process, and equipment can help with this. After that, you can construct a capacity plan based on long-term production planning and demand projections.
The master plan guarantees that the manufacturing plant understands which orders it can accept based on its available measurements.
Managing workload capacity is a comprehensive approach to evaluating resource requirements for a predicted output within a specific timeframe. Moreover, it will assist you in determining whether you have the necessary capabilities (or skills) to satisfy demand or not.
To get this all started in Dynamics 365, you first need to create a workload capacity setup for your warehouse. For this;
  Step 1 
Select Inventory management from modules in the navigation pane.
  Step 2
Go to Setup > Warehouse monitoring > Workload capacity.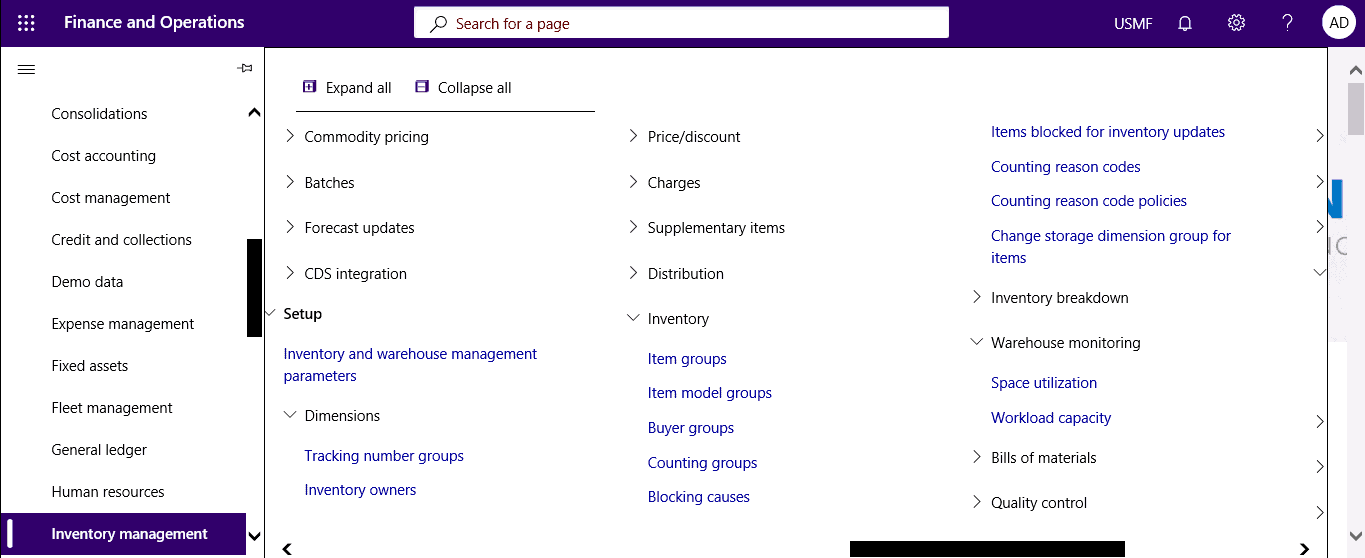 Step 3
Select New to create a workload capacity setup.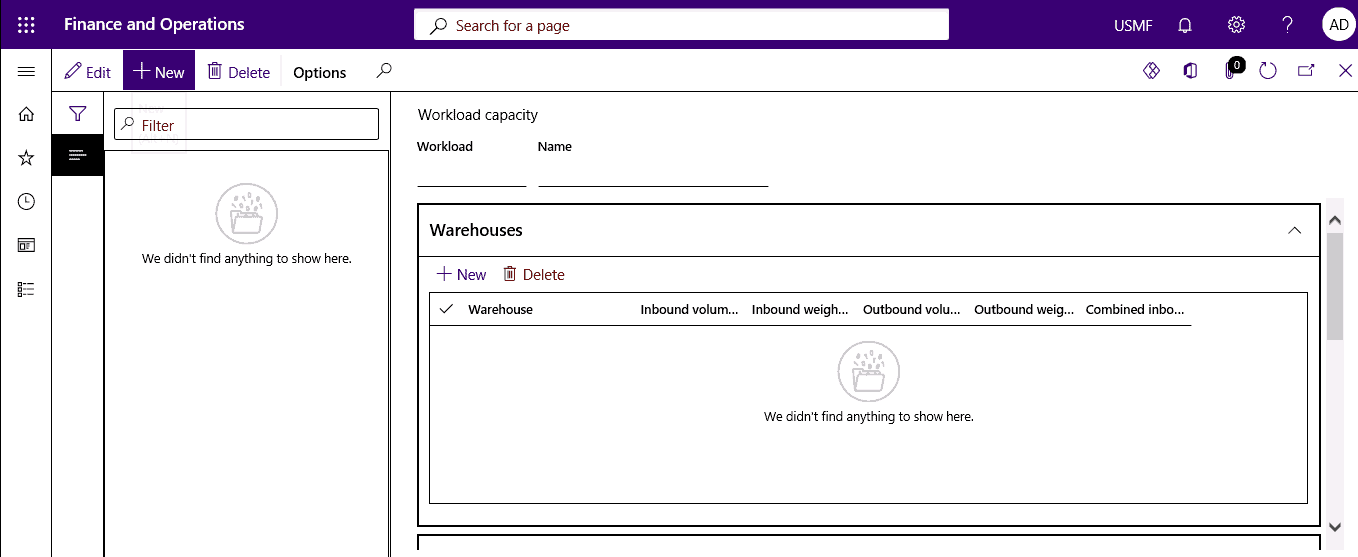 Step 4
Select New in warehouses tab.
  Step 5
Enter values on the line.
  Step 6
Select the Combined inbound and outbound workload check box.
  Step 7
Go to Transactions tab.
  Step 8
Select the types of incoming and outgoing transactions that the workload limits will apply to.
  Step 9
At least one transaction type for both the incoming workload and the outgoing workload must be selected.
SUMMARY

Optimizing workload across your warehouse helps you evaluate resource demands and predict output for a specific timeframe. This will also assist in determining the expected capacity to satisfy supply and demand. In addition, the above portion also begins with the first process of creating scheduled workload capacity in Dynamics 365.
2.

Define

limits for dimensions
Understanding your capacity constraints is critical for identifying areas requiring improvement and developing a capacity plan tailored to your organization's needs.
Many factors influence the available capacity, both positively and negatively. These elements include labor quality and quantity, machine availability, waste levels, government rules, machine maintenance requirements, and other external considerations.
Unexpected occurrences, such as the worldwide pandemic of COVID-19, have demonstrated how external variables can alter capacity levels.
Dynamics 365 allows you to set volume and weight measurements depending on the restrictions that apply to warehouse employees. Therefore, the workload capacity projection that you may see on the Workload capacity report includes the constraints that you define.
Dynamics 365 lets you define the standard volume and the weight of your inventory count for all products to project information about volume and weight.
Workload Capacity Inventory Control

Level
Workload
Capacity
Description
1
Under-utilized
Very much
Little or nothing for inbound.
2
Relaxed
Ample
More time and inventory to complete the task.
3
Comfortable
Some
The warehouse has enough work to keep running. All inventory is under control.
4
High
Very little
Few non-essential tasks are postponed. The warehouse is working at its limit.
5
Excessive
None
Inventory is overflowing, with no more capacity for inbound.
You can find the following field on Dynamics 365 Released product details page:
Handling
Dimensions of weight
To set limits for your volume and weight in Dynamics 365;
  Step 1
Select Released Product Maintenance > All released Products.
  Step 2
Choose a released product and then open its detail page.
  Step 3
Go to Manage Inventory fast tab.
  Step 4
Specify weight in weight measurements.
  Step 5
Specify volume in physical dimensions.
  Step 6
Specify handling details in shipping and receiving.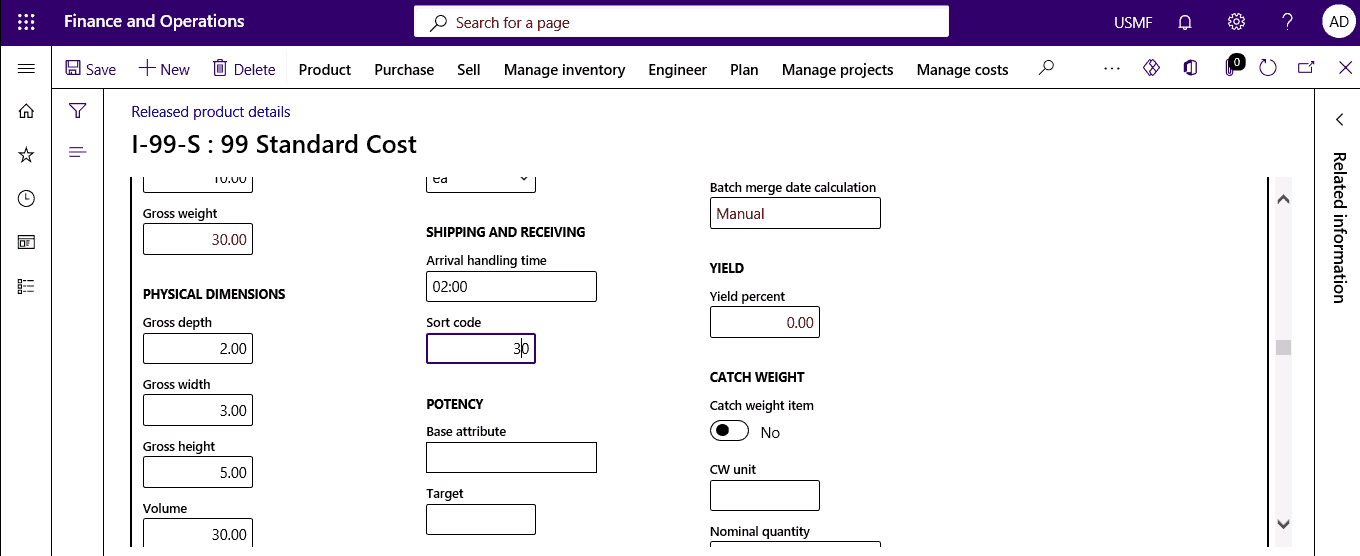 SUMMARY

Defining limits and dimensions for volume and weight is imperative for classifying areas for improvements and developing a capacity plan custom to your firm's requirements.
3.  Associate Workload Capacity with a

Master Plan
Associating your workload capacity with a master plan can put a firm hold on your warehouse supply chain by grouping several thresholds.  At its most basic level, master scheduling enables businesses to forecast and balance future raw material and capacity requirements to achieve their objectives. The following factors are a part of master planning:
What are the current raw materials and capacity options?
What raw materials and inventory capacity is necessary for the production?
What must be created, acquired, transferred, or placed aside as safety stock before manufacture?
The following are the three primary planning processes:
The master plan helps to compute net needs. It's based on actual current orders and allows businesses to manage inventory planner replenishment on a day-to-day basis.
The Forecast timetable determines the total needs. It is based on future estimations (or forecasts) and allows organizations to plan materials and capacity for long term.
Intercompany master planning
It is a method of calculating net requirements across legal organizations. It links companies' demand and supplies for both short-term and long-term as well as planned (but not yet firmed) supply demands.
With a master plan, you can alter the plan's output. For example, you can run regenerative, net change, or a combination of the two. Net change plans update the plan on items with new needs that have come in since the last scheduling run, whereas regenerative plans update all requirements.
Usually, a master plan ranges from one week to six months. The supply and capacity needed for meeting current demand are determined by the master planning module. In most companies, this is extended to encompass the goods with the longest cumulative lead time.
In Dynamics, you can associate your workload schedule with your master plan as well. To do it;
  Step 1
Select Inventory management > Periodic tasks > Schedule workload.
  Step 2
Select the master plan.
  Step 3
Specify the number of days that the workload projection covers.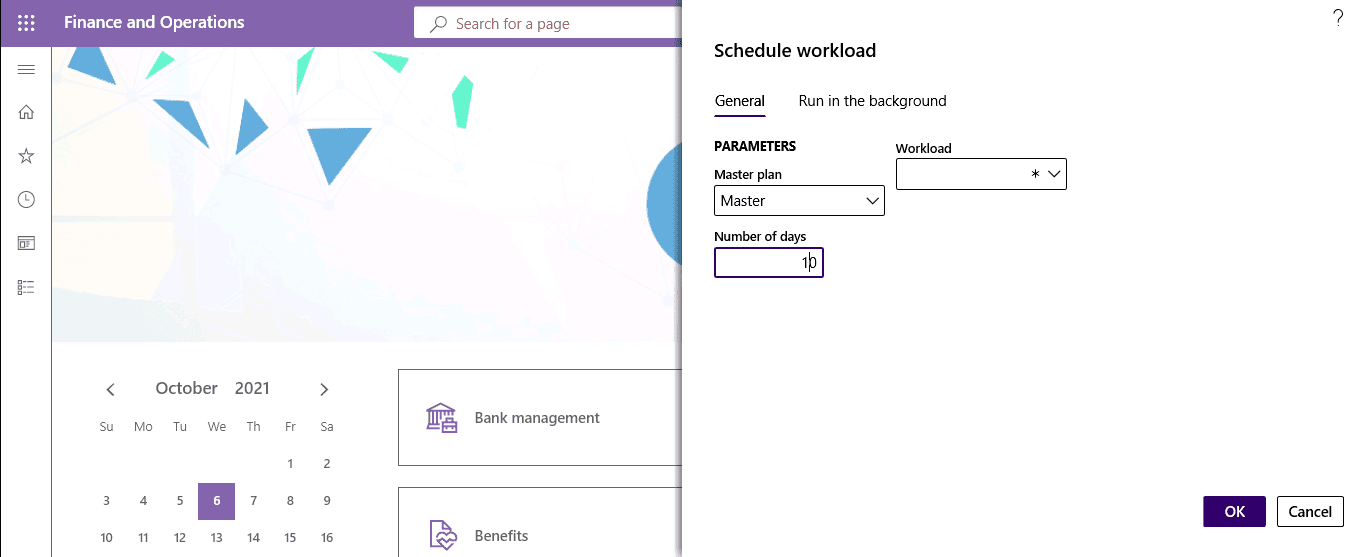 Step 4
Select the workload setup to associate with the master plan in the workload field.
SUMMARY

You can use numerous master plans to support your firm's day-to-day operations, simulate alternative planning techniques that you wish to track, and implement a corporate policy, such as an internal performance or customer satisfaction policy. Further, you can associate your scheduled workload capacity with your master plan with the help of the steps mentioned above.
4.

Monitor

schedules and projects constantly
Finally, be realistic about your schedules and capabilities, and be open to making changes if necessary.
Real-time monitoring of your workload report and utilization rates can help you spot issues and avoid burnout. For example, if you're utilizing inventory tracking and observe an 80% increase in your inventory, you should intervene and reassign some of its stock to lighten its workload.
If this happens frequently, it might indicate that you're taking on too many inbounds, and your warehouse doesn't have the free space to handle them. Here, Dynamics 365 supply chain doesn't leave its warehouse abandoned. Instead, you can monitor and view workload capacity with just a couple of clicks.
  Step 1
Select Inventory management > Inquiries and reports > Physical inventory reports > Workload capacity.
  Step 2
Specify the number of columns to show on the report.
  Step 3
Select the load type and order type to project on the report.
  Step 4
Select a workload capacity setup.
Keeping track of your warehouse workload and availability manually can be time-consuming. It may, however, be done automatically using Dynamics 365.
You can automatically measure your workload and capacity, as well as observe what activities your staff is working on if you follow the proper instructions.
You can plan future projects, allocate resources, manage inventory, and your team's capacity to keep track of workload in real-time.
The optimization of production scheduling and capacity planning in today's industrial plants is changing quickly and dramatically.
Due to outdated capacity planning methods that rely on guesswork and simplicity, efficiency has decreased and under-modeled capacity.
SUMMARY

Dynamics 365 have revolutionized capacity scheduling and monitoring. Its powerful algorithms decide what capacity is required by combining capacity performance models with real-time data and monitoring. In addition, capacity limits are implemented automatically to guarantee that each machine can complete the tasks that have been allocated to it.
What is more to
Scheduling Workload Capacity

?

Planning and scheduling workloads are changing and enhancing ERP and MRP by allowing for faster and more accurate performance outcomes, resulting in better overall operations planning.

We at Instructor Brandon can assist you:
To create optimal schedules that strike a balance between production efficiency and on-time delivery.
Increase income by increasing throughput on bottleneck resources.
Reduce inventories by synchronizing supply and demand.
Enable data-driven decision-making by providing company-wide visibility into resource capacity.
Feel free to talk to us for further details.
At Instructor Brandon | Dynatuners, we always seek innovative methods to improve your competitiveness and suit your Microsoft Dynamics 365 requirements. Our offerings are founded on defined procedures, industry experience, and product understanding. If you're interested to consult with our technical solutions experts on how we can help you in managing workload capacity for your warehouse or find other ways to reduce stock lapses, don't hesitate to Contact Us.
What is capacity planning in logistics?
Capacity planning is a type of production planning that involves determining production capacity and workforce needs to ensure your supply chain is equipped to meet demand.
What is the rule of capacity planning?
Capacity planning strategy involves the process used to determine the resources manufacturers need to meet the demand for their products or services. Thus, the level of capacity directly relates to the amount of output in goods and services manufacturers can produce to satisfy customer demand.
What are capacity strategies?
Capacity strategy is an approach to increase and decrease business capacity to meet demand. Capacity includes things like labor and equipment that can be scaled to increase business output.