Inventory Counting

Report in Microsoft Dynamics 365
Cycle Counting | Inventory Report | Inventory Counting | Microsoft Dynamics 365
Cycle Counting

Overview
An inventory-intensive business must prepare for unexpected future situations as well as current issues, such as current lack of supplies. It is impossible to sell what you don't have, and as such, maintaining precise inventory counts is important. A comprehensive Enterprise Resource Planning (ERP) solution, Dynamics 365 Finance and Operations, offers a platform for businesses to efficiently manage their operations. Also, inventory cycle counting is provided as part of the inventory management functionality. While inventory is in continuous motion, companies must do frequent cycle counts to stay engaged. A straightforward and dependable method for inventory management, which helps guarantee companies' inventory figures have always been correct and current, is offered by Dynamics 365 Finance and Operations.
Cyclical inventory management, or cycle counting, uses multiple phases of inventory collection and maintenance to provide a comprehensive picture of the status of a whole inventory cycle. Cycle counting improves the accuracy and precision of inventory data while also decreasing the possibility of human mistake.
Cycle counting enables you to:
Discriminate among causes of error
Rapidly discover problems associated with transaction
Simply keep track of inventory movement
In order to boost operational profitability
Contribute to reducing storage costs
Inventory Management

to Help You Run Your Company
It is essential to keep accurate and exact inventory in order to effectively react to client requirements while using Lean methods. Using this method requires more inventory accuracy, so you may avoid the burden on your resources and accompanying procedures.
In recent years, with growing inventory and transaction volume, more and more companies have started using cyclical inventory counting. Each technique must be tailored to the particular requirement in order to be effective.
SUMMARY

Cyclical inventory management or cycle counting, uses multiple phases of inventory collection and maintenance. Cycle counting improves the accuracy and precision of inventory data while also decreasing the possibility of human mistake.
Management of Inventory and

Daily Operations
Due to the rapid growth of information, many experts have found that Excel has a limited capability for processing more data. If effective day-to-day company operations are not impeded by accurate inventory reports, generating them should not be an issue. When you realize the need of careful and precise inventory management, you recognize that stocking inventory is an important step towards large savings and the elimination of errors.
SUMMARY

Excel has a limited capability for processing more data. If effective day-to-day operations are not impeded by accurate inventory reports, generating them should not be an issue. Stocking inventory is an important step towards large savings and the elimination of errors.
Inventory

Overview
Auditing your warehouse on hand values is an essential procedure to guarantee that you can provide the finest customer service. Nothing irritates a client more than being informed that your warehouse has an item only to be told later that you don't have it and that it will have to be ordered.
Creating a cycle count strategy is a good approach to remain organized and make sure you're auditing your warehouse's on-hand numbers.
Create the cycle counting work
Perform the cycle counting work
Resolve the discrepancies
The cycle counting plans enable you to specify products to be tallied on a defined period. It's a good idea to figure out how many things you want to count in the warehouse and when you want to count them before you start setting up your cycle count strategy. This is because one of the factors on the cycle count plan will be the number of days between cycle counts.
Days between cycle counting informs the system how many days apart you want cycle counting work for the plan you're working on. If you set the value to 5, for example, the plan will create work every 5 days.
You'll want to make sure that the plan's value enables all of the things to be tallied at least once within the time period you choose.
Inventory

Cycle Counting
Cycle count plans are a way to set up specific cycle count strategies based on individual attributes on an item or location. To create 1 or more plans, go to Warehouse Management – Setup – Cycle Counts – Cycle Count Plans. Set up the plan by following the steps below:
Define a Plan ID and description.
If you are using work pools you need to define them first.
Maximum number of records – this is the number of cycle count work items that are created when the plan is processed.
Days between runs works in conjunction with maximum number of records. Your cycle count program defines how often each item and/or location should be counted in a year.  Using this information along with working days you will be able to define how often and the number of records in each processing run.
Empty locations has 3 options – include empty, exclude empty or only count empty locations.
Work template – If you have a work template set up for Cycle Count work you can associate it with the plan you set up.
Process of

Inventory

Cycle Counting
Utilizing threshold settings for items or by using a cycle counting strategy, you may automatically generate cycle counting tasks.
After cycle counting task is generated, process the cycle count and input the result in Dynamics 365 Supply Chain Management using a mobile device in a warehouse site. Spot cycle counting is used here.
The item will have a work status of "Pending review" on the All-work page if any number has a discrepancy in the counted value. On the Cycle Count Work Pending Review page, you may make amends to any disagreements you may have.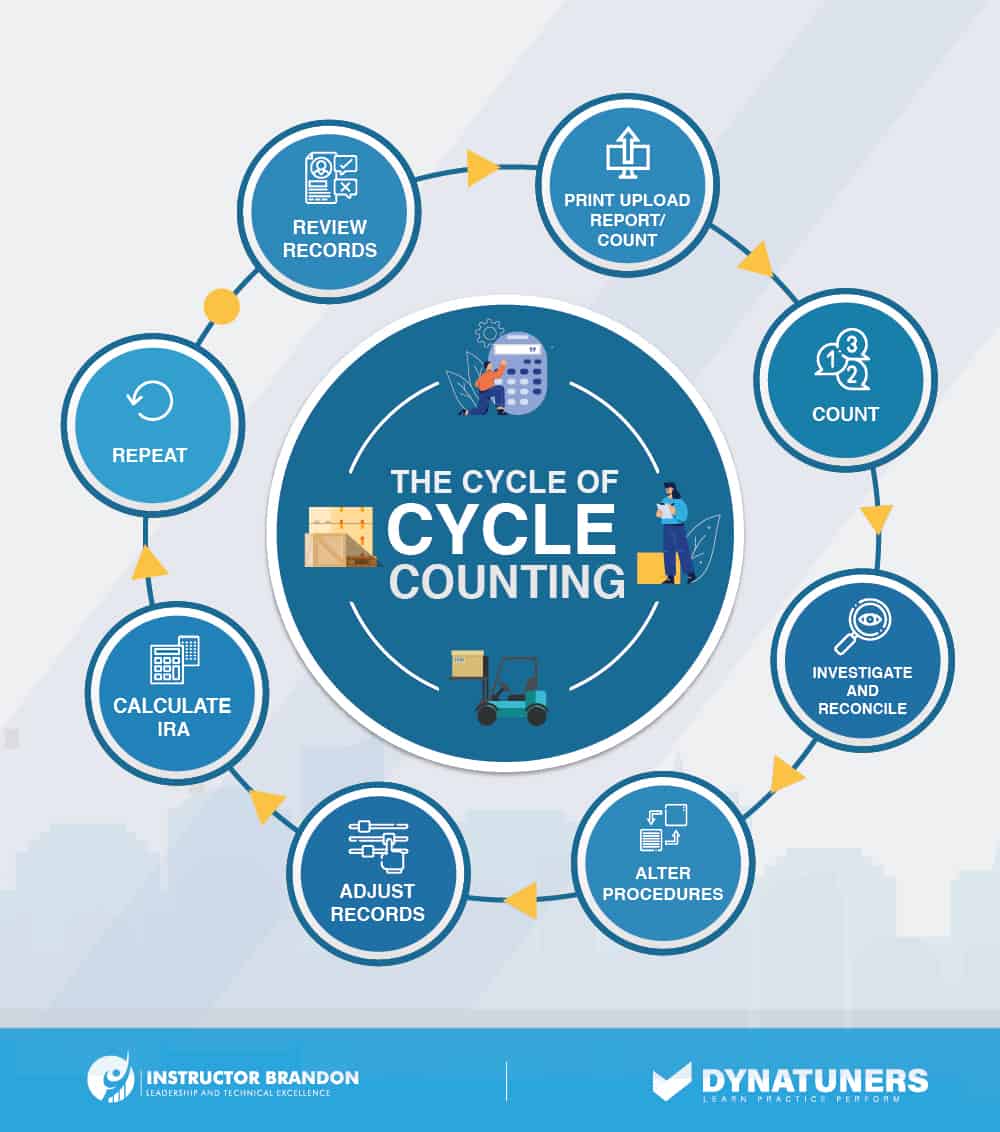 Define

Cycle Count Plans
  Step 1
Go to Warehouse management > Setup > Cycle counting > Cycle count plans.
  Step 2
Create a new Cycle count plan by clicking on New.
  Step 3
Add the following fields to the newly created rows or existing rows for the item L0101 and then click on select locations in action pane.
   Step 4
On the Range tab, add a row, and set the following values for it:
Table: Locations
Field: Zone ID
Criteria: BULK06
  Step 5
On the Action Pane, select Process cycle counting plan.
  Step 6
In the Cycle count plans dialog box, on the Run in the background FastTab, set the Batch processing option to Yes.
  Step 7
In the Cycle count plans dialog box, on the Run in the background FastTab, set the Batch processing option to Yes.
  Step 8
Select Recurrence.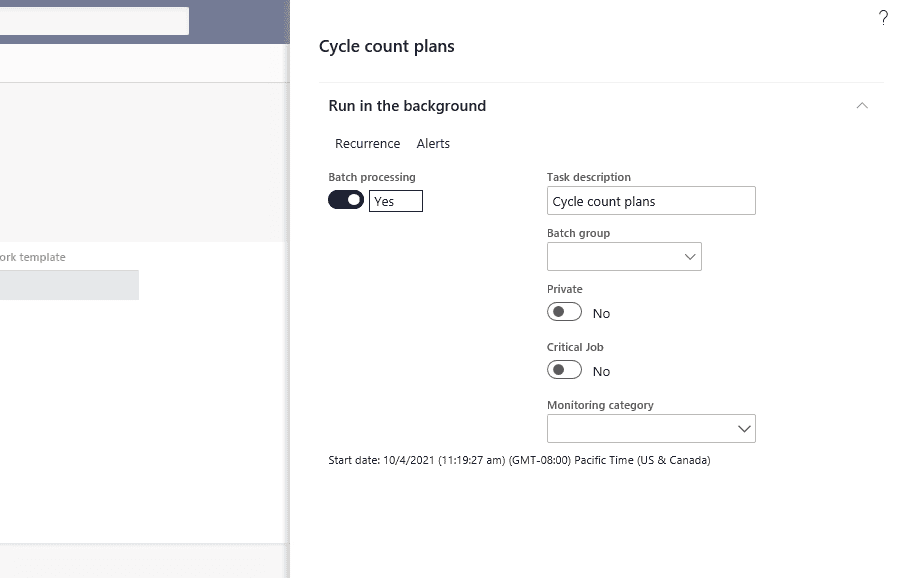 Step 9
In the Define recurrence dialog box, set up the batch job so that it begins immediately and runs once every minute, and so that there is no end date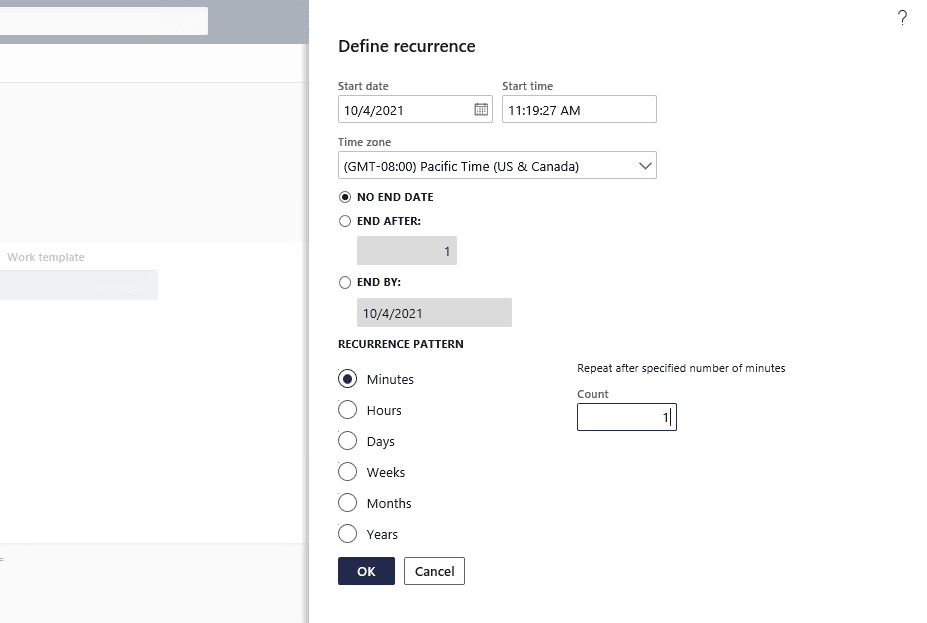 Step 10
Select OK at the Recurrence Section.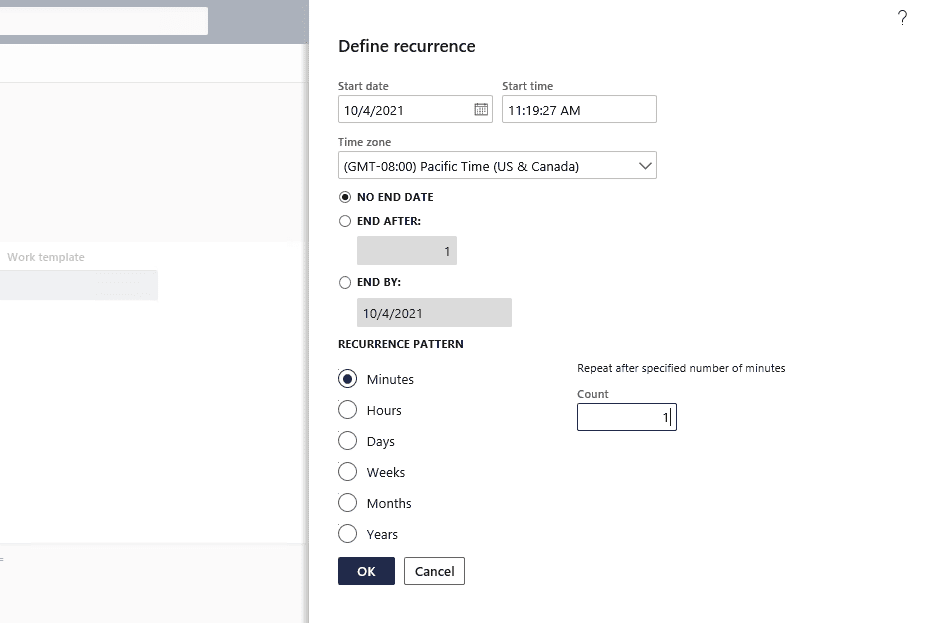 Step 11
Select OK to close the Cycle count plans dialog box.
A message informs about the job being posted to job queue.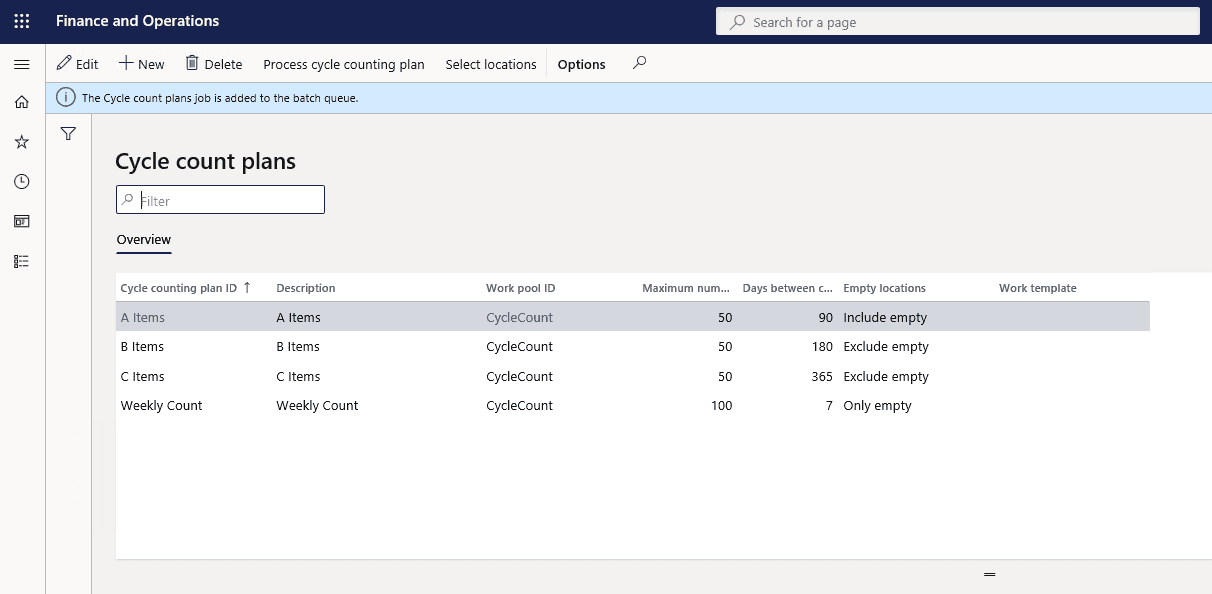 Step 12
Go to Warehouse management > Common > Cycle count scheduling.
  Step 13
The work should be created.
Benefits of

Inventory

Cycle Counting
The KPIs for Cycle Counting

KPIs

What they do

How they help

On time in Full

Measures the percentage of orders that are shipped on time in full

Targets for best sellers would be 95-99%

Receipt Accuracy

It is a measure of supplier performance and warehouse receiving performance

99% is achievable

Cycle Count Accuracy

Shows the percentage of cycle counts that have almost zero adjustments

+-99% is expected

Stock turn

How long stock takes to be sold

Higher stock turn over ratio should be targeted
How inventory

cycle counting

improves businesses?
Companies who have challenges in accurately tracking inventory data, need to make significant year-end changes to their physical inventory results, or are burdened by a long inventory count procedure should look into a cycle counting software or making improvements to their current one. The correct implementation of a cycle counting programme in a manufacturing or distribution company may improve the performance and efficiency levels of the business.
However, it is unlikely that one could get these results without management assistance that supports good practices discussed in this article.
Less-frequent inventories
Improved inventory shrinkage reduces loss
Better financial reporting and key performance indicators (KPIs) for conversion cycles
Better inventory management decision making, such as deciding on reorder points, out-of-stock inventory, and surplus inventory
Let's look at some best practices and advice. Following these steps will ensure a successful, efficient, and accurate inventory cycle count. Because we all have different processes, warehouses, and items to manage, it's critical to do what works for your firm while doing cycle counts.
Perform a cycle count once per year

The frequency of your cycle counts will be determined by the number of SKUs you have, the number of warehouse locations you have, and the rate at which your inventory turns over. Regular counts will be critical for organizations with a high inventory turnover rate to ensure a continuous flow of inventory coming in and orders going out.

We advise doing a cycle count every 12-13 weeks, or nearly every quarter, as a starting point. This will aid in the detection of problems before they become more serious. One count every year is the absolute minimum, but only if you have a tiny amount of goods to maintain.
Do fewer physical counts and more cycle counts

It is preferable to spend less time counting and halting production lines. Cycle counts are an excellent technique to keep your operation from being placed on hold. Regular cycle counts will cut down on the number of physical counts you'll have to do at the end of the year, saving you both time and money.
Encourage technology and automation

There's lots of technology available to help you improve the accuracy of your inventory counts and data. A barcode scanner, for example, can tell staff where things are kept and only allow the correct product to be scanned and updated in the system.

It's ideal if you also use inventory management software, such as D365. Not only would keeping an electronic inventory record provide improved accuracy, but it will also allow you to run reports and automate portions of the inventory management process like raising purchase orders and spotting low stock levels.

Physical counts shouldn't be permanently eliminated

Most businesses will undertake a physical count once a year, generally at the conclusion of the fiscal year, to aid in the accounting of raw materials and completed goods. Cycle counts every quarter have the advantage of taking less time and being more precise than annual physical counts.

Plan counts in accordance to seasonal demand

Count these categories and products at peak periods if you have things that are highly popular during different seasons. The most common time mistakes occur is during busy periods, so catching problems early means you can fix them promptly.

Another suggestion for seasonal commodities is to properly organize them in your warehouse. Instead of zigzagging around the warehouse and potentially missing crucial things, keeping all of your spring, summer, fall, and winter items together makes conducting a count faster and easier.
Look out for budget

Defining and improving your cycle count process is a long-term investment that will pay off as your company expands. By putting a solid plan in place now, you can be confident that when you're ready to expand, you'll have everything you need to provide an efficient and outstanding retail experience.

It's also a good idea to have a look at your current warehouse and storage capacity. If you intend to increase your warehouse locations, this should be factored into your cycle count plan to ensure a seamless transition free of errors that could result in downtime and order difficulties.
Have a plan

Planning your route and having a cycle count pattern are not the same as having a plan for counting inventory. Regular inventory inspections should be integrated into current processes to avoid becoming a job that is forgotten about after six months.

If you have frequent inventory management problems or your company's inventory is growing, assigning one individual sole responsibility for cycle counts may be the best option. Although having numerous persons conduct counts may be speedier, it can sometimes result in more inaccuracies and problems than it solves.
How Inventory Cycle Counting gives you an

Advantage

with

Dynamics 365?
By using this method, you don't have to manually count every inventory item at the end of the year. Some of the advantages of cycle counting for a manufacturing business include:
Reduces the workload for employees and the company's operations by eliminating the requirement to tally up inventory every year.
Maintains a more accurate inventory balance round the year for the business.
Using this data, managers are better equipped to conduct inventory checks to reduce scrap and stop over/under-stocking.
With improved internal controls over inventories, a business is better equipped to perform.
Supplies data so the business may analyze the amount of money it spends to buy goods in order to get better prices.
Reveals issues in the supply chain, and enables businesses to detect inventory-related mistakes sooner.
Even though these are only a few instances of how a cycle count inventory management method might help your firm, you can see how valuable it would be in your own business. The above would mean that an inventory count at the end of the year may not be the best practice for your business, and cyclical inventory counts may be a better solution.
SUMMARY

Cycle counting is an inventory management technique that attempts to keep a more accurate inventory balance throughout the year rather than simply at the end. For a manufacturing company, one of the benefits of cycle counting is that it eliminates the need to tally inventory every year. Managers can better perform inventory inspections and prevent overstocking and understocking using this information.
At
Instructor Brandon | Dynatuners
, we always seek innovative methods to improve your competitiveness and suit your
Microsoft Dynamics 365
requirements. Our offerings are founded on defined procedures, industry experience, and product understanding. If you're interested to consult with our technical solutions expert on how we may help you to achieve business process automation, please don't hesitate to
Contact Us
.
Should you count your inventory frequently?
The quick answer is often. Once a quarter, a thorough cycle count of your inventory should be completed. Although it is a good practice to count the number of units at the beginning of the day each day, companies do quarterly cycle counts to prevent counting a high number at the end of the quarter. It is highly recommended that physical counts be performed every year to ensure accuracy.
At what point in time should I be tallying my inventory?
When activities are finished for the day or before they begin, your inventory counts should occur. There must be a system in place to account for freshly arriving merchandise or merchandise selected for shipment, in order to do your inventory while activities are ongoing.
Should I purchase a warehouse management system (WMS) or an inventory management system (IMS)?
The task may be accomplished by hand, albeit with considerable chance of mistakes. Your accuracy will significantly increase, and you will be able to do comprehensive reporting on demand, thanks to a warehouse management system (WMS) and inventory management system (IMS). Furthermore, an IMS will synchronize with online marketplaces and work with your ordering, sales, and shipping systems to provide a smooth customer experience.