Microsoft Dynamics 365 | Supply chain Management | Mobile Devices
Microsoft Dynamics 365 – A

Cloud Based CRM
Microsoft Dynamics 365 is ideal for businesses in the middle market that want to be more involved in building business connections with customers, prospects, and coworkers. The app library consists of a range of cloud-based applications, such as sales, operations, and accounting. Configuring mobile devices with Dynamics 365 Supply Chain for warehouse outbound shipment is easy & works well if mobile device menus are created properly. Dynamics 365 helps your workers increase their productivity, foster a better customer relationship, and increase their business. Additionally, the organization's business intelligence platform provides leaders important insights on performance and prospects. A hybrid ERP and CRM solution like Dynamics 365 enables companies to not only improve the way they interact with their customers but also with each other. The market is flooded with CRM software solutions, so which one is best for you?
Microsoft Dynamics 365 is simple to use and deploy, whether in the cloud or in a hybrid cloud. Outlook, a web browser, or any mobile device makes it simple for employees to access their Dynamics 365 applications.
Interacts with the Entire Microsoft Office Suite: Microsoft Dynamics 365 seamlessly integrates with the entire Microsoft Office 365 suite. Businesses may use Dynamics 365 for communications, Power BI for data analytics, and SharePoint for documentation when they connect Dynamics 365 to Outlook, Power BI, and SharePoint. The less time workers have to spend moving data between applications and learning new platforms, the simpler it is to work and move between apps.
More efficient sales cycle: Dynamics 365 delivers accurate and readily accessible customer data for field and call-center sales teams.
A diverse range of modules and built-in workflow tools allows you to do routine activities such as sales, marketing, customer support, field service, and project service jobs via custom application development. Dynamics 365 is a versatile platform with many deployment choices and price levels, all of which can be configured to suit your company's budget, team size, and key performance indicators (or KPIs).
Additionally, the product offers an enhanced customer service experience, gathering extensive quantities of useful data on each client. It is able to investigate the websites users visit, as well as how they engage with businesses, in addition to which communities they are a member of.
SUMMARY

Microsoft Dynamics 365 is a cloud-based customer relationship management (CRM) service for companies in the middle market. The app library offers a diverse selection of cloud-based applications, such as sales, operations, and accounting. It interacts well with Microsoft Office, making it simple to work on any platform, from a laptop or desktop computer to a mobile phone or tablet. A consumer may quickly visit each client's website to obtain customer service information. It is easy to scale up or down inside Dynamics 365 because of this. Staff may now be more productive because of better workflow and less time spent searching for information, thanks to Dynamics 365. Even well-informed workers can only make intelligent decisions because they have access to all relevant information and tools.
Outbound Order

Example
D365 Mobile Devices

Functionality
The mobile device capability provided by D365 for Finance and Operations (D365 F&O) is a game-changer for operating your company. Real-time transactions, as well as immediate inventory updates, are the greatest benefits of utilizing mobile scanners. Validation is done throughout the transaction, and transactions may be linked to users, which results in more accurate validation. Proper control combined with flexibility for the employee to make decisions results in the effective use of mobile devices with Dynamics 365. Because setting up a Mobile Device Menu Item requires time and effort, it is a business choice rather than a technical one.
The things to examine should include:
The Mobile Devices Workstation – You may control your workforce's access to mobile device work by setting limits on the warehouse and the menu. Work Templates – Directives may be used to restrict or expand a worker's ability to transfer goods between warehouses. When directing their movement, it is also possible to limit the places that they may travel as well as their own various conditions, measurements, units of measure, and proportions. Work Exceptions – A list of work restrictions and actions to take is sent to the worker via the mobile device so that they will be aware of their limits when an exception, such as a short pick, is encountered (or the lack thereof).Work Pools may be established and work templates assigned to Work Pools, allowing you to arrange work in advance. Work Audit Templates – You may audit work while it is being done on the mobile device by calling for this kind of work audit, and the results will be recorded in a Work Audit Template. Inbound raw materials must have their temperature checked before they may be accepted. These items working in conjunction with the Mobile Device Menu Item provide the warehouse employees the ability to do their mobile device-based operations. All the information about progress, status, who is doing what, and what is left to accomplish can be found in Dynamics 365.
SUMMARY

D365's mobile device capabilities have the power to revolutionize your business. Getting the most out of mobile scanners includes real-time transactions and quick inventory changes. By restricting access to the warehouse and menu, you may regulate employee access to mobile device work. Work templates may be used to limit or extend the range of items that a worker can move between warehouses.
You can find opinions, news, and other information about Warehouse management and other solutions on the Microsoft Dynamics 365 blog.
Advantages of Warehouse Management and Mobile App to its Users

Who uses Warehouse Management & Mobile App?

 How it works for them?

Sales professionals

 Able to create quotes or proposals during off-site client meetings

Remote workers

Can access from their preferred devices

Employees travelling frequently

Who travel frequently for business and need to check in from smartphones or tablets on the road

Executives

Who need to stay connected at all times
Warehouse Management

Mobile Application –

Feature Details
The new Warehouse Management mobile application has a modern, straightforward, and user-friendly design. It's backed up by improvements to fundamental warehouse management logic as well as new design ideas based on thorough user testing with a diverse workforce. Workers will be more efficient, productive, and capable of correctly completing their tasks, all of which will help to improve overall warehouse operations. The new design is based on comprehensive usability tests that revealed both strengths and pain areas when utilizing a mobile application to execute end-to-end warehouse operations. The results influenced the application's new architecture as well as the underlying improvements in the warehouse management logic that enable it. The accompanying is some of the advantages and capabilities of the new solution:
Increased worker productivity: The most essential information is highlighted in big font to make it easier to read. Centralized management of worker preferences and device-specific settings.
Ergonomics have been strengthened: An elevated design ensures that text is legible even on filthy displays. Individualized button placement to fit each worker's grip, device, and handedness.
Faster onboarding of new employees: Full-screen images to double-check product choices
SUMMARY

Warehouse Management features a contemporary, simple, and user-friendly interface, which enables quicker and easier access to various functions. Both functional enhancements to core warehouse management logic and new design concepts developed via exhaustive usability testing with a varied workforce have been included. All of these will assist to enhance warehouse operations as well as the workers' work efficiency, productivity, and accuracy.
Mobile Devices

Configuration
Mobile device configuration is easy. Let's look at how to process the setting up mobile device menus, menu items, and users.
Setup

Execution Flow for

Mobile Devices
Opening a Mobile Device Window
To open a web mobile device window from within D365, follow these steps:
Copy your current D365 URL and open a new tab.
Paste the D365 URL into the new tab.
Update the URL string so that it contains the text in the bold highlighted area. This will pop up the Mobile device login form.
//xxxxxxx.cloudax.dynamics.com/?cmp=USMF&mi=action:whsworkexecute
  Step 1
 In the Mobile device login form:
Enter the user ID that was set up earlier. Enter the password for warehouse 51, which is 1. Click the Log in button on the menu.
  Step 2
Select Outbound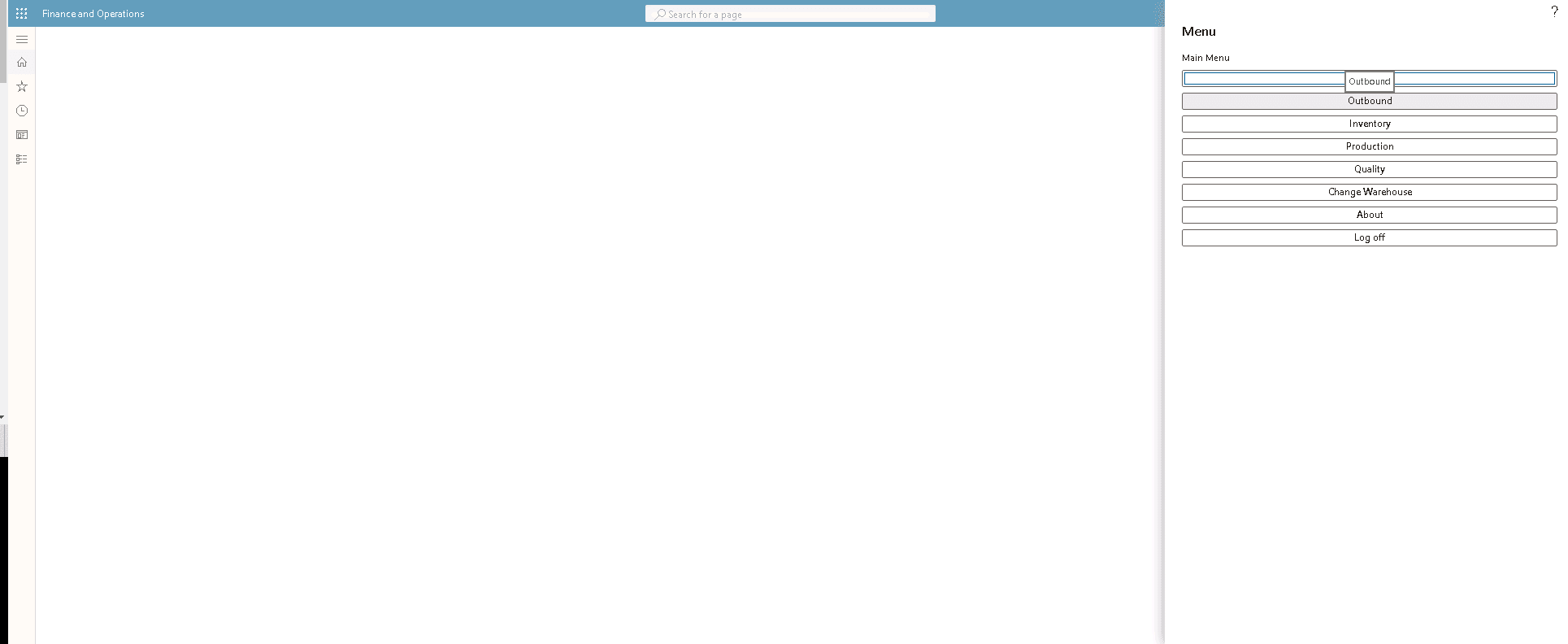 Step 3
Select Sales Picking
  Step 4
Enter the Work ID
You have the option to enter the work ID or the license plate ID. Enter the work ID for the first sales order, and then select Enter.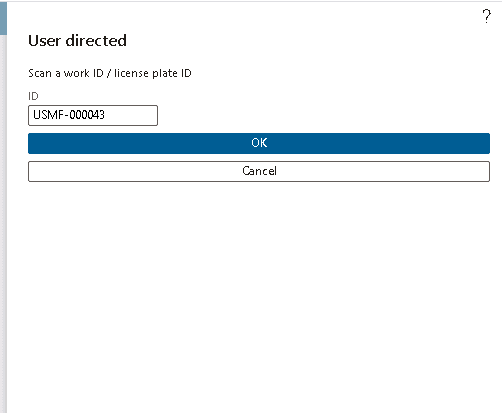 Step 5
Enter Location
In the Loc field, enter the location that is shown to confirm the picking location. Then select Enter.
Step 6
 Enter License Plate ID    
In the LP field, enter the license plate ID. The license plate ID must match the item, warehouse, and location of the item that is being picked from the selected location. When you've finished, select Enter.
Step 7
Enter Item Number
In the Item field, enter the item number to confirm the item that is being picked, and then select Enter.
Step 8
Enter Quantity of the Item
In the Qty field, enter the quantity of the item that is being picked, and then select Enter. The above 4 steps have been shown in the below screenshot.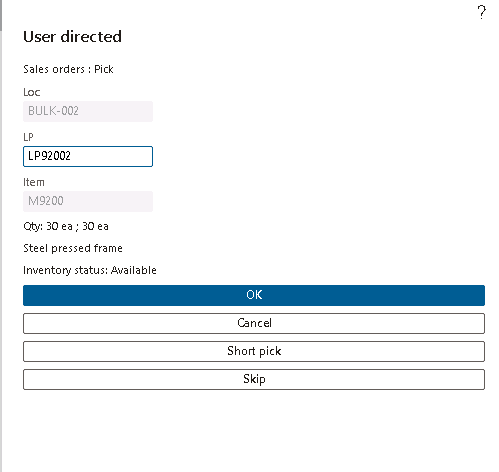 Step 9
 Enter a Target License Plate ID
In the Target LP field, enter a target license plate ID. Target license plates are user-defined. Be sure to enter a license plate ID that you will remember. We recommend that you use the current date plus a two-digit sequence (YYMMDD##) as the format, such as 19112301. When you've finished, select Enter.
  Step 10
Review Information
Review information that is shown. This information is the Pick information that will now become the Put data for the put transaction. When you've finished, select Enter. The below screenshot shows the work done for steps 9 and 10.
You receive a Work Completed message.
  Step 11
 Repeat Steps
Repeat steps 4 through 10 for the work ID of the second sales order. Follow the same steps as mentioned above for the first sales order. The next step is to load the two picked license plates to the truck.
Sign in to the mobile device by using a user ID and password for warehouse 51. (Same step at the beginning of Part C)
Select Outbound.
Select Sales Loading.
Enter the user-defined target license plate ID you created for the first work ID in the previous procedure. Then select Enter to put the target license plate into the STAGE location.
Enter the target license plate ID again, and then select Enter to put the license plate into the BAYDOOR location.
Repeat steps 4 through 5 for the target license plate ID you created for the second work ID. (Same steps will be followed as for the first work ID)
Business value of

Warehouse

Management

&

Mobile Devices
Warehouse workers may utilize mobile devices to carry out tasks in a warehouse. You may also automate material handling, receiving, picking, putting, cycle counting, and production processes with a Dynamics for Finance and Operations subscription. We use Dynamics Mobile Warehouse to help us manage our warehouse and inventory better. The advantage of the gadget is that it connects businesses' ERP systems with mobile devices and allows them to assume the roles of warehouse employees. These roles are much better performed when a mobile device is used. In addition, mobile devices that are linked to ERP systems may be used by warehouse employees to do routine activities such as receiving and shipping items, stock counts, commodities movements, transfers, and others.
SUMMARY

Businesses using ERP systems and mobile devices may take on the responsibilities of warehouse workers thanks to Dynamics Mobile Warehouse. Another significant benefit of the device is that it lets employees do things like receiving and shipping inventory, tracking stock counts, commodity movements, transfers, etc. A Dynamics for Finance and Operations subscription may also be used to automate material handling, receiving, picking, placing, cycle counting, and manufacturing operations.
For more on this, check out our previous blog, and feel free to share this with your CEO, CFO, and VP Sales.
At Instructor Brandon | Dynatuners, we always seek innovative methods to improve your competitiveness and suit your Microsoft Dynamics 365 requirements. Our offerings are founded on defined procedures, industry experience, and product understanding. If you're interested to discuss with our experts how it may benefit you to meet your customized ERP demands, feel free to Book a Consultation.
Does Microsoft offer One Mobile App for all purposes?
Microsoft offers different mobile applications for different purposes. However, Microsoft does allow its users to download all of the mobile apps with one click. 1. Dynamics 365 for phones and tablets app to run your customer engagement apps in Dynamics 365 (such as Sales, Customer Service, and Marketing): Dynamics 365 for phones and tablets 2. Power Apps mobile: Run model-driven apps and canvas apps on Power Apps mobile 3. Dynamics 365 Field Service: Field Service mobile app 4. Finance and Operations applications: Finance and Operations mobile app
What are outbound logistics?
The act of storing, transferring, and distributing commodities in order to send them to their final destination: the end customer, is known as outbound logistics. Warehousing and storage, distribution, transportation, and last-mile delivery are the steps of outbound logistics activities.
What is the Business Value feature in Warehouse Management Mobile App?
The Business Value feature enables businesses to increase warehouse operational efficiency. The Warehouse Management mobile application has a modern, fresh design that is straightforward and simple to use, and it is backed up by powerful upgrades to fundamental warehouse management logic that speed up processing. The new design concepts are the result of intensive usability tests involving a diverse workforce. The solution is intended to assist employees to become more effective, productive, and accurate in their work.