Automate

Rebate Management

to

Increase Margins

with D365 SC
What is a Rebate? | Rebate Management | Intellectual Property | Invoicing | Accrual Account | Royalty Payments
Profitability is critical for the success of all businesses since it enables continuing success and provides the chances for expansion and development. However, growing a business's profitability is not always as simple as it seems. When all necessary expenditures and expenses are met, sufficient sales must be created to break even to generate enough money. While this might be incredibly difficult at times, it is feasible to boost corporate earnings by detecting certain possibilities. Collecting rebate agreements on time, consistently, and precisely is one of these possibilities that can be managed via good rebate management. 'Rebate Management' is the process of documenting supplier agreements, monitoring purchases and sales against those agreements, and promptly managing accruals and rebate claims.
For instance, if you handle complicated supplier rebates in procurement contracts, you may have reached a point where your existing systems or many spreadsheets no longer offer the capabilities you want.
This is because they are not well equipped to deal with the sophisticated vendor rebates. In a very complex trading environment, the standard module is incapable of modeling all possible product/price/branch/margin combinations. This is where a rebate management system comes in handy.
What is a

Rebate Management System

?
A rebate management system takes data from critical business systems, models and monitors transactions, and sends correct rebate information to sales, buying, and finance in real-time.
To emphasize the complexity of rebate administration even further, consider the variety of teams required to administer such a program efficiently. Rebate management is a multi-stakeholder process, with many individuals contributing to the system's survival throughout the firm.
Accounting and Finance
Finally, the finance staff is in charge of the rebate cycle's most crucial components: reconciliations, accruals, and client payments. Without access to rebate management functionality built into your system, these activities become far more time consuming. Finance staff can quickly track the status of individual refunds while also evaluating profitability statistics to identify any areas of concern with a dedicated system.
Sales
Since sales teams are responsible for registering consumers in rebate programs and ensuring they fulfill rebate levels, they must have access to current, accurate information. Armed with the appropriate technologies, proactive sales teams can ensure the success of a rebate program by providing actual cash compensation for consumers and corporate loyalty.
Product
Product teams, which include leads, managers, and product pricing professionals, are vital components of the rebate management cycle, especially for product/service-specific programs. They identify and establish suitable items and sales objectives, assuring profitability and accurately determining rebate criteria. This is accomplished via the use of a set of analytics and forecasting tools and the ability of product experts to predict and forecast potential outcomes.
As you can see, rebate management is a comprehensive process that requires input and upkeep from several departments. While manually administering is possible, modern rebate administration software has made the process predictable and consistent.
SUMMARY

Rebate management is a multi-stakeholder process, with several individuals within the organization contributing to the system's success. This is the process of establishing supplier contracts, tracking purchases and sales in relation to those contracts, and handling accruals and rebate claims quickly.
How

Can

Business Software Support

Rebate Management?
The primary goal of rebate management capability is to eliminate resource-intensive manual procedures. It enables stakeholders to do activities without the worry of discrepancies or mistakes. Modern platforms would allow organizations to maximize the value of their rebate programs while reserving internal resources for other initiatives and activities.
Having said that, how precisely does software assist in the proper operation of rebate programs? Consider the following:
Streamlined Management of Agreements 
Historically, one of the most time-consuming aspects of maintaining a rebate programmer was monitoring rebate agreements. However, with the appropriate software in place, all stakeholders have an easy access to payment levels, sales thresholds, sales invoices, sales orders and other aspects.
Accurate and Consistent Accrual Tracking 
To ensure timely accruals, finance teams want a software that enables them to monitor a customer's performance in real-time. This enables faster client payments, enhancing the program's effectiveness and bolstering customer loyalty.
Advanced Analytics 
Modern software systems' analytics capabilities make it much easier to calculate performance metrics and payment due dates From client profitability analysis to margin performance, the correct solution may make daily discovery and analysis more accessible, increasing the program's overall efficacy.
Rebate Opportunity Notifications for Customers
One of the primary benefits of including rebate capabilities in your company software, especially from a sales standpoint, is how easily teams can identify opportunities and notify consumers of specific rebate alternatives. Following that, automatic reminders and optimized analytics inform sales employees when consumers are approaching a rebate goal. This eventually contributes to revenue and loyalty growth, the core KPIs of any rebate program.
Automation of Calculations, Payments, and Credits
Managing rebate payments claims and credits manually. However, contemporary administration technologies enable easy computations, automatic payments, and the automated awarding of client credits. This results in fewer conflicts and bottlenecks, further boosting the program's efficiency and performance.
SUMMARY

The fundamental objective of the rebate management functionality built into software is to minimize resource-intensive manual operations, allowing stakeholders to do normally routine tasks without fear of discrepancy or error. The arrow above illustrates how refund handling is aided by the use of software.
Industries

Benefiting from

Rebate Management
Which industries should use rebate management software to automate and manage rebate tracking, calculation, and administration?
Construction industry
Manufacturers of construction materials suppliers often employ rebates to preserve their stated prices while encouraging trade partners to buy in larger quantities to qualify for a retroactive reduction. Alternatively, builders' merchants that are out of stock provide consumer refunds. They are reimbursing a particular client for obtaining the rebate. MKM Building Supplies is an example of a builders' merchant whose current systems failed them. They needed a way to track the supplier rebates they received, so they looked for an alternative.
Wholesale Distribution Industry
According to the Aberdeen Group study, 50% of merchants use rebate programs in their customer loyalty and promotional mix. Retailers purchase things in bulk through wholesalers, who function as a go-between between the retailer and the producer. The retailer then adds its profit margin and resells it to buyers looking for a cheap delivery delivered swiftly.
Electrical Industry
Electrical distributors say that rebates account for up to 60% of their bottom line, yet they continue to perceive their supplier trade arrangements in a transactional manner. Having a clear and timely view of what is doing well or poorly throughout the organization may differ between losing clients and shutting branches and reaching and exceeding business goals and objectives. According to research, 57% of distributors in the United States do not fully use available supplier cash, leaving money owing to them on the table. However, as the electrical distribution industry becomes more competitive, maximizing the value of supplier trade agreements via rebate management software has become a strategic goal. As a result, they may expand their market share and beat the electrical business by collaborating with their suppliers.
Automobile Industry
Automotive supply chains are among the most complicated in the world, with each car including more than 20,000 components sourced from thousands of different suppliers since no automaker can manufacture everything in-house. That is to say; the automobile sector is very reliant on supply chain and procurement. However, dealing with various suppliers for the same or comparable items might introduce discrepancies and difficulties, which can be avoided by more coordination. They can save expenses and mitigate risk by establishing closer partnerships. To streamline the process, they need a rebate management system. Storing all rebate agreements in one readily accessible spot guarantees that all parties understand the arrangement. This will not only make life simpler for their suppliers, but it will also improve the relationship's quality, allowing them to conclude agreements more quickly.
Pharmaceutical Industry
The pharmaceutical distribution chain is complicated and encompasses many players, including pharmaceutical manufacturers, health insurers, pharmacy benefit managers (PBMs), pharmacies, distributors, and patients. Manufacturers now argue that the increasing discounts they give to PBMs, force them to increase their list pricing. Manufacturer rebates to pharmacy benefit managers jumped from $39.7 billion in 2012 to $89.5 billion in 2016.
Significance

of Rebate Management in the

Manufacturing

Industry
Manufacturing has several obstacles and complications. Manufacturing involves cost minimization while ensuring a good return on partnership investments.  Investing in a rebate management software system is one method to improve your expense control. As a manufacturer, you may manage all incentive programs more effectively by using a single system that tracks and reports on rebate claim procedures from beginning to end. Additionally, rebate management systems may provide manufacturers with a variety of advantages, including the following:
Automated email notifications to managers to remind them of forthcoming refunds.
Managers now have an easy-to-use interface for submitting and tracking redemption requests – all from the same screen.
Users may get comprehensive status reports on the performance of each application.
Dashboards are updated in real-time and may be customized to display critical performance indicators and actionable business insights.
The above demonstrates only a few of the many advantages and requirements manufacturers have, emphasizing the critical nature of rebate management software for your organization.
Sr.

Driving Revenue with Growth Rebates
Revenue Management Strategies

1.

Sell products to more customers

2.

Sell more products to each customer

3.

Sell products more often to each customer

4.

Sell products

for more money

 

 

  
SUMMARY

Cost minimization is critical in manufacturing, as is ensuring a high return on partnership investments. Investing in a rebate management software system is one way to strengthen your control over expenses. A centralized system that records and reports on rebate claim processes from start to finish will assist you in more successfully managing incentive programs.
Rebate Management

in

Dynamics 365

Supply Chain Management
Offering rebates and royalty arrangements to your customers and suppliers is critical for brand loyalty and significantly influences your company's profitability. In addition, rebates can affect the pricing strategy of your products and your accruals, payments, deductions, and income. However, keeping track of rebate and loyalty programs and precisely calculating them may soon become time-consuming and tiresome without the correct tools. The Dynamics 365 Supply Chain Management rebate management module, currently available for public preview, alleviates the administrative complexity connected with these programs. The solution manages and monitors refunds and deductions in a single area that may be easily created, reviewed, and processed.
The rebate management module provides a centralized location for managing all customer rebatehttps://www.michiganstateuniversityonline.com/resources/supply-chain/what-is-supply-chain-management/s, customer royalties, and vendor rebates, featuring the following capabilities:
Define complicated royalties, customer rebates, and vendor rebates depending on customer sales.
Manage complicated rebates involving products or groups that do not have a standard calculation basis, length, rebate amount, or rate.
Manage numerous concurrent and overlapping rebate agreements for the same vendor or product, netting one rebate against the others.
Maintain a record of rebate accruals and deal with disparate periods for rebate accrual and claim.
Increase cash flow forecasting accuracy via an efficient claims procedure.
Allow more flexibility in the computation of rebates.
Share reports easily for increased exposure.
Cross-company rebate administration
The rebate management solution centralizes and conveniently calculates rebates and payments across numerous legal entities.
The rebate transactions and statement report provide insight into expenditure vs. rebates, allowing you to keep track of how much you've spent on claimed rebates versus what's due. Additionally, you may share reports with consumers.
Streamlined rebate process
The process begins with proper provisioning, claims, target transactions, and write-offs. Vendor rebates are often dependent on consecutive sales with high-tech distributors. The rebate management module facilitates this situation by enabling the vendor rebate agreement to set the criteria under which the vendor is eligible for a financial incentive if the buyer meets the product sales objectives. Flexible rebates may be calculated based on sales volume or the value of the price basis, including the sales price, the most recent purchase price, the average purchase price over a specified time, or the FIFO purchase price calculated every month.
Computation flexibility: A sophisticated rebate scheme need calculation flexibility. A computation may be applied to a single client, a group of customers, or all of your customers and items using the rebate management module. The rebate management module allows you to establish rebates utilizing various criteria, including percentage, rate, and fixed amount. This module includes four fundamental calculating techniques (stepped, cumulative, rolling, and total). The adjustable transaction types increase the flexibility of rebate computation. Using a reduction concept in periodic processing, the many concurrent and overlapping rebates are possible to set net against one another.
SUMMARY

The rebate management module in Dynamics 365 Supply Chain Management simplifies the administrative burden associated with these schemes. The rebate management module centralizes the administration of customer rebates, customer royalties, and vendor rebates, among other functions.
Functional Walkthrough

of

Rebate Management

in D365 Supply Chain Management
Configure vendor rebates
Step 1
Procurement and sourcing > Vendor rebates > Rebate agreements.

  Step 2
In the unit of measure rebate option field on the General tab, define whether a unit of measure should be a condition for the purchase order line to qualify for a rebate claim.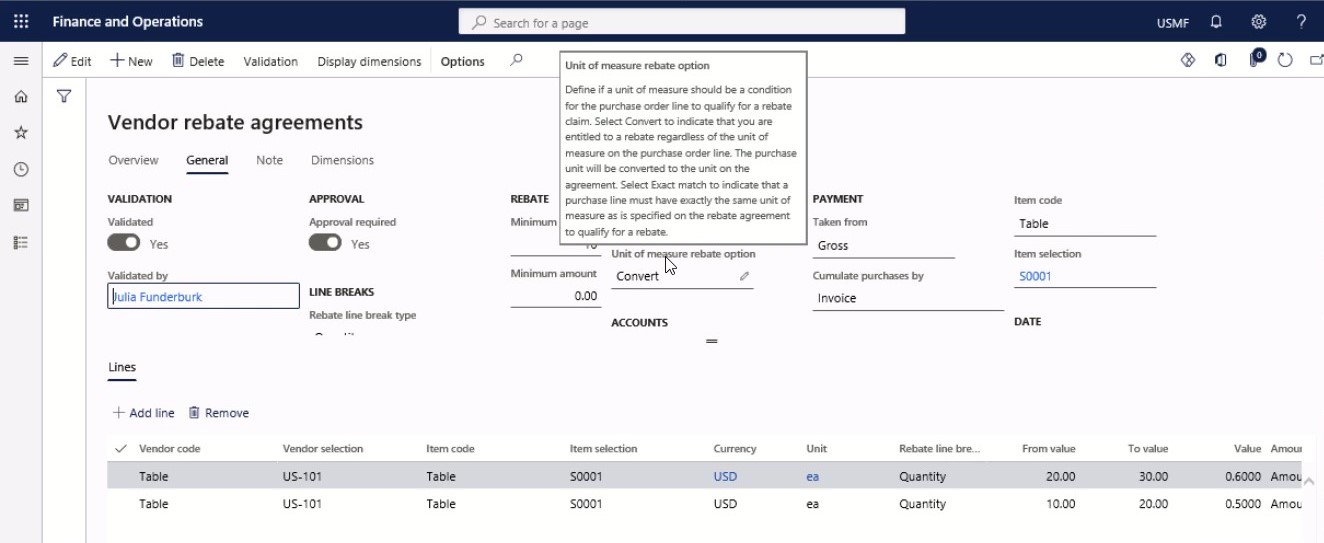 Step 3
On the General tab, in the Calculation date type field, select the date.
  Step 4
In the Cumulate purchase by field, set the calculation of the rebate claim.
  Step 5
In the Taken from the field, specify the basis for the rebate calculation.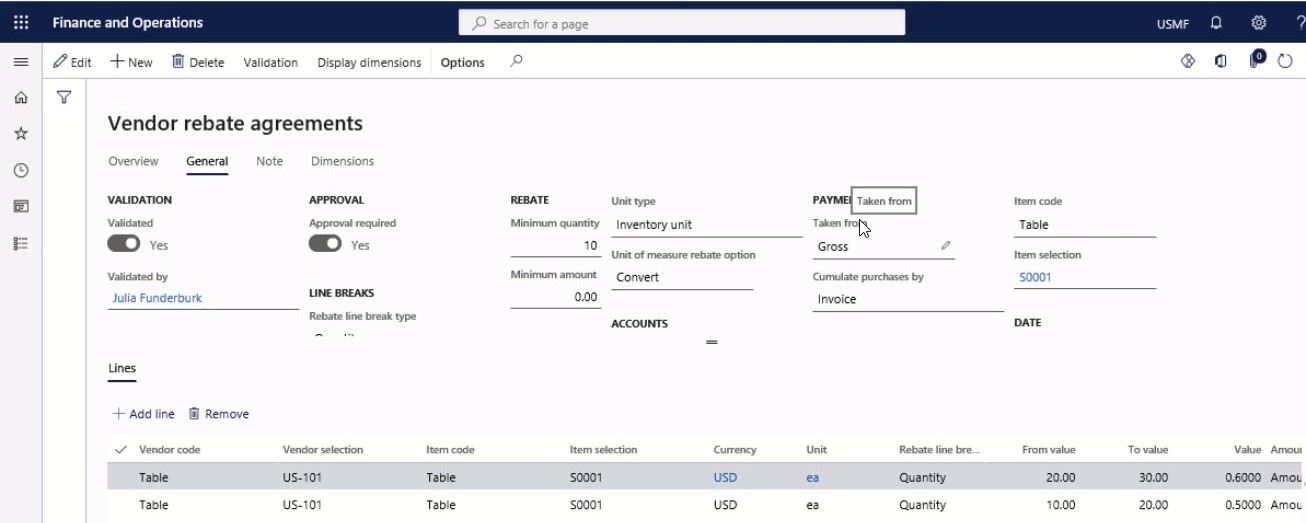 Step 6
Rebate program expense account fields specifies account numbers.
  Step 7
Once the necessary approval option is set to Yes, the rebate claim must be authorized prior to accumulating or paying out.
  Step 8
The Rebate line break type field specifies the basis for the rebates.
  Step 9
On the Lines FastTab, how notice quantity tiers can be set up.

Approve claims, view postings and see invoice details
Step 1
Select Procurement and sourcing > Vendor Rebates > Rebate claims.
  Step 2
Select the claim and then, on the Action Pane, select 'Approve'.

  Step 3
In the Vendor field, select the vendor you're authorized to receive a rebate from and then select 'OK'.
  Step 4
In the Rebate list, select the line and then, on the Action Pane, select Rebate transactions to view and go to the journal batch number for this rebate accrual posting.

  Step 5
On the Action Pane, select Process and then select 'Filter'.

  Step 6
In the Criteria field for the Vendor account field, select the vendor, select other relevant filters, and choose 'OK'.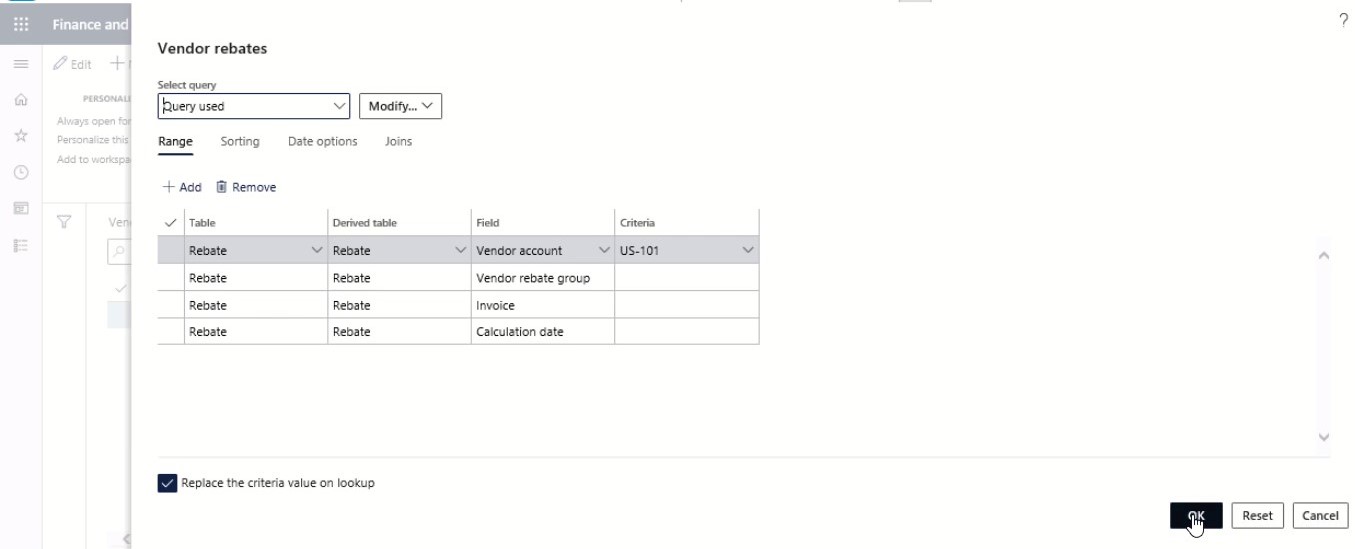 Step 7
In the Rebate list, select the line and then, on the Action Pane, select Rebate transactions and go to the journal batch number.
  Step 8
Select the line for the vendor invoice transaction and then, on the Action Pane, select 'Vendor Invoice'.

  Step 9
The invoice line specifies the vendor invoice details for the Commissions and rebates procurement category.
  Step 10
Go to Accounts Payable, and then on the All-vendors page, select the vendor you receive a rebate from.
  Step 11
On the Action Pane, select Vendor > Transactions >Transactions.

  Step 12
Find the line for the invoice. The rebate amount has now been added to the vendor balance.
SUMMARY

Following the above steps you will be able to configure vendor rebates in dynamics 365 supply chain management.
Final

Thoughts
Typically, distributors lose money as a result of mismanaged refunds. Thus, how can you employ rebate management to not only maintain profitability but also to grow revenue? Accuracy, automation, and integration are all critical components. Our rebate management system unifies the administration of rebate, price, financial management customer and supplier, and overall company. This enables you to establish a rebate program or price list and quickly improve your margins and cash flow.
At Instructor Brandon | Dynatuners, we always seek innovative methods to improve your competitiveness and suit your Microsoft Dynamics 365 requirements. Our offerings are founded on defined procedures, industry experience, and product understanding. If you're interested to consult with our specialists on how to configure rebate management system, don't hesitate to Contact Us.
How is rebate management defined?
Customer rebate management is defined as the process of developing rebate and other non-invoice incentive programs, registering customers, collecting payments, anticipating profitability, and reviewing program success.
What is included in rebate tracking?
The process of rebate administration includes documenting supplier agreements, monitoring purchases and sales against those agreements, and managing accruals and rebate claims in a timely way. Appropriate rebate administration can be a pain for any organization, regardless of the size of its reward programs.
Why do businesses provide rebates?
Rebates enable merchants to provide consumers a brief discount on an item in order to encourage sales while maintaining the item's existing price point. This technique prevents the negative reaction that may result from lowering the price and then raising it later.