Description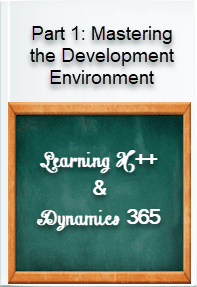 An End to End Introduction to the Development Tools and Development Environment for D365
Created by Brandon Ahmad
English
Last Updated on 04/30/2018
What Will I Learn?
Create and setup Dynamics Development Environments from the ground up
Understand the different Azure Subscriptions enough to identify a  feasible development strategy
Understand the various project types in D365 and how they can help your organization
Know when to use each type of development item for faster and more efficient development
the Application Explorer Window along with real world examples of how to use it
Dynamics 365 specific options available in visual studio including  developer helper tools
Setup  and understand the Dynamics 365 specific components necessary for using source control
Learn to use specific tools outside of Visual Studio that are necessary for successful development in Dynamics 365
Requirements
Videos are best viewed with  1920 x 1080 resolution
A stable internet connection
Description
Starting from the very beginning, you will go in depth and learn the major components of a D365 for Finance and Operations development strategy.  You will learn how to setup and configure one environment or multiple environments, strategies for both on premises, cloud,  and hybrid development, scaling out across multiple developers, maintaining source control, and accurately  using the development tools to save time.
Several interactive exercises in the form of quizzes will be provided for you to test your knowledge and ensure that you have gained the prerequisite knowledge.
This is a foundation course that holds the prerequisites to successfully complete the later courses on X++ and Dynamics 365 development and can be taken by anyone.
Who is the target audience?
This is a fundamentals course.  The course is intended to be used as one of two courses designed to quickly bring beginners up to speed on the fundamentals of x++. Absolute beginners to Dynamics 365 development and people who are experienced with Dynamics AX 2012 development looking for a quick primer on the new development environment are the target audience.
8.8 out of 9.0 Average Instructor Rating
Top Instructor Award Twice
MCSE Certification in Dynamics 365
Freelances as hands-on Technical Lead with very advanced development scenarios for Day Job
Brandon Teaches D365 for Finance and Operations Programming
Brandon Ahmad is a lead, hands on Technical architect during the day and a passionate instructor at night.  He believes that the best way to teach programming is by example with many custom real world scenarios.  He also believes that anyone can become good at development as long as they have the right teaching, work ethic, and curriculum.
To date, he has helped over 55 implementations while often solving and implementing many very advanced development scenarios.
His biggest secret to teaching is to simply care about the people who take his courses.  His best reward is to hear of someone who saved a lot of time and mastered Dynamics while knowing that his course played a part in that success.
  8.2 Hours of Video
Certificate of Completion
Mobile Friendly App for Learning
High Definition Training Video Quality
Coachable Sessions Access
90 Days of Access Includes Updates
$150.00 –> In Beta.
Available on January 1st